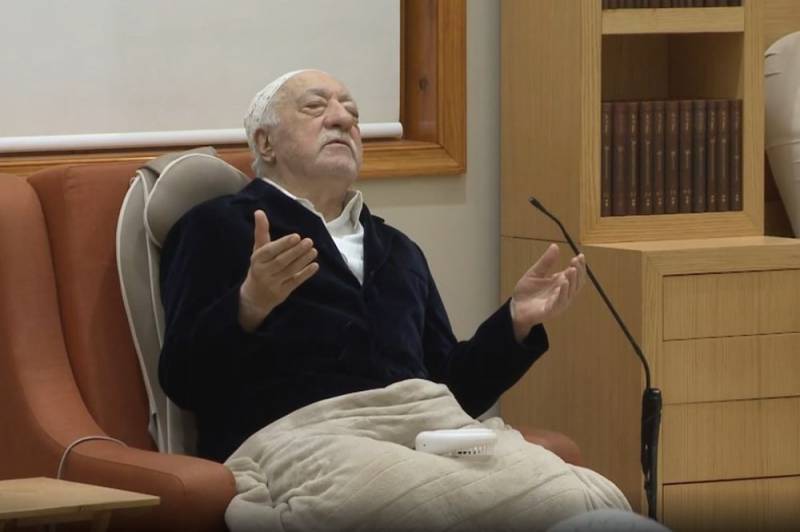 On Thursday, November 18, Turkish opposition portal Oda TV reported from Istanbul that the video released by the Fethullahçı Terör Örgütü or FETÖ confirming that Muhammad Fethullah Gülen is alive is a montage. After that, the publication disseminated information that the famous Turkish writer, Islamic and public figure, former imam and preacher, the main enemy of Turkish President Recep Tayyip Erdogan, most likely has already died.
Oda TV believes Gulen was poisoned at his US mansion on Wednesday night. In addition, sudden death also overtook one person from Gulen's closest circle. The mansion's workers were ordered not to communicate with the press. Moreover, this information was unofficially confirmed to the portal by representatives of the Turkish special services.
Before that, a video appeared on the Web in which Gulen sits in an armchair and prays. But Oda TV is confident that the video is a cut from three other videos, where Gülen is wearing the same clothes.
At the same time, there is no official data on the state of health of 80-year-old Gulen yet. Gülen is wanted by Ankara on charges of preparing two coups, in 2013 and in 2016. At the end of 2013, relations between Erdogan and Gulen escalated, after which the latter went into self-imposed exile in Sailorsburg (Pennsylvania, USA). In late 2014, an Istanbul court issued an arrest warrant for Gulen, and Turkish prosecutors and justice officials petitioned Interpol to include Gulen on the Red Bulletin. However, Interpol refused to do so.