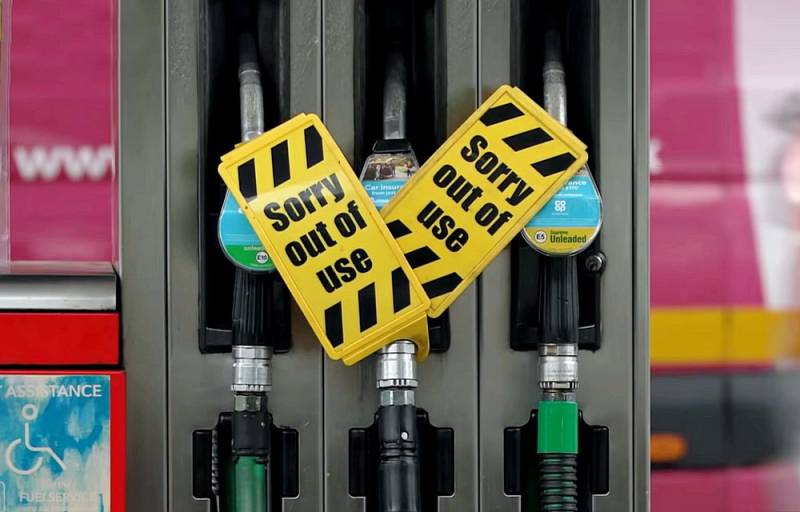 The global energy crisis is very likely to lead to a fuel crisis. Prices for gasoline and diesel fuel have been actively growing since the beginning of the year, and extremely unpopular measures will be needed to stop them. Each country is trying to cope with the looming fuel crisis in its own way. Let's see how this happens in such dissimilar countries as the United States, Russia and Germany.
The rise in prices for all types of motor fuel is due to a whole range of factors. Among them: the recovery of industrial production after restrictions caused by the coronavirus pandemic, as well as transport movements; artificial limitation of crude oil production volumes under the OPEC + deal; held by a number of western countries
policy
abandoning fossil fuels in favor of renewable energy sources, which has led to a reduction in investment in exploration and development of new deposits; approaching winter season, etc. What did all this lead to?
"Country of drivers"
The United States is called the "country of drivers" for a reason. To this have its huge spaces, a well-developed network of highways, the ability to buy any car, from the most expensive to a rattletrap for a couple of hundred dollars, as well as cheap motor fuel. The last point is one of the most important components of the American way of life and general economic prosperity. And now US citizens had to forget about inexpensive gasoline and diesel fuel.
Today, motor fuel is still cheaper for the average American than for the citizen of any other country. For comparison, the average cost of a liter of gasoline in the world today is $ 1,65, and in the United States - about $ 0,994 per liter, or $ 1 per gallon. In several of the southernmost states - California, Hawaii and Nevada - a gallon of gasoline costs more than $ 3,763. For Americans, this is very expensive, unpleasant and unusual, although they are still in a better position than everyone else. This will have serious consequences. Thus, the rating of President Joe Biden, aging before his eyes, dropped below 4%. Expensive motor fuel has a negative impact on the socio-economic development of the United States, but the White House can't do much about it.
Ironically, the problem was largely created by the US Democratic Party itself. In 2015, Barack Obama lifted the embargo on the export of extracted shale oil. To counter American expansion, other oil producers were forced to team up in a new OPEC + deal. Amid the pandemic, many shale oil wells in the United States have been mothballed. Sanctions have been imposed on the import of raw materials from Venezuela and Iran. "Sleepy Joe" himself first of all revised the decision of Republican Donald Trump to withdraw from the Paris climate agreement, and also actively began to promote the "green agenda". Now all this has to be paid for by a shortage of raw materials and rising prices for gasoline and diesel fuel.
A natural question arises, what to do next? To reopen the wells and return to shale oil again? But what about ecology, warming and global energy transition? Print national oil reserves? It is possible, and this option is being seriously considered. There are 600 million barrels stored there, and they will last for a certain period of time. But, obviously, this is only a temporary solution. The third option is the US refusal to export oil. Energy Secretary Jennifer Granholm said this:
We haven't used this tool yet, but it exists.
An interesting turn that will undoubtedly have an impact on world oil prices.
Country of car manufacturers
In Germany, which is one of the recognized world leaders in the automotive industry, the approach is somewhat different. Here, on the contrary, the authorities have deliberately always tried to maintain energy prices at a sufficiently high level to stimulate more rational use of available natural resources, consistently switch to renewable energy sources and massively switch to electric vehicles. Berlin strongly encouraged energy saving and energy efficiency. But, with all the positives of this approach, it also had its downside.
The growth of global quotations of "black gold" and the depreciation of the euro against the dollar since the beginning of 2021 were added to the costs associated with the introduction of CO2 emission certificates (CO2-Abgabe) for companies selling petroleum products and gas to car and home owners. Yes, in Germany, about half of all houses and apartments are heated with gas, and a quarter with petroleum products. Therefore, the owners of gas stations and suppliers of diesel fuel have shifted the increase in their costs due to the introduction of certificates on the shoulders of end consumers. Tanks in the basements of houses in Germany are usually filled once a year, so from the next heating season, a lot of Germans may experience an unpleasant surprise.
How will the authorities deal with all this? No one is even talking about the abolition of CO2-Abgabe, on the contrary, it is only planned to more actively push the population and business towards an early energy transition.
Country of oil producers
Prices for gasoline and diesel fuel are also growing in our country. On the stock exchanges, the cost of a ton of each type of motor fuel is near historic highs. However, gasoline and diesel still cost less than they could. The limiting factor is the so-called damper mechanism. It does not allow oil products to fall in price too much for consumers when world quotations fall, but also prevents them from skyrocketing when oil prices rise sharply in other countries.
That's how we live.