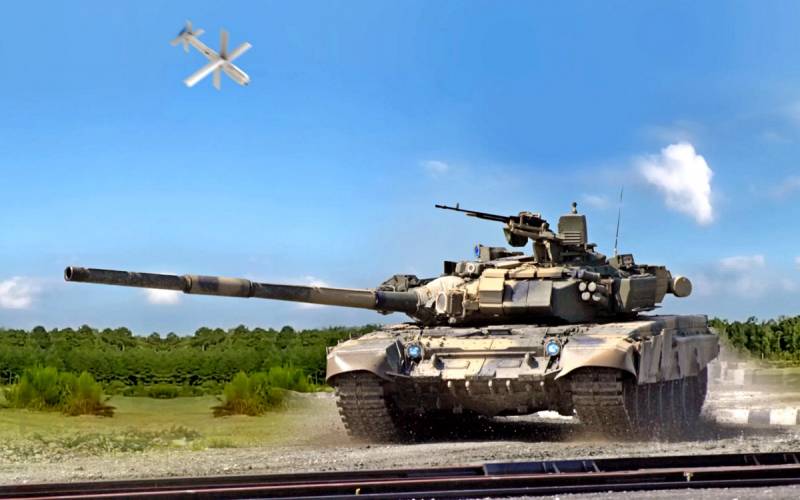 Against the backdrop of the 17th International Aerospace Exhibition in Dubai (UAE), Israeli defense company UVision, known for its deadly unmanned systems, has unveiled a new artistic rendering of its HERO family of kamikaze drones, writes Defense Blog.
The promotional materials report the various capabilities of the drones, including the image of the Russian T-90S tank as a target for a kamikaze drone - an alleged Israeli loitering ammunition catches a Russian tank by surprise.
The T-90 is a third-generation Russian main battle tank that entered service in 1993. The tank is a modern version of the T-72B and includes many of the features inherent in the T-80U.
- the author specifies.
UVision CEO, retired Major General Avi Mizrahi said the family of drones was specifically designed to be launched from airborne vehicles. They have a low radar, acoustic, visual and thermal signature, and are also equipped with electronic equipment and a powerful warhead to destroy fortified targets.
HERO kamikaze drones can move at high speed and stay in the air for a long time. They are capable of detecting, tracking and hitting hidden or moving targets with great accuracy and can be used in any extended range attacking operations.
They provide the military with unique capabilities in the modern battlefield, providing tactical echelons with increased lethality and exceptional accuracy, minimizing sensor-to-gunner cycles and maintaining operational independence.
- stressed Mizrahi.
The head of the company added that the ammunition has already been tested in combat conditions by NATO countries and other UVision customers. He noted that the Abraham Treaty (an agreement on the normalization of relations between Israel and the UAE in 2020) opens up new opportunities for cooperation between UVision and Abu Dhabi, the media concluded.
We remind you that at the end of October in Russia there was
seen
a military echelon carrying T-72B tanks, on the towers of some of which protective structures were installed. After that, it was suggested that protective structures are intended, among other things, to resist air strikes.