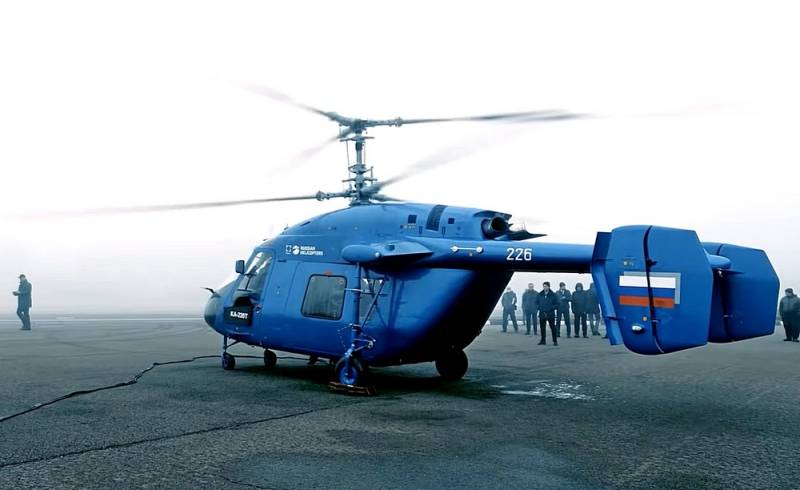 The deeply modernized Ka-226T helicopter made its maiden flight the day before. The new Russian rotorcraft was named "Alpinist" and is designed to operate in the highlands.
It should be noted that the new product is very different from its predecessors. In particular, engineers from JSC Kamov changed the design of the airframe and fuselage, thereby significantly improving the aerodynamics of the helicopter. In addition, the car received new ones: a fuel system, flight and navigation equipment, a radio communication complex and other components.
Thanks to the use of modern lightweight materials, it was possible to reduce the weight of the Ka-226T, which allows it to operate at an altitude of up to 6,5 km. At the same time, for the first time in the history of the domestic helicopter industry, all design documentation for this modification was carried out in digital form, which significantly accelerated the work on the creation of the machine.
The only drawback of the newest Russian helicopter is the French Arrius engine. Firstly, its technical characteristics are already barely up to date. Secondly, at any moment it can fall under sanctions, which will leave our Ka-226T literally without a "heart".
However, this problem is already being solved by domestic specialists. To replace the French unit, the VK-650V engine is being developed in Russia. The power plant will be able to operate at an altitude of 7 km and withstand temperatures ranging from -55 to 60 degrees Celsius. Serial production of the engine is planned to begin in 2024.
As for the Ka-226T, it is planned to create an unmanned cargo version on its basis in the future. At the moment, India has become interested in "Alpinist", having already signed a contract with Russia for the supply of 200 such machines.