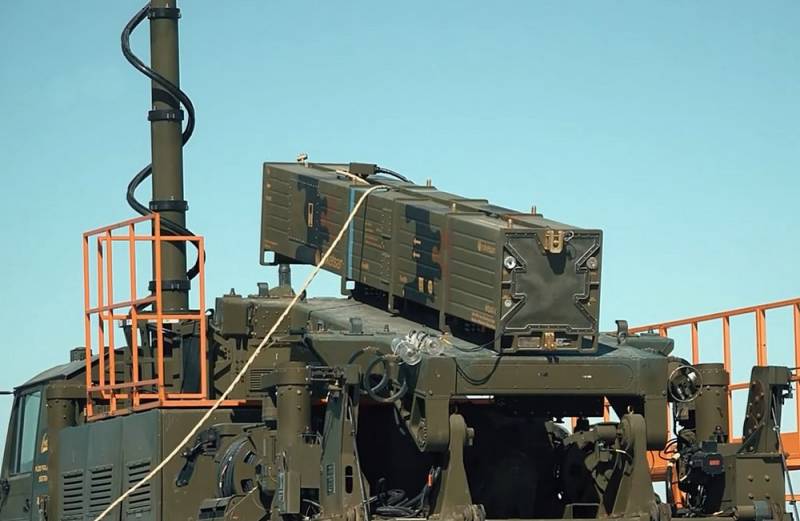 The sale to Turkey of the most modern Russian air defense systems S-400 at that time was one of the most discussed. The Kremlin's decision to sell the best domestic anti-aircraft systems to the country, which is part of the anti-Russian military bloc NATO, was received extremely controversially. Now, several years later, the feeling that it was a big mistake is growing stronger.
The S-400 ("Triumph" in the export version) is a long-range anti-aircraft missile system designed to destroy all existing and prospective aerospace attack weapons, including hypersonic ones. The SAM itself can cover the sky within a radius of up to 400 kilometers. At the same time, "Triumph" acts as the control center for the air defense positional area, issuing commands to engage air targets to the integrated elements of the zonal air defense system: S-300PM2, S-300PM1, Tor-M1 and Pantsir-S1. This is a very effective defensive system, because the export price for the S-400 starts at $ 500 million per division. Today, only the United States is capable of creating an air defense system of a similar level. However, in 10-15 years that way, another impudent player, Turkey, can squeeze into this closed club.
Ankara is consistently moving towards the restoration of imperial greatness, but it is not ready to be satisfied with the borders of the former Ottoman Empire. "Sultan" Erdogan is actively climbing into Central and Central Asia, where he has already crossed the road to two other former empires, Persian and Russian, which in the future may lead to direct clashes. Note that the Turks are trying to confirm their ambitions by developing their military-technical potential. Ankara started with a licensed assembly of NATO weapons, participated in cooperative production programs. Turkey is now designing its own national tank, its fifth generation fighter, its heavy attack helicopter, its UDC launched and its first aircraft carrier is planned. Turkish UAVs with "Israeli genes" have already become widely known throughout the world.
Let's turn our attention to the promising Turkish air defense systems. Since 2007, Ankara has been working on its own national air defense system called HİSAR ("Fortress"). This is a whole family of air defense systems, from short to long range.
HİSAR-A (Alçak İrtifa Hava Savunma Füze Sistemi) is a short-range mobile anti-aircraft gun based on a tracked platform. It carries 4 vertical launch missiles capable of hitting flying targets at a distance of 2 to 15 kilometers.
HİSAR-O (Orta İrtifa Hava Savunma Füze Sistemi) is based on the chassis of a Mercedes-Benz Zetros truck. One battery already carries up to 18 anti-aircraft missiles capable of shooting down air targets at a distance of 3 to 25 kilometers, which makes it possible to attribute this air defense system to an average range.
HİSAR-U (Uzun Menzilli Hava Savunma Füze Sistemi, also Siper, "trench") is a Turkish long-range anti-aircraft system, which is based on the chassis of German Turkish-made MAN trucks. According to Ankara, Siper hits air targets at a distance of 30 to 120 kilometers. And now this is already serious.
Yes, the Turkish air defense system is still very far from the "Triumphs". However, according to a number of experts, in terms of tactical and technical characteristics, this is already a very worthy air defense system. It was worked on by specialists from well-known defense corporations Aselsan, Roketsan and Tübitak SAGE, as well as, probably, foreign consultants. Let's pay attention to ambitious statements in the Turkish press, for example, quoted in the newspaper Hurriyet:
The HISAR-U Siper should compete with the Russian S-400 Triumph acquired in 2019.
Serious swing. The creation of large-radius air defense systems requires a serious engineering school,
technical
base and great practical experience. It is also desirable that there was "someone to spy on" by disassembling a similar air defense system to a screw. The Turks already have a production base, many of their specialists have studied and worked abroad. In addition, Russia itself obligingly sold them its most modern anti-aircraft air defense systems S-400. And now in Turkey they are talking about creating a complete analogue of the Russian air defense system. Coincidence? We don't think so.
Note that Ankara even tried to legalize the process of borrowing our technologies. The head of the Department of Defense Industry (UOP) of the republic, Ismail Demir, stated the following:
If we wanted, the second set of S-400s would have arrived today, but joint production and technology transfer are important to us.
Moscow refused such a proposal. But let us ask ourselves a question, what can prevent the Turks, even in a simplified form, from copying Russian "know-how"? Suppose the HISAR-U Siper complexes will hit flying targets not at 400 kilometers, but, say, at 200 or 250 kilometers, will this make it easier for us?
Ankara will cover its air borders with nationally produced anti-aircraft missile systems, and then will also enter the international market with them, as happened with the Bayraktar, which crowd out Israeli UAVs with the best price-quality ratio.
So was it worth selling the Russian Triumphs to the Turks?