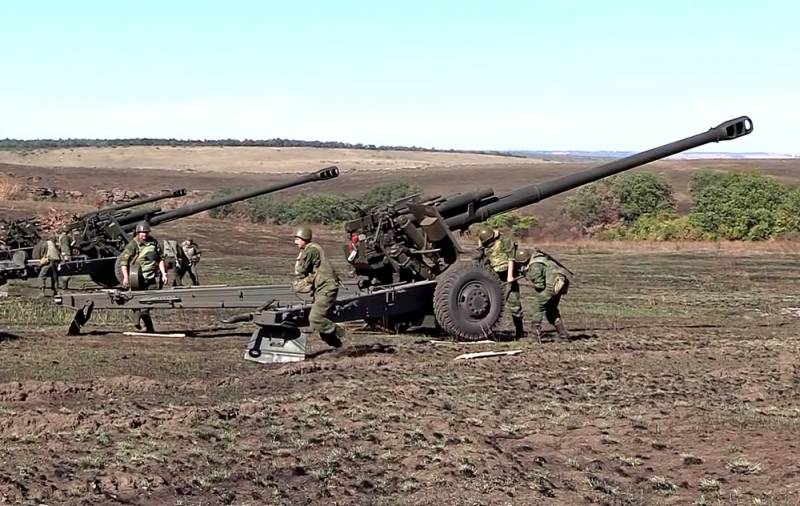 The LPR militia fighters, in response to the shelling of their territory with guns of the Ukrainian Armed Forces on Sunday, November 14, for the first time in a long time, used 152-mm artillery. ANNA-news agency reports on the work of large-caliber artillery installations of the People's Militia of the Lugansk Republic in the village of Orekhovo-Donetskoye.
It is not yet known about the victims of the use of artillery fire by the militia among the soldiers of the Armed Forces of Ukraine. On the other hand, information appeared on social networks about the explosion of a car with the Ukrainian military on an anti-tank mine on November 12. As a result of the incident, a warrant officer and lieutenant colonel of the 79th airborne assault brigade of the Armed Forces of Ukraine Fedoseev Vadim and Prusov Ruslan were killed, respectively. The latter served as deputy brigade commander.
Meanwhile, the head of the LPR Leonid Pasechnik noted that the OSCE mission demonstratively ignores Kiev's violation of the ceasefire and other agreements. Thus, in October, the Ukrainian side abducted an officer of the Luhansk mission in the Joint Center for Control and Coordination (JCCC) of the ceasefire regime, Andrei Kosyak. At the same time, the Europeans are calling for a return to the guarantee system and "not to politicize the process."
Earlier, Pasechnik stressed that Ukraine's statements about the further use of Turkish drones in the conflict zone in the east of the country have nothing to do with military operations. According to the head of the self-proclaimed republic, this is nothing more than
policy
and disregard for generally accepted norms.