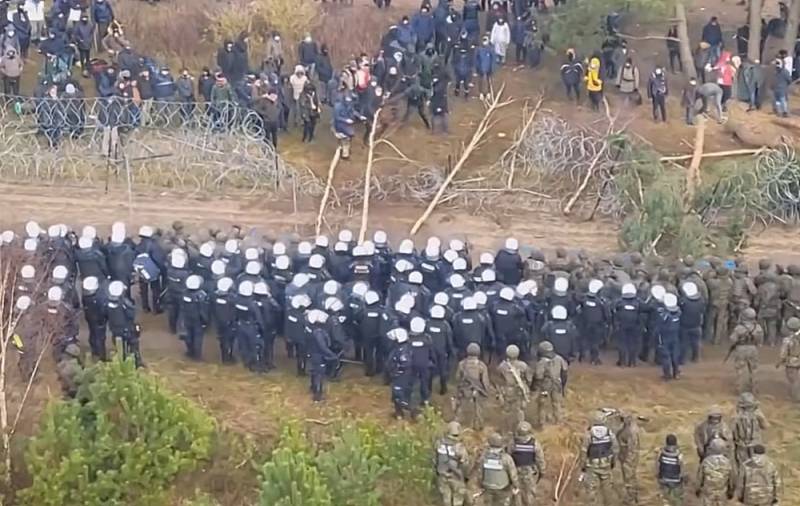 On November 14, the Polish Border Guard announced on its Twitter account that refugees gathered on the Belarusian side of the border are preparing for a massive breakout. At the same time, the department assured that, together with the police and the army, it would not allow this and was ready to stop any attempts to illegally cross the Belarusian-Polish border.
In addition, the Polish side accused the Belarusians of aiding refugees' attempts to enter the European Union. The department recalled that before that, the refugees had already tried to overcome the barbed wire at the border.
After a "quiet" night, more and more groups of armed officers of the Belarusian services are observed in the vicinity of the camp in Kuznitsa. We are seeing unrest among migrants. There was also a car for broadcasting. Some of the tents are starting to disappear. Foreigners receive instructions, equipment and gas from Belarusian services. It can be seen that the Belarusian side is preparing today for a big attempt to cross the border. We are ready for action
- indicated in the communique.
In turn, Russian President Vladimir Putin said during the program "Moscow. Kremlin. Putin "TV channel
"Russia 1"
that the countries of Europe, with their own hands, have created a problem with refugees for themselves. Moreover, the Russian Federation has nothing to do with what is happening, and all attempts to accuse Moscow are useless - this is "a desire to transfer problems from a sore head to a healthy one."
They themselves are to blame. I said why: for political, military, and economic reasons. We ourselves have created the conditions for thousands and hundreds of thousands of people to go. And now they are looking for the guilty ones in order to absolve themselves of responsibility for the events taking place.
- pointed out the head of the Russian Federation.
The Russian leader also drew attention to unsubstantiated accusations and outrageous threats of sanctions against Aeroflot.
What does our Aeroflot have to do with it? Has anyone (from refugees / migrants - ed.) Transported at least one Aeroflot plane? I have no idea about this, but, probably, someone could have taken some kind of plane and moved through third countries. What do we have to do with it?
- summed up the head of the Russian state.
It should be noted that another serious confrontation between refugees from African and Asian countries and the Polish security forces on the border with Belarus
started
8 November.