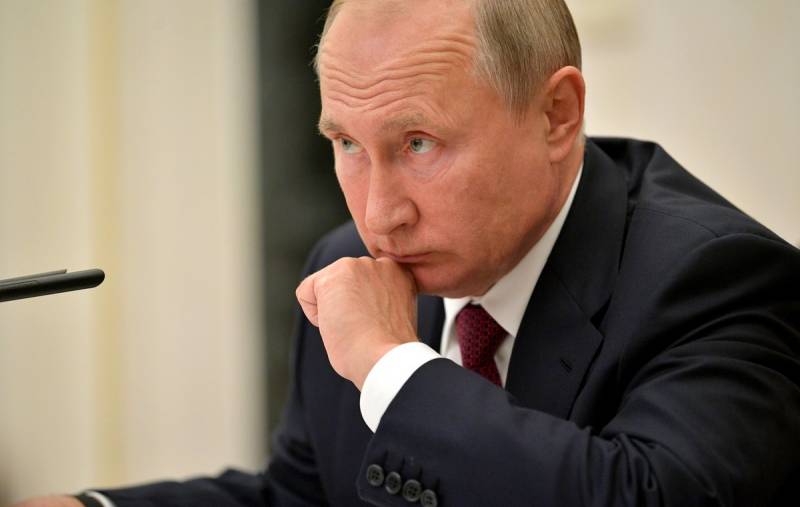 Probably, there are no people here who do not know the famous dictum of Alexander III: "Russia has only two allies - her army and her navy", which he said 150 years ago. It should be noted that little has changed since then, only aviation (now the Aerospace Forces) was added to the army and navy in the 20th century, and nothing else has changed for the better for the Russian Federation. This year, Putin reminded of yet another ally that everyone has forgotten about, although he has stood behind Russians from time immemorial. Yes, you understood correctly, this is Santa Claus. And on Lake Peipsi, and during the Polish-Lithuanian invasion, not to mention the last two Patriotic wars with Napoleon and Hitler, he stood for us. And who knows where we would be now if not for him. He came to the aid of Russia this time too.
Let me remind you that for those who have forgotten that this year Putin has demonstrated to all doubters all his omnipotence, driving half of ordinary inhabitants of Europe beyond the threshold of energy and gas poverty, forcing them to wash once a week, sleep in outerwear and cook dinner in order to save money. a coffee maker, and their would-be rulers, united for solidity in groups of countries on a geographical basis, from the night to take a queue in the office of the villain Miller and ask those who came out of there, in what mood he will give gas today or not?
Partly about the tasks pursued by Putin, I told
earlier
... For the lazy, I will repeat (although it's better to read it all the same) - all this Putin together with the villain Miller did not at all out of harm, and not even in order to speed up the launch of SP-2, as Western propagandists have already been buzzing all your ears. And in order to force the EU countries to abandon the norms of the Third Energy Package and again return to long-term contracts for the supply of Russian gas, from which the European Commission in its Gas Directive persistently discourages them and even prohibits them. Believe me, in this game all methods are good and Putin has chosen not the most cruel one yet. That is why he is least of all interested in the early launch of the SP-2. What for? The pipe is already generating income without even working, and if the existing prices at gas hubs remain (and they remain!), Then Gazprom will recoup 4,5 billion euros spent on its construction, already during this winter heating season. Shareholders of Nord Stream 2 AG could not even dream of such profitability (if gas prices had remained, they would have reached the break-even point only after 6-7 years of gas pipeline operation).
But the Europeans are still holding back. I just don't understand what they are counting on? If only for a miracle. However, there can be only two miracles. First, Santa Claus will not come this year. Do you yourself believe that? And if it comes? Then it will be too late to shout: "Putin, help!" If he helps, then only Germany, turning on, without waiting for certification, SP-2 in test mode at full capacity. All 55 billion cubic meters of gas per year! Already I hear the questions: "Well, it was so possible?" I answer: "You can! It's a test mode, you need to check everything, the gas pipeline is a complicated thing. Trunk, high pressure. You can't do without tests! " True, we will not have time to pump 55 billion with all our desire. Now, if they turned it on right now, about 5 billion would have been pumped to NG. But you yourself don't want that. Are you waiting for the second miracle? You will wait. The second miracle is if Gazprom itself starts pumping your underground gas storage facilities, which are still only 75% full. Just explain to me, the fool, why Miller needs this? You yourself did not fill them in in the summer. Gas seemed very expensive to you. Then it cost $ 500-600 / thousand cubic meters. Is it cheaper now? Are you now offering Miller to download it at a price twice as expensive? And what, on the doors of Gazprom, did you see the "Charitable Foundation" sign? Miller doesn't do charity work! You have to pay for the gas pumped into the UGS, at least for its storage. And what if Santa Claus does not come, the winter will be warm, and your 2% of the gas injected will be enough for you? Who will cover Gazprom's losses? Why should Miller pay for your peace of mind?
But Putin, a kind soul, on November 8 gave the command to download. Russian smelly gas went to Gazprom's European gas storage facilities. We are talking about the Austrian UGS "Haidach" and the German UGS "Jemgum", "Katarina", "Etzel" and "Rehden" (the worst situation is with the latter - it was less than 15% full). For this, the Ukrainian and Polish routes for the delivery of Russian blue fuel were used. But Gazprom will not have time to pump more than 2 billion cubic meters there, if it wants to (and the gas deficit in the EU at the moment is about 20 billion cubic meters).
How are you going to spend the winter? The Moldovans, for example, with gas (the other day they signed a 5-year contract with Gazprom) at a price of $ 450 / thousand cubic meters. Hungarians also have gas, they have a 15-year contract until 2036, the price is $ 350 / thousand cubic meters. The Austrians - with gas, they have a long-term contract until 2040, the price is 280 USD / thousand cubic meters. The Germans have the SP-1 pipe, plus a long-term contract at a price of $ 280 / thousand cubic meters, tied to the oil basket (in general, they do not depend on swaps, like the Austrians). The Bulgarians have a contract, the price is 550 USD / thousand cubic meters. The Serbs have a contract, the price will be revised during the visit of Alexander Vucic to Moscow on November 25 (the current contract expires at the end of this year, the Serbs want to prolong it while they receive Russian gas at a price of $ 240, but this price will no longer be what it will be - we'll see soon). Believe me, no one will offend the Serb brothers, the price will be no worse than that of the Hungarians, while the Bulgarians overpay for their corruption (and if they had held out South Stream in their time, they would not have known grief, they would have been paid extra, this is how the Bulgarian non-brothers pay for their stupidity and spinelessness). I am generally silent about the sultan - he is in full chocolate, one branch of the Turkish Stream (with a capacity of 15,75 billion cubic meters / year) and the Blue Stream completely (another 17 billion cubic meters / year) work for him. The price - you will lick your fingers (no one knows it, but very sweet!).
Greece has a contract with Gazprom, Croatia has a contract, about Bosnia-Herzegovina, Slovenia and North. Macedonia is already silent, they are also bound by contracts (although the volumes are small, but the bird is pecking by the grain). Italians are generally the third buyers of Russian gas in Europe after the Germans and Turks (in the first 9 months of this year they have already bought 14% more gas than in the same period last year - 18 billion cubic meters). At the end of October, Gazprom's subsidiary Gazprom Export and Italy's Eni SpA resolved their discrepancies on three long-term contracts for the supply of Russian blue fuel to Italy out of court by signing an agreement on changing the terms of delivery.
I am very pleased that we were able to resolve the existing differences with our Italian partners during negotiations outside the framework of arbitration. This became possible thanks to the trusting relationship that has developed between our companies over the decades of successful cooperation. I am confident that our partnership in the field of gas supplies has a great future
- said Elena Burmistrova, General Director of Gazprom Export.
Even vile Poles have a contract with Gazprom until the end of 2022 for the supply of 10,2 billion cubic meters of gas to Poland via the Yamal-EU gas pipeline (but not less than 8,7 billion cubic meters / year). True, they threaten not to renew it in 2023, but we know these Poles. With a demand of 22 billion cubic meters of gas per year, they have their own production of 5 billion cubic meters, an LNG terminal in Swinoujscie for 5 billion (which they intend to expand to 7,5 billion), and they also plan to fit a floating LNG terminal to Gdansk by 4,5 billion cubic meters, a total of 12 billion cubic meters of LNG alone, plus the launch of the same Baltic Pipe (a gas pipeline from Norway along the bottom of the North and Baltic Seas) with a capacity of 10 billion cubic meters of gas per year. But the trouble is that until 2023, due to the war with the Danish field mice, they do not have time to launch it, and the worst thing is that even if it is launched, there will be nothing to fill it with - the Norwegians promise a maximum of 2,5 billion cubic meters. Where to get the missing 2,5 billion? That's right, the Russians. And we may even sell them to the Poles, but at a very high price. You shouldn't have spit in our well! If you don't like it, buy from whom and where you want.
And here, against the background of all these events, Ukraine emerges. That's where the real storm is. Since the end of 2015, non-brothers allegedly have not been purchasing aggressive gas. With a demand of 30 billion cubic meters per year, they satisfy it with gas of their own production, which falls from year to year (before it was 20 billion, how much this year is a secret, but not less than 15 billion), the difference is covered by imports from the EU (all the same Russian gas, but with an overpayment, which was hung on ordinary Ukrainians). And everything would be fine, but this year you yourself know what is going on with gas in Europe. Not only is it expensive, but it is not there yet. You also know who is to blame for this - the Kremlin and Putin personally. Where to get the missing 10 billion cubic meters of gas? There are only 18,8 billion in storage facilities, of which 4,8 billion is an overwhelming balance serving to maintain pressure in underground gas storage facilities, 6 billion belong to foreign residents and another 3 billion are reserve insurance capacities. How to survive the winter with the remaining 5 billion, I do not know. Zelensky does not know this either, and is already preparing the people for the next zrada - direct purchases of gas from the Russian Federation. And then prove to me that Santa Claus does not pass on the lists of the department of Sergei Kuzhugetovich. I think he is listed there with the rank of colonel at least.