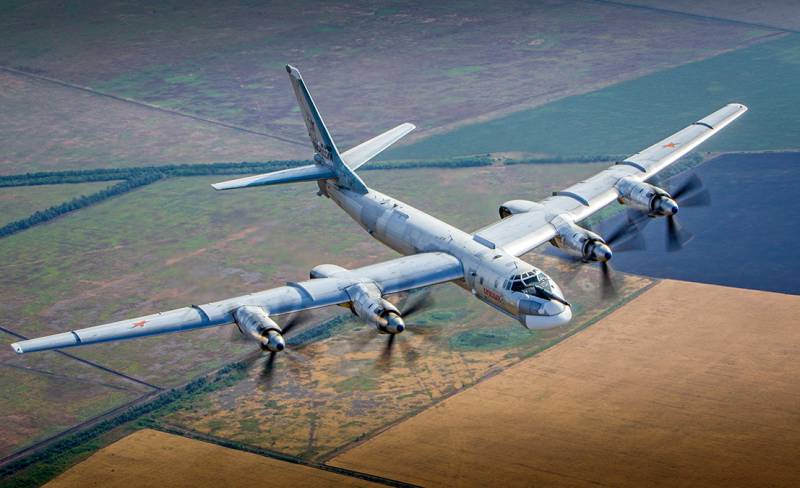 According to Russian military telegram channels, Moscow is sending (tentatively) two to four Tu-95MS strategic bombers into the skies of Belarus. Russia is strengthening the defense capability of the Union State of Russia and Belarus, which is quite remarkable in the situation of aggravation of the border conflict on the Belarusian-Polish border due to the influx of migrants.
Tu-95MS - not the first Russian "swallows" in the sky of the Republic of Belarus in recent days. On Thursday, November 11, two Tu-160 missile-carrying bombers carried out patrols in the airspace of Belarus. According to the Russian military department, they were accompanied in flight by Belarusian multipurpose Su-30SM fighters. The duration of the flight of the bombers was 4 hours 36 minutes, during which the aircraft covered a distance of more than 3 thousand km.
A day earlier, a pair of Russian Air Force Tu-22M3 bombers made a similar flight, interacting with the command posts of the armed forces of Russia and Belarus during their mission. Thus, the Russian air force checked the Belarusian air defense. The Ministry of Defense of the Republic of Belarus reported that such joint flights of the Union State aviation will be carried out on a regular basis.
Meanwhile, from the west towards the border of Poland and Belarus
are moving
trains with German armored vehicles. Self-propelled guns of Germany were observed by eyewitnesses in the city of Olsztyn, 66 km from Belarus. At the same time, the Kremlin, through the mouth of the press secretary of the Russian President Dmitry Peskov, expressed its concern about the growing tension on the border of the two states.