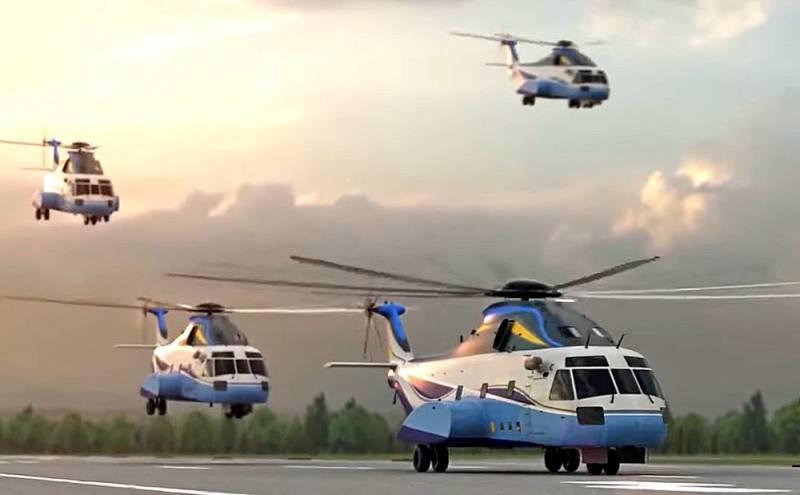 At the last international exhibition Airshow China 2021 in Zhuhai (PRC), a new draft layout and main technical characteristics of the future joint Russian-Chinese heavy helicopter AC332 (AHL project - Advanced Heavy Lifter) were presented. Communication between the functionaries of Russia and China has been going on since 2008, i.e. 13 years old, but now the creation of a rotary-wing aircraft is moving into a practical plane.
On November 8, Russian President Vladimir Putin held a working meeting with the general director of Russian Helicopters (part of Rostec) Andrei Boginsky. The head of the helicopter-building holding informed the head of state about current issues and plans for the future.
In 2016, during your visit to Beijing, an intergovernmental agreement was signed. Intensive negotiations have been going on since 2008, and on June 25 of this year we signed a contract (according to AC332 - ed.)
- said Boginsky.
He clarified that the Russian side will be engaged in the development of a part of the advanced helicopter units: transmission, tail rotor, anti-icing system. The project will be completed for another 13 years.
A serious project that we can work on for a long time, including acquiring additional skills and competencies
- emphasized Boginsky.
We remind you that the contract for the creation of AC332 AHL Russian Helicopters and the Chinese Avicopter (subsidiary of AVIC) were agreed upon back in 2019, but the final approval procedure in Beijing was delayed. At the same time, at the aforementioned air show, which took place from September 28 to October 3, the Chinese side revealed certain characteristics of the helicopter.
The maximum take-off weight will be 38,2 tons, and the maximum speed will be 300 km / h. The range of the rotorcraft will be 630 km, and the service ceiling will be 5700 meters. Inside the fuselage, it will be possible to place a load weighing 10 tons, and on the external sling - 15 tons. The power plant will be represented by two D-136 engines from Motor Sich JSC (Ukraine).