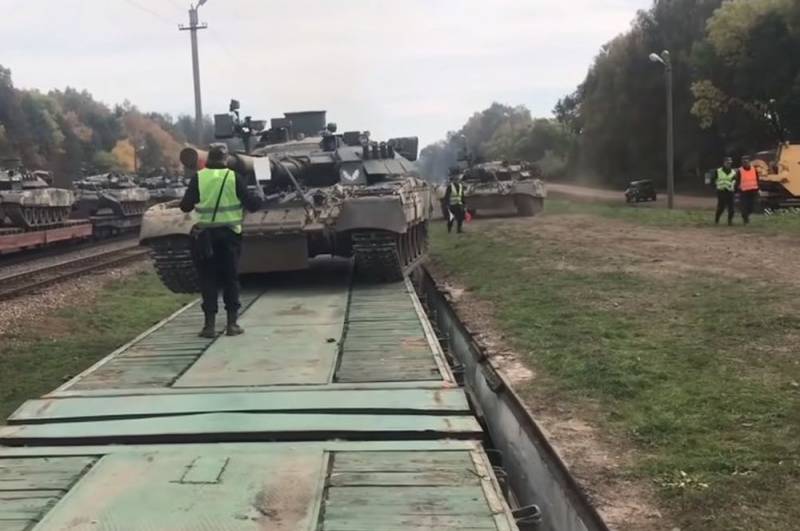 Western media continue their clumsy attempts to convince the Ukrainian leadership and the international community that Russia is going to "attack" Ukraine. On November 8, the American agency Bloomberg reported that the Russian Defense Ministry had deployed "at least" one battalion of tanks to the Voronezh region.
The material specifies that Russia has sent to Ukraine one of the fastest tanks in the world - the T-80U with a single gas turbine power plant. Moreover, the agency referred to the publication in the British edition of Janes, which was previously
noticed
in the dissemination of false information.
At the same time, the echelon of the 4th Guards Tank Division was allegedly spotted at the Maslovka railway station in the aforementioned region. This armored vehicle, presumably, was sent to the Pogonovo training ground, 250 km from the Ukrainian border. It was noted that in the spring of 2021 there was a "concentration" of the Russian army at this military facility, which made the West alarmed.
Social media monitoring of the forces by Jane's analysts shows that Russia is moving troops to "bridgeheads" closer to the border with Ukraine. Although it is not immediately obvious that an escalation of the conflict in Ukraine is inevitable, movement does go beyond the usual "cycles" for the RF Ground Forces.
- explains Janes.
We remind you that over the past few weeks, the Western media, literally in chorus, "highlighting" each other, publish materials of a similar nature, creating information noise. At the same time, Ukrainian officials, which is generally surprising, talk about the invariability of the number of Russian troops on the border with Ukraine.