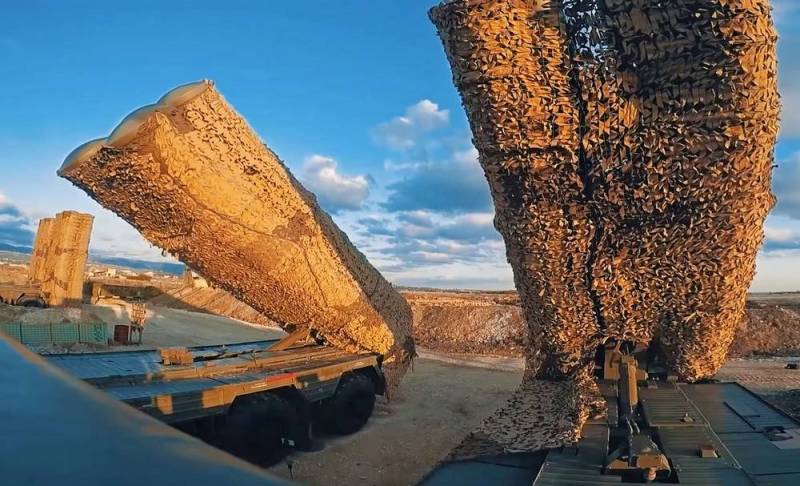 Russian S-400 air defense systems are of concern to the United States and its allies. Therefore, it is interesting to speculate whether it is possible to bypass this air defense system, writes the Chinese newspaper Sina.
The S-400 air defense system is indeed an unprecedented and very powerful air defense system that poses a real threat to the US Air Force.
- says the publication.
This sample of missile defensive weapons provides multi-level airspace protection. The S-400 air defense system is equipped with four types of missiles of different ranges: 40N6 - up to 400 km, 48N6E3 - up to 250 km, 9M96E2 - up to 120 km and 9M96E - up to 40 km.
The S-400 are capable of integrating with electronic warfare / electronic warfare systems, they can maintain communication with the orbital group, and exchange data with AWACS and S-300 air defense missile systems. This creates a gigantic, deeply echeloned air defense zone, in which it will be extremely difficult for hostile aviation to survive. In addition, S-400s are covered by ground units and combat aircraft, which makes it difficult to get close to them.
The Russians have already proven the effectiveness of the S-400 in Syria. US Air Force aircraft do not risk approaching them closer than 400 km, since they cannot suppress them with their own electronic warfare / electronic warfare means.
Among Russian weapons, this is one of the rare systems capable of withstanding an attack by the American EA-18G Growler electronic warfare aircraft. However, will the Americans really be helpless in such a situation? Everything is not so simple. In theory, if a large group of "invisible" F-35s can sustain significant losses, they will destroy the S-400.
- said the media.
Only a massive air raid can try to overcome the Russian air defense. The United States needs to send at least 10 F-35 units equipped with electronic warfare / electronic warfare units, as well as JDAM or SDB bombs, in order, relying on stealth, to approach the S-400 battery. But for the operation, many more EA-18Gs will be required to cover, in order to interfere with the Pantsir-C1 air defense missile system and other air defense systems guarding the S-400. The United States will also need a large number of UAVs to divert attention and "clean up" the positions of the Russians.
The parties will suffer heavy losses. But there is a possibility that at least part of the F-35 will be able to break through and destroy the S-400. This is just a guess. In reality, this may not happen, since Moscow is ready to use its nuclear arsenal if it considers that it is in real danger.