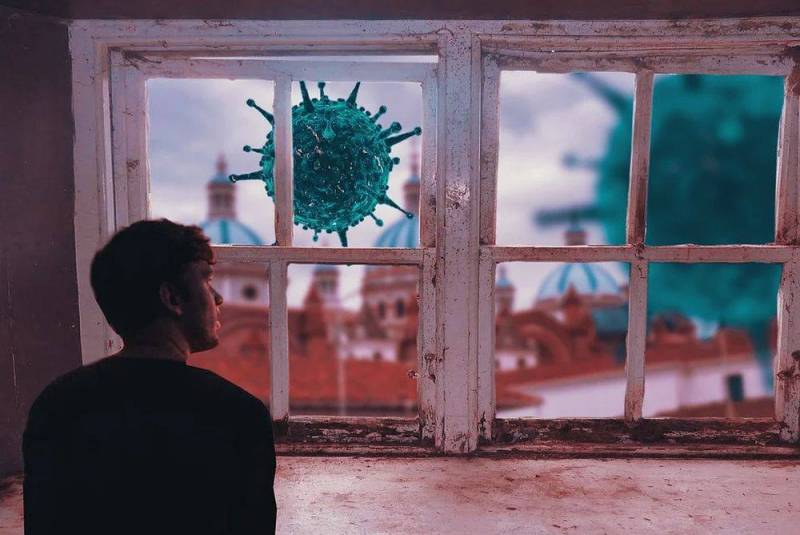 Many people like to read books, or better, watch spectacular films about the dystopias of the future, where heroes challenge the inhuman system and either defeat it or naturally perish in an unequal struggle. Then the book is finished, the film ends, and we exhale happily, rejoicing that all this was not in reality. They tickled their nerves a little, allowed them to scare, and then returned to their normal life, where nothing of the kind is simply impossible. Or maybe?
Dystopia come true
In part, we have this delicate topic already
concerned
, considering the issue of the formation of the so-called three-polar world. The fact is that all this was described back in 1943 by the brilliant and perspicacious British science fiction writer George Orwell. In his novel "1984" there are three superpowers continuously fighting among themselves for disputed territories and making alliances, "Oceania", "Eastasia" and "Eurasia", in which the current AUKUS alliance (USA, Great Britain and Australia), China with its satellites are quite guessed and partly the modern Russian Federation.
Surprisingly, the Englishman already then, in the middle of the 20th century, predicted a lot of what has become commonplace today. This is the image of "Big Brother" who is constantly watching you, and totalitarian propaganda with its constant rewriting of history, which manages to present white as black and black as white, and artificial intelligence as a prototype of a neural network that creates certain works, and
Technology
converting speech into text, and huge floating fortresses, either aircraft carriers, or bulk islands, etc. An amazing gift of foresight!
All this has already come true, and what is most annoying is that "1984" is precisely a dystopia. An interesting fact. It is believed that Orwell made fun of the "totalitarian USSR" and "Stalinism", but the "scoop" has been in the past for 30 years. Nevertheless, in 2013, the famous British publication The Guardian conducted a survey among its readers, and suddenly it turned out that 89% of them recognized themselves in George Orwell's "dark fantasies". In London, they are even thinking of removing the novel "1984" from the school curriculum, since a thinking person, having read it, may think too much.
All animals are equal. But some animals are more equal than others
This is the famous "commandment" from another Orwellian work called Animal Farm. It will allow us to rethrow a semantic bridge from 1943, when this story was written, to 2021. Let's see what the talented Briton predicted is happening right now.
Before his further reflections, the author of these lines considers it necessary to make a few explanations. Coronavirus infection really exists and poses a danger to the health and life of people, therefore it is necessary to fight it. The reasoning will concern how it is worth trying to do without crossing the line of humanity, and whether this is possible at all.
So, what do we have by November 2021. For the second year, the entire planet is terrorized by the new coronavirus infection COVID-19, and humanity suffers from it and from some methods of fighting it. "Newspeak" has already formed: "Waxers" and "Anti-Waxers" have appeared. The former support the idea of ​​mass vaccination, the latter oppose for various reasons, which we will talk about later. There is a "Big Brother" who, with his methods of combating COVID-19, divided society into two unequal parts and now watches over the "anti-axers".
To be honest, it all looks very unpleasant. In the so-called "anti-vaccination" automatically got not only principled "anti-vaccination", but also people who do not fully trust the authorities in general, as well as people who, perhaps, would like to be vaccinated, but cannot because of the withdrawal for medical reasons. Moreover, all of them are now noticeably infringed upon in their civil rights. Without a QR code confirming that they have been vaccinated against coronavirus, they can no longer visit large stores, service establishments, and they are seriously discussing that they will not be sold tickets for trains and other transport. At the same time, all the "anti-axers", ideological and forced, now find themselves pushed literally face to face in small stores, where they can infect or get infected in the same way. And those who are ready to be vaccinated on pain of restrictions on their rights stand in huge queues at vaccination centers. In other words, the very idea of ​​such restrictions inevitably turns into some kind of absurdity.
We will not dive deeply into the medical aspect of the problem, but let's touch on the legal one. This division of the population into two categories with different rights is somehow beginning to resemble the shameful phenomenon of segregation that only recently flourished in the United States.
Segregation (segregatio - separation, isolation, removal, separation) is the forced division of people into racial, ethnic or other groups in everyday life.
Needless to say, the division of society into vaccinated and unvaccinated with the defeat of the latter in civil rights violates the Constitution of the Russian Federation, in particular Chapter 2? For example, Article 19 states that everyone is equal before the law and the courts:
The state guarantees the equality of human and civil rights and freedoms, regardless of gender, race, nationality, language, origin, property and official position, place of residence, religion, beliefs, membership in public associations, or other circumstances. Any form of restriction of the rights of citizens on the grounds of social, racial, national, linguistic or religious affiliation is prohibited.
AND "
also other circumstances
". Article 21 of the Basic Law of the Russian Federation says that the dignity of the individual is protected by the state, and nothing can be a basis for belittling it:
No one should be subjected to torture, violence, other cruel or degrading treatment or punishment. No one can be subjected to medical, scientific or other experiments without voluntary consent.
It also says about freedom of movement, freedom of thought and speech, etc. But, on the other hand, Article 17 of the Constitution of the Russian Federation says that the exercise by a citizen of his rights and freedoms should not violate the rights and freedoms of other citizens. Then we ask ourselves the question, who is violating whose rights? Do "Waxers" restrict the civil rights of "anti-waxers", or are "Waxers" violating the right of "Waxers" to health and safety?
The question is very controversial and controversial. It's even more important to understand where this is going. Today we quite unexpectedly found ourselves in the world of the most real dystopia. What's next? Will we defeat the coronavirus infection and rewind everything as it was before? Or is it now that the "digital concentration camp" with total control and QR codes, about which so many people are talking, will become a new reality? Will Big Brother let us go?