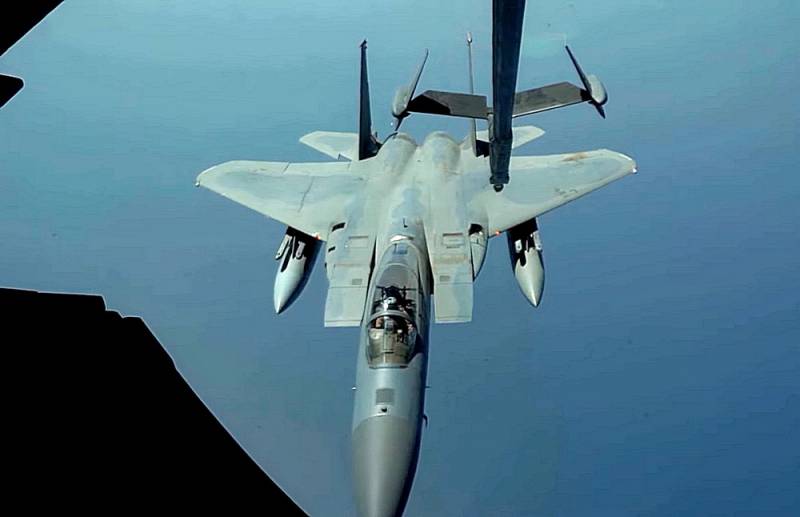 On November 4, 2021, the flagship of the US 6th Fleet USS Mount Whitney entered the Black Sea. According to the Polish resource Defense24, its passage through the Bosphorus was covered by American F-15 Strike Eagle fighters along with Turkish and Greek early warning and control aircraft AEW & C. As the Poles write, the "protective umbrella" was so dense that not a single Russian plane was able to fly up to the ship at the limit of visual visibility.
NATO took the escort of USS Mount Whitney very seriously, and it was not only about the demonstration flight of the F-15E over the American ship, but also about full control over its safety from the air. That is why the covering forces included two AEW (Airborne Early Warning) aircraft delegated by NATO countries. Turkey provided the Boeing E-7T Wedgetail aircraft for the mission, and Greece the EMB-145 Erieye.
By blocking the aircraft of the Russian Black Sea Fleet in this way, NATO forces gained almost complete control over the situation, Defense24 writes with bravado. An official statement from the Western bloc emphasizes that the purpose of such missions is to demonstrate that the Black Sea is extremely important for the security of Europe.
Meanwhile, according to Russian experts, the USS Mount Whitney is much more dangerous than the American Arleigh Burke-class missile destroyers that often enter the Black Sea. That is why not only the Minister of Defense of the Russian Federation Sergei Shoigu, but also the President of Russia himself, reacted to the appearance of this command ship,
proposing
look at him through the scope.
According to Defense24, the demonstration of NATO power in the Black Sea was organized just on the date of Vladimir Putin's visit to Sevastopol on the occasion of National Unity Day. The arrival of the flagship of the US 6th Fleet in the Black Sea region drew sharp criticism from the Russian authorities - the State Duma called the actions of the Americans a provocation.