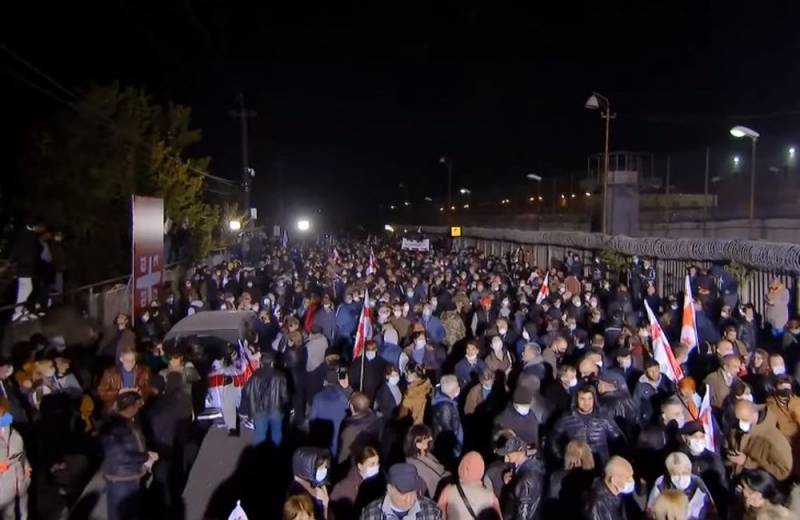 The situation in Georgia is gradually heating up. This can be judged by information received from the country's departments and events unfolding on the streets of some cities.
On November 6, the deputy head of the counterterrorism center of the State Security Service (SGB) of Georgia, Bacha Mgeladze, said at a press conference that the organizers of the actions in support of the arrested Georgian ex-president and the current high-ranking Ukrainian functionary Mikhail Saakashvili are going to seize power in the country by force.
Opposition activists originally planned to hold a protest event in Tbilisi. However, having learned that Saakashvili's health has deteriorated (he has been on hunger strike for 37 days), they decided to move their action from the capital of the country to the city where the penitentiary institution is located where their leader is being held.
After that, several thousand of Saakashvili's supporters gathered for a protest rally outside the building of prison number 12 in Rustavi. They grouped near the stage, holding flags and banners with the words: "Freedom for Saakashvili."
The organizers promised that the protest action would be unlimited, but they did not add specifics in what form it would take. At the same time, the head of the United National Movement party, Zaal Udumashvili, said that the opposition "will not surrender the country and the third president." He specified that the authorities "are taking away freedom," but the opposition will not give it up. By their "struggle" they will prove that they are "sons of the motherland."
Freedom for Misha and early elections - these are our demands
- he said.
In connection with the event held by the opposition, law enforcement officers have strengthened security measures. Additional patrol crews of the Georgian police are on duty around the rally of Saakashvili's supporters. The security of the inner perimeter of the prison was also strengthened. The opposition wanted to put the scene point-blank against the prison wall, but law enforcement officers did not allow them to do this.
In addition, the opposition wants to organize their pickets near the buildings of the parliament, government, presidential administration, the Ministry of Justice and the Ministry of Internal Affairs of Georgia in order to disrupt their usual regime of activity.