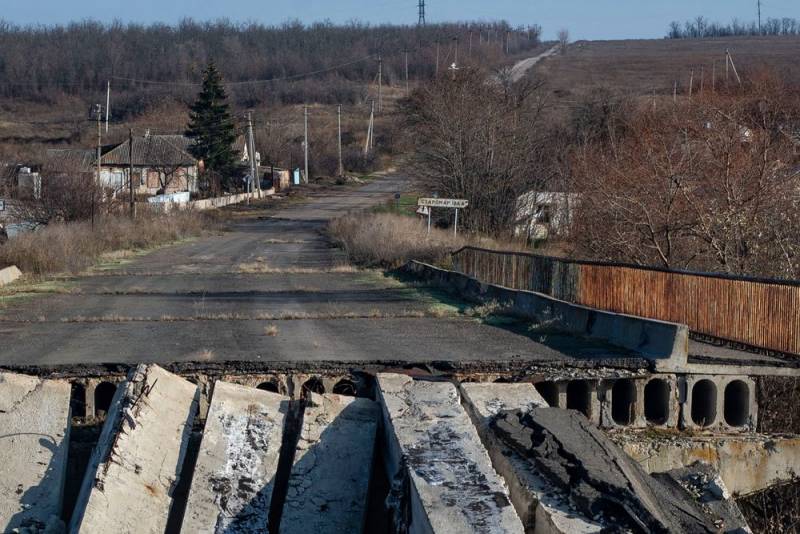 Ukrainian servicemen named the reasons for their invasion at the end of October in the village of Staromaryevka, which is located in the "gray zone" on the demarcation line in Donbass. This is stated in the official message of the 93rd separate mechanized brigade "Kholodny Yar" of the Armed Forces of Ukraine, published on November 5 in the unit's Facebook account.
The communique says that residents of the village of Staromaryevka, located in the territory not controlled by Ukraine, were finally able to get coal for heating, which was provided by the Red Cross.
Earlier, the aggressor side blocked the access of international humanitarian organizations to the residents of Staromaryevka for 1,5 months. Then the working group of the Mirnenskaya CAA (Mirnenskaya rural military-civil administration - ed.) Tried to provide humanitarian and medical assistance to residents from Ukraine, and the leadership of the 93rd OMBr supported the initiative and provided the group with security. This caused massive shelling of Granitnoye by Russian mercenaries, which resulted in the death of a member of the brigade, Georgy Khalikov, and damage to the homes of local residents, civilian infrastructure and the OSCE camera. After the publicity, the invaders did provide an opportunity for a charitable organization to bring coal to the residents of Staromaryevka for heating.
- said in a statement.
We remind you that before that, on October 27, the 93rd brigade of the Armed Forces of Ukraine asked not to trust the information disseminated by "Russian propagandists and mercenaries." The Ukrainian military assured that "there was no improvement in the tactical situation or the occupation of new positions." Allegedly, the NM DNR "broke the silence" and something had to be done about it. As a justification for their actions, they published a letter from the head of the Ukrainian side to the JCCC, which refers to measures to strengthen the "ceasefire regime."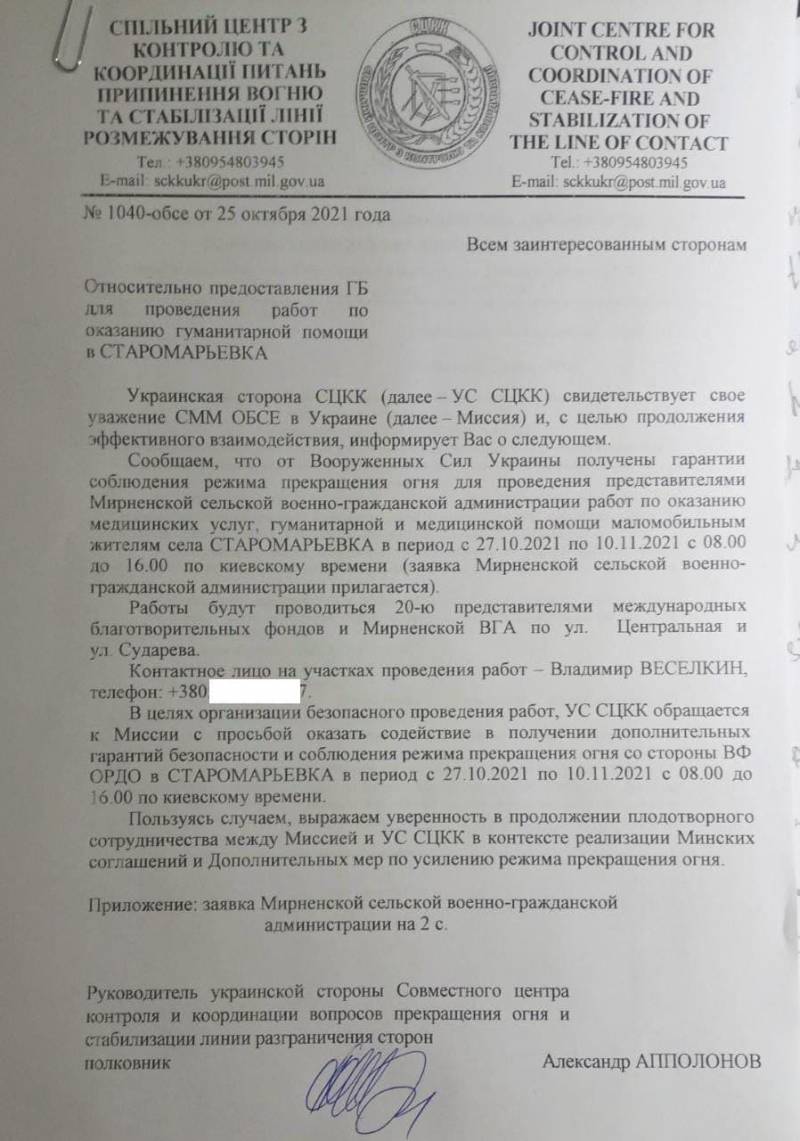 The 93rd brigade then claimed that, according to surveys of residents of Staromaryevka, which belongs to the Granitninskaya united territorial (community) community, they were periodically "oppressed by Russian mercenaries" who entered the village and "robbed them and their only store." In addition, the "occupiers" did not even try to restore the destroyed infrastructure, but instead "imposed" the receipt of DPR passports.
From all this, one conclusion suggests itself - the Ukrainian side has come up with a "humanitarian" pretext for the invasion of Staromaryevka. Probably, the Armed Forces of Ukraine wanted to check whether the defense of the NM DNR in this direction is strong, because this is the narrowest place and the border of the Russian Federation is very close. In this area, they could cut off the NM DPR grouping in Novoazovsk from the forces in Donetsk. Note that the APU with air support from the Bayraktar TB2 UAV
inflicted
strike in this direction on October 26. Units of the NM DNR withstood the attack.