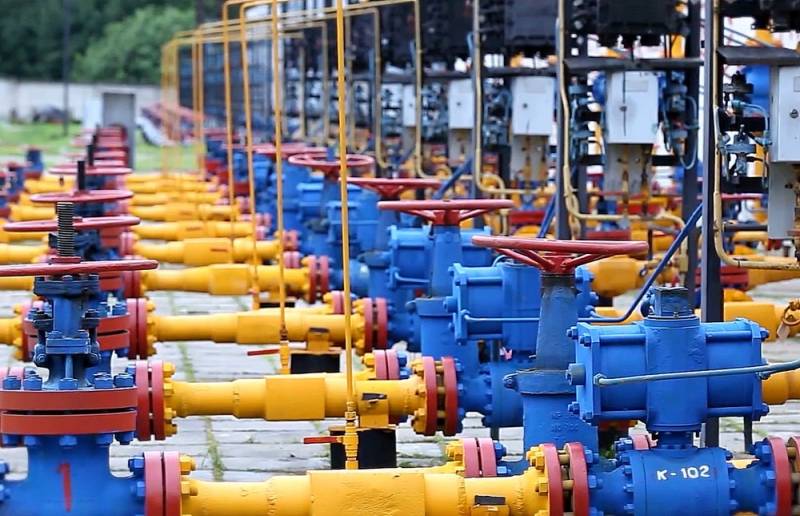 Another country besides Ukraine (we talked about Ukraine
earlier
), which was favorably reflected by the appearance of "Nord Stream-2", turned out to be Moldova. It must be said that in the future it can generally become an example for the rest of how to conduct gas negotiations with Gazprom. Although at first it seemed that Chisinau was doing everything in order to disrupt them and expose Gazprom to the whole world as a bloodsucker trying to freeze the Moldovan people.
Moldavian free circus
The background of these events is as follows. A long-term 30 contract for the supply of Russian gas to Moldova expired on September 2008. All this time, she was receiving Russian gas at a price of $ 158 / thous. cubes. At the same time, during this time, its operator has accumulated a debt to Gazprom of more than $ 400 million, which at the moment, taking into account penalties, has already reached 709 million. Moreover, this figure is exclusively Moldovan debt, Transnistria owes Gazprom 10 times more - more than 7 billion. For the sake of fairness, it should be noted that in the 3 billion cubic meters of gas consumed by Moldova per year, Chisinau accounts for only 1 billion, the remaining 2,1 billion are taken by Tiraspol. Tiraspol's debts Gazprom does not demand to repay, he asks, pay at least your 709 million. So they became a stumbling block. Chisinau does not recognize the debt. Well, then, excuse me, no money - no gas, see you in court, said Gazprom.
After that, Chisinau faced a real problem of lack of gas as such and asked for at least a month of delay. Miller, a kind soul, went to meet him and extended the contract for another month (until November 1), while the price was set at $ 790 / tk. cubic meters, which, you see, at the current prices in Europe, it is still divine (on the stock exchange it fluctuated around $ 1150 at that time). Why Chisinau, knowing about the contract expiring in September, did not start negotiations in advance, I do not know. But he also disposed of the given month of reprieve in the same talentless manner. President of the country Maia Sandu has withdrawn from negotiations altogether, they say, it is not a tsarist business to buy gas. Prime Minister Natalya Gavrilitsa too. Two second-rate deputy prime ministers were sent to Moscow for negotiations. The price offered by Gazprom at $ 790 did not suit them categorically, they also did not intend to discuss the debts of Moldovgaz. The question is frozen. At the same time, Moscow has no
political
did not put forward any requirements, it was only about the accumulated debt of 709 million and the mode of its servicing (Gazprom offered debt restructuring and a 3-year installment plan for its repayment). But, apparently, such questions were above the level of competence of the Moldovan negotiators sent to Moscow. The question stuck again.
Meanwhile, Chisinau frantically searched for gas on foreign markets (until that day, Gazprom was the only and unique supplier for it), and did not find it. It got to the point that he bought from the Polish oil and gas production company PGNiG, the Dutch Vitol and the Swiss DXT Commodities (the latter two, in general, speculative intermediaries), 1 million cubic meters of gas each, at a price of 1050 to 1150 dollars / thousand cubic meters. I'm not saying anything that these volumes were enough for them for about 25-26 hours of operation of their TPPs. But why did they not like the price of $ 790? It already smacks of obvious self-harm. After that, on October 22, a state of emergency was declared in Moldova, and she turned for help to the richest country in Europe, to Ukraine, borrowing another 15 million cubic meters of gas from her (in debt, with the obligation to give not money, but gas in February next year) - this volume was enough for them for another 5 days of operation of the TPP, after which the level of compromise of the Moldovan negotiators has seriously increased.
The result was the signing on October 29 in St. Petersburg of a new 5-year contract for the supply of Russian gas to Moldova at a price formula that suits both parties. According to it, Chisinau already from November 1 began to receive Russian gas at a price of $ 450 / thous. cubes. The price under the agreement will be revised once a quarter, taking into account the cost of the oil basket (30% of the price) and the cost of gas on the exchange (another 70% of the price) for the previous 3 quarters. Chisinau has every reason to believe that this price will only decrease (and it will happen when the SP-2 is launched). On the Moldovan side, the agreement was signed by Deputy Prime Minister Andrei Spinu and the head of Moldavgaz Vadim Cheban, on the Russian side by the chairman of the board of Gazprom PJSC Alexey Miller. As for the debt of "Moldovagaz", its independent audit will be carried out in 2022.
Based on this audit, the amount will be determined, and we will have new negotiations to determine the method and timing of the payment of this debt. It is important for citizens and businesses that since November 1, we have ensured gas supplies in sufficient volumes at a price at least twice lower than the current market price. Businesses will not stop and homes will be more warm
- the Moldovan service of Radio Liberty (an organization recognized as a foreign agent in the Russian Federation) quotes the Deputy Prime Minister.
With this, the Moldovan gas crisis was successfully resolved. At the same time, Gazprom demonstrated "zero politicians", it was exclusively about business, although Chisinau was covered by Transnistria as a shield, where gas cannot be supplied in any other way: either through Ukraine or through Moldova. At the same time, the reaction of Ukrainian non-brothers is noteworthy, who, demonstrating to the whole world the level of their ignorance and incompetence, or rather the degree of brain damage (or what they have instead of it) by the acid waste of the local media, told me with their blue eyes how Sandu was put on Gazprom's ass buying gas from the Europeans and forcing Miller to sign an agreement on unfavorable terms for him, so as not to lose such a beneficial buyer for himself, which is Chisinau with its unfortunate billion in gas consumption. Oh, I planted it, so I planted it! I bought 1 million of fuel from cunning Poles at $ 1150 / thous. cubic meters, which was enough for her for several hours of operation of the capital's thermal power plant, after which she went to wallow at Zelensky's feet, begging for another 15 million from him, and then only in order to have enough time to agree with Gazprom on the supply of gas for another 5 years. I wiped my nose, so I wiped it. At the same time, the agreement was signed on the terms of paying off the debt of 709 million dollars, there will be no money - there will be no gas either.
But no matter how cunning the Moldovans are, they are still far from the Poles. These guys have surpassed everyone, demonstrating upward cynicism and inconsistency.
How a Polish non-commissioned officer's widow once again whipped herself
On October 28, the Polish oil and gas company PGNiG asked Gazprom to revise the price at which it receives Russian gas downward.
Recently, we have witnessed an unprecedented rise in natural gas prices in the European wholesale market. This emergency situation gives rise to a revision of the price terms on which we purchase gas under the Yamal contract. In our opinion, there are opportunities to reduce the price of gas supplied to PGNiG

- said the president of PGNiG Pavel Maevsky.
An explanation is required here. Poland's long-term contract for the supply of Russian gas by Alexey Miller's department expires at the end of 2022. This is the same Yamal contract that the distinguished Mr. Mayevsky is talking about. It was concluded back in 1996 (September 26) between the Polish state oil and gas company PGNiG and the Russian Gazprom-export for the supply of 10,2 billion cubic meters of gas per year to Poland via the Yamal-EU pipeline (but not less than 8,7 billion cubic meters / year) at a fixed price, the revision of which under the contract was possible no more than once every 3 years. At the same time, the Polish side has repeatedly stated that such pricing does not suit it and that it does not intend to renew the contract after 2022. 10 years ago, Miller already went to meet the Poles, and in 2012 Gazprom and PGNiG signed an additional agreement to this contract, changing the price terms. As a result, the price of Russian gas then fell by more than 10%. But this did not suit the greedy Poles, and in 2020 they filed a lawsuit with the Stockholm Arbitration to revise the price peg formula, trying to get rid of oil prices and become attached to gas at European gas hubs. And they won it. As the winning Polish side stated at the time, "the court made possible a more direct link between the pricing formula and gas prices in European markets, which would lead to a significant improvement in the business environment." And that really led to it. But not for long.
Then, in March 2020, the Stockholm arbitration did not stop there and went even further, deciding in favor of PGNiG even on a retroactive revision of the price from November 1, 2014, obliging Gazprom to pay the Polish company $ 1,5 billion overpayment. Gazprom paid the difference, but harbored a grudge. And now, after 1,5 years, he was avenged. Already this year, the Poles, according to the lawsuit they won, are forced to buy its smelly gas from Gazprom, focusing not on oil prices, which in the first three quarters of this year stupidly dangled around $ 65-75 / bar, but on galloping prices on European gas exchanges ... And they were forced to do this, because the prices for American LNG were even higher, consistently importing over 2 million cubic meters / month of Russian pipeline gas throughout the 3nd and 900rd quarters, which corresponds to the maximum level of contracted supplies, according to Russian customs. According to Gazprom itself, in January-August 2021 it increased the supply of its product to Poland by 12% (PJSC report for 8 months). The delivery was carried out at a price that is formed at 30% of oil prices and 70% of prices established at European gas hubs for the previous 3 quarters. In this case, the price is revised on a quarterly basis. Now it is $ 790 / thousand for Poland. cubes. Indeed, everything that is not done is for the best! But Mr. Mayevsky, apparently, does not like such happiness, and he again appeals to the conscience of Gazprom with requests to revise the price. Truly, the arrogance of the Poles has no boundaries!
You have not forgotten that in the coronavirus year 2020, due to a drop in business activity and a warm winter, with European UGS facilities filled to capacity (in anticipation of problems with the signing of the next gas transit agreement between the Russian Federation and Ukraine), the gas price on European swaps fell to its historical minimum and dangled in the region of $ 65-80 / thous. cubes. Naturally, Poland only benefited from this, the exchange gas quotes turned out to be lower than the price, which was calculated according to the formula linked to the oil basket. Pan Mayevsky rubbed his hands, and Gazprom suffered losses. The Poles thought it would always be like this. But the music did not last long. And now, a year later, we are witnessing a European rally in gas prices, which have already broken through the ceiling of $ 1200 per thousand cubic meters, simultaneously updating their historical maximum, and really risk not stopping at this if the winter is harsh, and Nord Stream-2 is up to the arrival of Santa Claus will never be launched. Looking at this, the Poles demonstrate extreme inconsistency, demanding another revision of the price.
What happens when the swap price is low, we focus on it, and when it is high, we focus on oil? It doesn't work that way! You have already decided, gentlemen are good, are you smart or beautiful? The Germans are smart, they get Russian stinking pipe gas at a price of $ 280 / tcm, and before that it cost them even cheaper - $ 240, the price will grow slowly, because it is 100% tied to the oil basket, and oil is not demonstrates such high volatility, only now, having stepped over $ 80 / bar. The Austrians, who signed a gas contract with Gazprom in 2018 until 2040, have a similar price. Hungary, which recently signed a 15-year contract with Gazprom until 2036, also has an acceptable price - around $ 350 / tsd. cubic meters (it is only 30% tied to gas swaps). Even Moldovans bargained for a price of $ 5 per thousand from Miller for 450 years. cubic meters, with a downward trend, as it is pegged by 50% to oil prices. And you will pay $ 790, risking this winter to recoup all of Gazprom's expenses, which it incurred by the decision of the Stockholm court. And so it will be! And if you torpedo the SP-2 certification, then pay even more. Because stupid and greedy pays twice!
According to Gazprom, from October 2020 to April 2021, Poland imported 5 billion cubic meters of Russian gas. Indicators of this October show that Russian gas supplies are in excess, and in winter PGNiG will not have alternative sources that can replace Russian gas. Thus, in this heating season, Poland's gas costs may amount to at least $ 3,95 billion, and the overpayment, when compared with the price with an oil peg, is $ 2,55 billion. ). Amen!