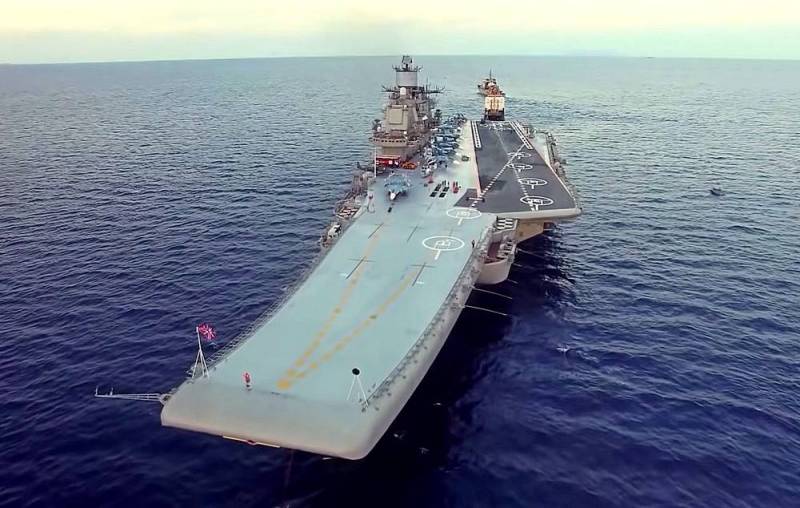 The American media drew attention to the condition of the only aircraft-carrying cruiser in Russia, Admiral Kuznetsov, which is currently experiencing major technical problems. Experts of the resource 19fortyfive.com draw attention to the low environmental characteristics of the ship's operation - in particular, to the acrid black smoke formed as a result of the combustion of fuel oil and the partial burnout of engine oil.
Fuel oil was used by naval forces and commercial ships until the 1960s and 70s, after which many warships were converted to nuclear or gas turbine propulsion systems. The first and the second run on nuclear and diesel fuel. Fuel oil, on the other hand, contains a high level of sulfur, which is partially burned in the engines of the Admiral Kuznetsov, causing thick black smoke.
At the same time, fuel oil requires the use of a complex system of pipes and boilers. They, in the opinion of the Americans, are poorly built and often fail. The cruiser's boiler system had become so unusable that sometimes the ship had to work only on one boiler, because of which it could move at a speed of only four knots. Therefore, the aircraft carrier was often accompanied by sea tugs.
Now the ship, according to 19fortyfive.com, is a real floating disaster. The problem could be corrected by providing the ship with a nuclear power plant or a gas turbine engine, but such plans have not been announced. Now the ship is causing great inconvenience to the Navy, and the Russians will undoubtedly come up with a lot of excuses for this.