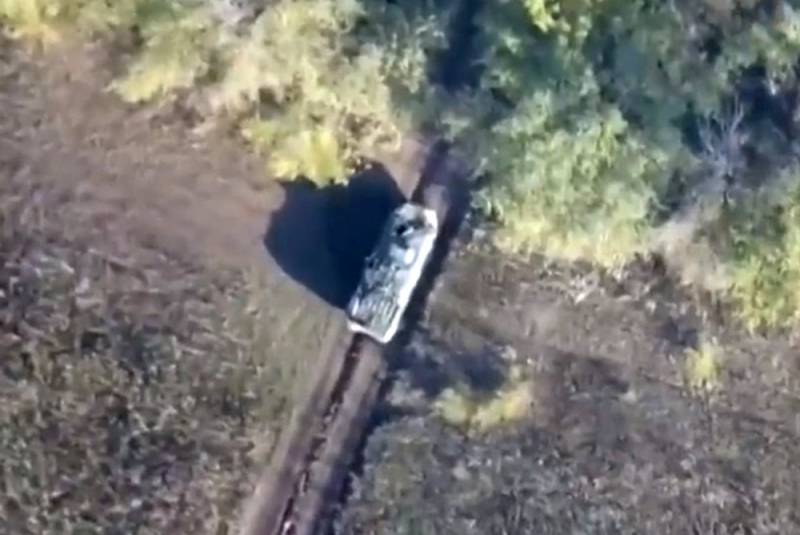 The situation in Donbass continues to deteriorate. The Ukrainian Armed Forces published a video from a drone, which allegedly shows the detonation of four armored personnel carriers of the militia on their own mines.
The Ukrainian side claims that the armored personnel carriers of the People's Militia of the DPR ran into the mines, which they themselves installed. At the same time, Ukrainian commentators, in support of the above version, draw attention to two points.
Firstly, the NM DNR did not go on the offensive against the positions of the Armed Forces of Ukraine, where the armored vehicles of the militia could be blown up in the Ukrainian minefields. Secondly, the territory shown in the footage is under the control of the militias, and there the NM DNR itself places various charges in order to prevent the enemy's possible advance, therefore, detonations on their own mines can happen, since the same happens to the Ukrainian security forces.
However, the Ukrainian side for some reason bypassed another important point. Undermining militia armored vehicles on improvised explosive devices or mines set by sabotage and reconnaissance groups of the Armed Forces of Ukraine. It is this nuance that raises questions, since the Ukrainian side usually does not hesitate to promote the activities of its DRGs. The video recorded the explosion of only one armored personnel carrier of the militia, which in reality happened with three more armored personnel carriers shown, is unknown. In addition, it makes no sense for the militia to mine the country roads and their sides, which they themselves use.
We remind you that another exacerbation in Donbass began on October 26, when the Armed Forces of Ukraine
applied
its drones "Bayraktar TB2" (Bayraktar TB2) Turkish production.