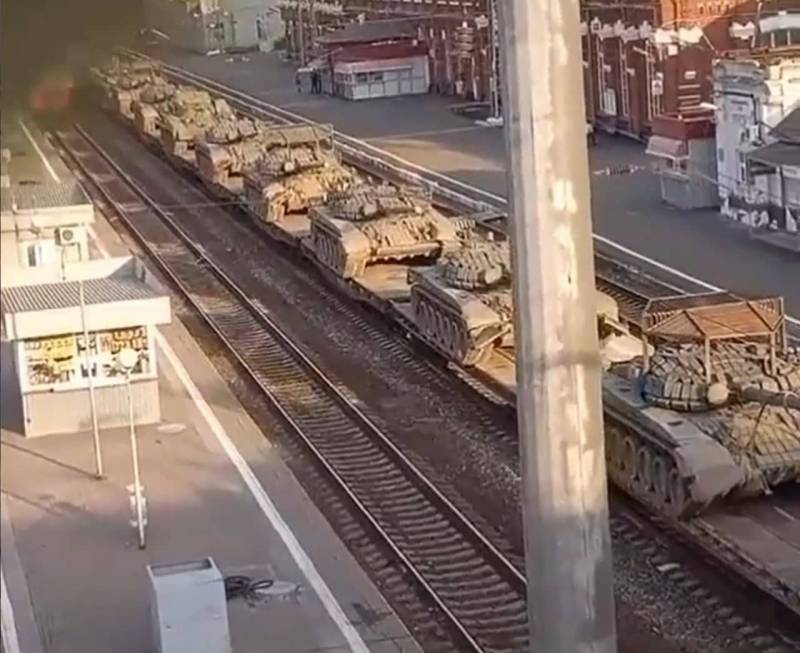 Against the background of another serious aggravation of the conflict in Donbass, social networks drew attention to the transfer of the Russian
equipment
to the western and southern borders of Russia. Moreover, about some models of weapons of the Russian army, interesting user discussions arose.
For example, as reported
"Military Review"
, a snapshot of a military echelon carrying T-72B tanks appeared on the Web, some of which had protective structures installed on the towers. It was because of this engineering solution that one of the discussions unfolded.
Commentators claim that the fixation of armored vehicles took place in Krasnodar during the passage of the train through the railway station. The photograph clearly shows that at least two tanks are equipped with the aforementioned lattice screens. Where exactly the train was heading is unknown.
However, many users managed to unreasonably assume that they were "at war with Ukraine." At the same time, they called protective structures "sun canopies", "anti-javelin protection" and even "the last word in fence construction."
As for the "anti-Javelin defense" of the turret of tanks against ammunition (the vulnerability of these combat vehicles) attacking the target from above, then we can talk not only about countering the American portable anti-tank missile systems (ATGM) FGM-148 Javelin. All such ATGMs, the guided missiles (ATGM) of which are able to hit the target in this way, fall under the aforementioned symbol. In addition, the structure on the tower can be designed to counter drone strikes, as well as additional protection against tandem weapons. This is an assumption, since the Ministry of Defense of the Russian Federation did not give its comments on this matter.
It should be noted that in the summer, pictures of Russian tanks with protective structures of various shapes on tank turrets have already flashed on the Web. However, at that time, users assumed that this technique would be sent to Syria. This time, their opinion has changed due to what is happening in Ukraine.