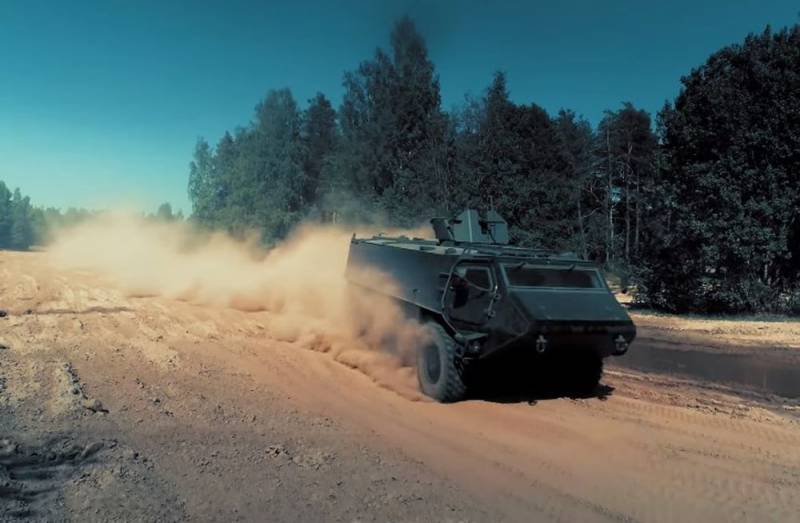 The Latvian Ministry of Defense received the first batch of four armored personnel carriers from the Finnish company Patria. In total, the Latvian army has ordered more than 200 units of such armored personnel carriers. On October 29, the Latvian military department announced this on its website.
In February 2020, it became known that the Latvian Ministry of Defense suspended the purchase of light and medium armored vehicles with a 4x4 wheel arrangement, deciding to redirect 200 million euros for the joint development, production and delivery of a new version of the Patria 6x6 HAPC (Heavy Armored Personnel Carrier Carrier) armored personnel carrier.
Finland and Latvia have agreed on a joint program for the development of armored vehicles aimed at increasing the mobility of the armies of the two countries. Thus, each such armored personnel carrier should cost Latvia less than 1 million euros per unit (not to be confused with the Patria AMV 8x8, costing about 1,5 million euros per unit).
In October 2020, Riga, Helsinki and Patria Land Oy signed an agreement on the development of vehicles for the Latvian army, as well as the future
technical
support and training of crews. In May 2021, a presentation of a prototype of a new armored personnel carrier took place at the Adazi training ground. In August, the heads of the Ministry of Defense of Latvia and Finland, Artis Pabriks and Anti Kaikkonen, respectively, signed an agreement on the purchase of these armored personnel carriers from Patria for the needs of the Latvian army.
The deliveries of these BRTs will take place in 2021-2029. The armored personnel carrier is equipped with a Cockerill CLWS (Cockerill Light Weapon Station) combat module. The ammunition load of the 25 mm cannon has 140 ammunition, and the 7,62 mm machine gun has 200 rounds.
Sweden has already shown interest in this project, and Estonia suspended its participation after signing a memorandum of intent with Latvia and Finland, but it and any other union country will have the opportunity to conclude a framework agreement and order products in the future
- summed up in the communiqué of the Ministry of Defense of Latvia.
We remind you that Finland and Sweden are not members of NATO. But their "neutral" status is only nominal, however, as in Austria and Switzerland. At the same time, Latvia, like Estonia and Lithuania, are rearming thanks to material assistance from the EU. This is what allows the leaders of these countries to report on the achievement of a defense spending target of 2% of GDP.