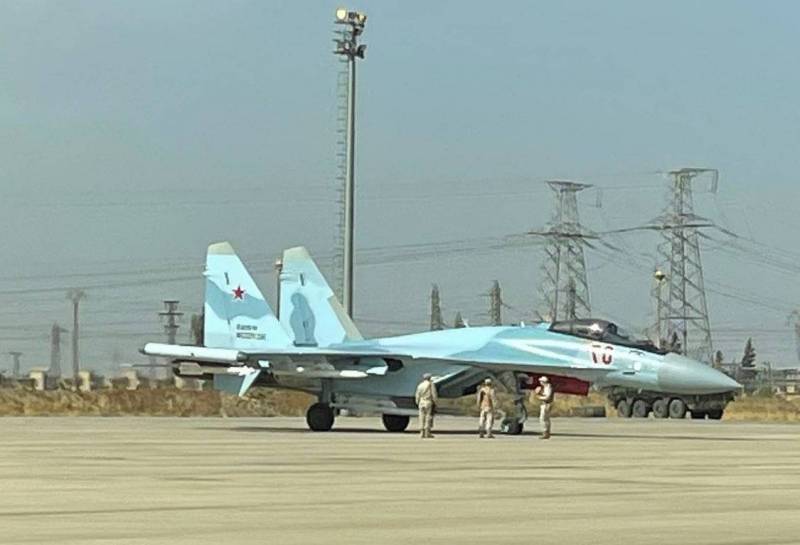 American media have expressed concern about
emergence
at the airbase in Qamishli (Haseke province, northeastern part of Syria) of the Su-35 multipurpose fighter in close proximity to US military units. According to the American edition of The Drive, the fighter can become part of a larger deployment of four such aircraft, which indicates the strengthening of Russian positions in this region of the SAR.
In particular, it is reported that a Su-27C with the tail number "35 Red" will appear on Wednesday, October 07 in Kamyshly. At the same time, it is noted that the Su-35 first arrived at this airfield, previously used only as a base for Russian combat helicopters. Eyewitnesses also report the arrival of three more Su-35s at the same base.
According to the Pan-Arab TV channel Al Mayadeen, the fighters have already conducted several reconnaissance flights. Ammunition was delivered to the base along with the planes. Apparently, the Su-35 will remain in this part of Syria indefinitely.
The Kamishli base is located 5 km from the Syrian-Turkish border, and the Su-35 has already properly reacted to the landing here in Kurdish and Arab social networks. According to the Voenny Obozrevatel telegram channel, the appearance of the Russian Aerospace Forces in the area of ​​the expected actions of the Turkish troops gives Ankara clear and definite signals.