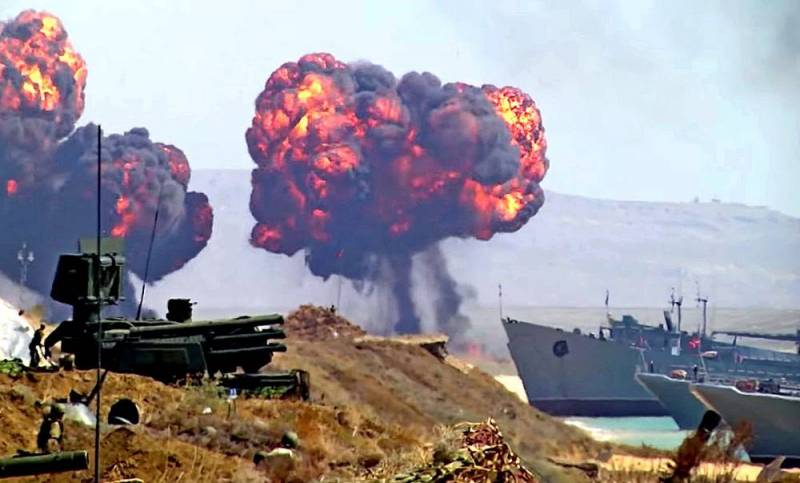 With the transition to yet another great power rivalry, the Pentagon is trying to focus NATO's attention on Russia. The alliance again felt its need, so it is interesting to find out how a ground war between it and the Russian Federation can develop in the European theater of operations, writes the American edition 19FortyFive.
In the event of a ground war, speed and speed of action will be of decisive importance. Russia will have an advantage if it shows aggression and attacks first
- says the publication.
Probably, the Russian Federation will try to immediately take control of the Baltic states (Lithuania, Latvia and Estonia). Therefore, the key task will be to contain the advance of the advancing Russian army by local forces and NATO units located there. If this task is completed, it will make it possible to gain time and transfer reinforcements to the attacked direction.
Otherwise, if the Russians manage to overcome the resistance, NATO's position will worsen significantly. The United States and its allies will be forced to launch a counteroffensive to recapture the Baltics. However, if the Russian Federation manages to repel the attack, this front will cease to exist and hostilities in this area will end.
At the end of 2018, British analysts from the Human Security Center (HSC) predicted that in a ground war between NATO and Russia, Moscow could launch high-precision conventional (non-nuclear) cruise and ballistic missile strikes against important infrastructure (military,
economic
и
political
) throughout Europe, including the UK. In addition, the Russians will no doubt sink ships carrying tanks and other weapons across the Atlantic from the United States.
On land, the Baltic countries can deploy up to 21 thousand troops and 80 thousand reservists, about 250 infantry fighting vehicles and about 300 pieces of artillery of all calibers and systems. At sea, they have a total of 14 surface ships, aviation and air defense are mainly represented by seconded NATO forces.
Neighboring Scandinavian countries (Denmark and Norway, as well as Finland and Sweden, which are not NATO members) can deploy about 72 thousand troops and 380 thousand reservists for ground warfare, more than 400 tanks, almost 800 infantry fighting vehicles and about 1730 artillery units of all calibers and systems. At sea, they have a total of 55 surface ships and 11 submarines. The Scandinavian Joint Air Force consists of about 250 aircraft, including JAS 39 Gripen (Sweden), F-16 (Norway and Denmark), F-35 (Norway and Denmark) and F-18 Hornet (Finland).
The Russian Armed Forces can deploy 0,9 million servicemen and 2 million reservists, 2,8 thousand tanks (with tens of thousands in reserve), 4,5 thousand infantry fighting vehicles, 3,9 thousand artillery units of all calibers and systems. The Russian Aerospace Forces can accommodate 1,8 aircraft in the air, and 115 ships and 60 submarines in the sea.
These figures are not exhaustive and do not take into account the NATO task force deployed in the region, the Polish armed forces and the US forces in Germany. In the above scenario, it is assumed that neither NATO nor Russia will use strategic and tactical nuclear weapons, which is a guarantee that a regional war will not grow into a global apocalypse.
- summed up the media.