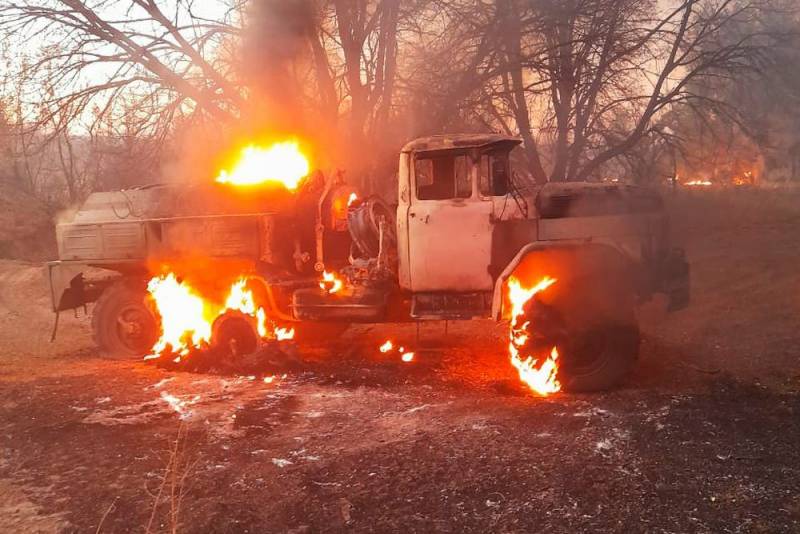 Another exacerbation is noted in the Donbass. On October 26, the Armed Forces of Ukraine carried out a mortar attack on the villages of Prishib, Smeloe, Khorosheye and Sokolniki in the Slavyanoserbsk region of the LPR. As a result of hits of 82-mm and 120-mm caliber ammunition, 6 houses were damaged only in the village of Prishib, as reported by the press service of the NM LPR.
In her report from the scene, the NM LPR demonstrated what had happened. In response to the shelling, the militia began to strike at the Armed Forces of Ukraine, destroying the Ukrainian
machinery
.
On the evening of October 27, the press service of the operational-tactical group of the Armed Forces of Ukraine "Sever" reported on its Facebook page that the "occupation troops of the Russian Federation" fired about 20 120-mm ammunition at the village of Tryokhizbenka in the Novoaydarsky district of the Luhansk region, damaging residential buildings.
In addition, the Ukrainian side published photographs of a burning ZIL-131 truck transporting water for the Ukrainian military in the area of ​​the village of Kryakovka in the Novoaydarsky district of the Luhansk region. Allegedly, in this area, the enemy fired about 30 120-mm ammunition.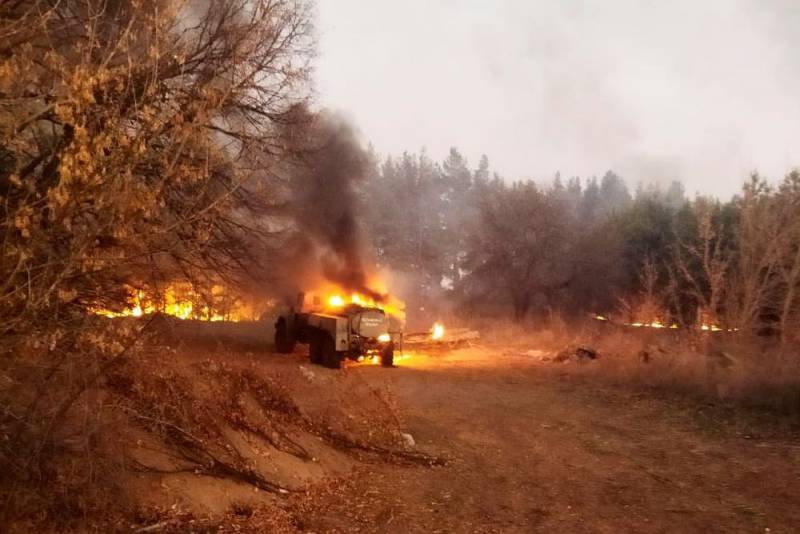 The LPR clarified that Kryakovka is located on the opposite bank of the Seversky Donets River from the village of Sokolniki. At the same time, the firing points that fired at the LPR were, among other things, in the area of ​​the burned-out truck.
We remind you that the sharp intensification of hostilities in Donbass
began
after the use of the APU drones "Bayraktar" and the capture of the "gray zone" by the Ukrainian military on the line of demarcation.
On October 28, the Ukrainian Armed Forces began shelling the territory of the DPR from artillery. Yasinovataya and the village of Mineralnoe, Yasinovatsky district, were under fire of 152-mm guns. We continue to monitor what is happening.