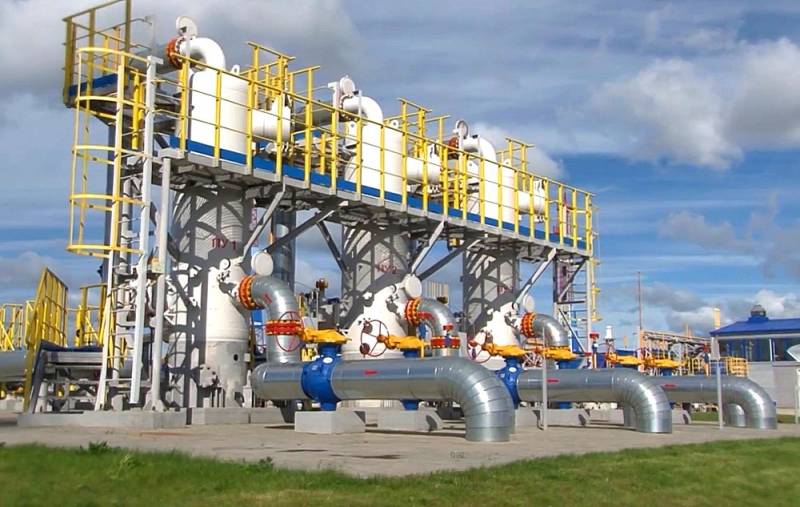 On the eve, the cost of 1 cubic meters of gas on European trading floors exceeded the psychologically important mark of $ 1100. A real panic begins in the EU: prices for gas and electricity are growing, the creation of a mechanism for joint purchase and storage of "blue fuel" is being discussed, and the question of preserving nuclear power plants is even raised despite the general trend towards abandoning nuclear energy. Considering how many officials from Brussels drank Gazprom's blood, creating all sorts of obstacles to the construction of Nord Stream-2, many of us perceive the problems of Europeans with obvious approval as a kind of well-deserved punishment. Unfortunately, all this may soon come back to haunt us.
Undoubtedly, Europe, or rather, its short-sighted
policy
have created most of today's problems for themselves. Here it is appropriate to recall their ardent desire to move from long-term contracts for the supply of gas with Russia to a spot trading mechanism on stock exchanges. And this despite the fact that there is a competing energy market in Southeast Asia, where prices for "blue fuel" are always objectively higher. The decision to forcefully tie Gazprom to supplies via the Ukrainian GTS on conditions extremely unfavorable for the domestic monopolist was also clearly erroneous. And how can one fail to recall how many European officials with their own hands put obstacles in the way of the smooth operation of the Russian gas pipelines "Nord Stream" and "Nord Stream-2". All this was done in parallel with the abandonment of coal and nuclear power generation in favor of renewable "green" energy sources.
It turned out that one "black swan", the coronavirus pandemic, was enough to overturn this seemingly stable and promising system. Energy prices first fell, setting historical anti-records, and then jumped to abnormal levels. Of course, Gazprom also contributed to the energy crisis by artificially limiting the volume of supplies to Europe so that officials would quickly resolve the issue of certification and launch of Nord Stream 2. Karma? It looks like it. Is this fair? Maybe yes.
But, alas, the problems of the Old World will inevitably affect Russia itself and its inhabitants. Let's take a close look at where this is going.
Some time ago, with a grain of gloating joy, we stated that in unfriendly Russia, Great Britain, due to abnormally high electricity prices, the first factories began to close, and many ordinary Englishmen may have nothing to put on the traditional Christmas table. But the problem of expensive gas and electricity concerns not only the United Kingdom, it is much broader and more global.
Thus, in continental Europe, gas for industrial enterprises has risen in price by 51,4% compared to the corresponding level of the previous year, and electricity - by 26,4%. Official manufacturing inflation rose 1,1% in August and 13,4% in annual terms. This forced European manufacturers to increase the selling prices for their products by 9,3%. As they say, it's not over yet. Some analysts predict the cost of 1 cubic meters of gas in the EU at almost $ 2 by the end of 2021. How much will the overall costs of European industry rise then?
Why should we care? Shouldn't it? How many years did domestic liberals build the so-called "
the economy
pipes ": we export oil and gas, and we will buy everything we need for oil and gas dollars. Why do we need machines? Let's buy.
In Europe. Where now the cost of production has increased due to expensive gas and electricity. And now we ourselves will have to pay dearly for inflation in the EU. Let's remember that we, as a "raw material semi-colony", are forced to import from abroad. For example, these are the same machines,
technical
equipment, chemical products, cars, components for them, industrial equipment used in the oil and gas industry, in construction, in agriculture, etc. Now all this will increase even more in price for domestic consumers. We have few problems with the difference in exchange rates, now we will also have to pay the so-called "inflation tax" for Europe's energy problems. Replace Europe with China? But gas prices there are even higher than in the Old World. It is not without reason that all LNG tankers left for Southeast Asia.
This is the payback for a naive belief in liberal tales about incredibly efficient private owners, a free market that will judge everyone, and about the uselessness of domestic industry. Our own internal inflation is not enough for us, so now we will also pay for someone else's. With which we all "congratulate". Have a nice day and great mood to everyone!