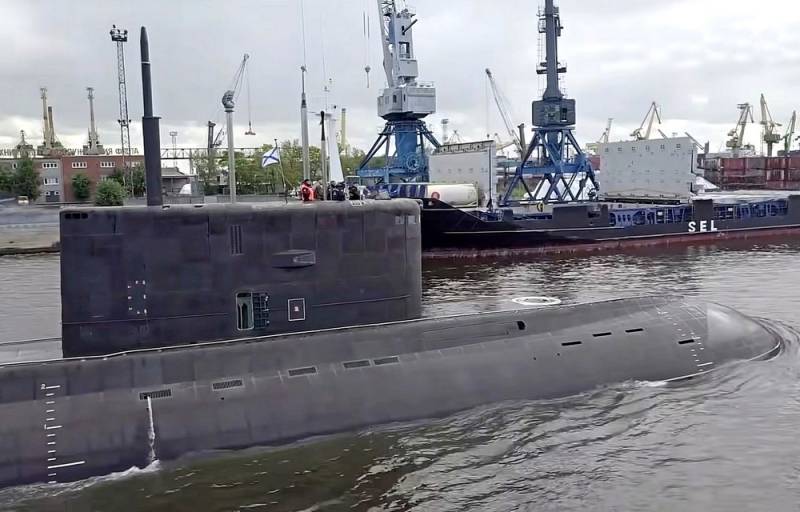 The day before, the lead submarine "St. Petersburg" of project 677 "Lada" was accepted into the Russian Navy. The submarine has been in trial operation for more than 10 years, but now, when it has taken up combat duty, it is time to talk about the formation of a new operational class of submarines in Russia.
The thing is that diesel submarines of the Lada project have a unique feature. They are equipped with air-independent power plants (VNEU), which allow them to be immersed for a long time.
Until recently, the primacy in this area remained with the NATO countries, primarily Germany and Sweden. Foreign submarines of this class are capable of continuously staying under water for more than 20 days at an underwater economic speed of 5 knots.
Our submarine of project 677 "Lada" was launched in 2004. In 2010, its trial operation began. However, it was transferred to the Navy only in 2021, which became a decisive factor in the "arms race" with NATO countries.
The thing is that during the trial operation, domestic engineers have introduced more than 147 revolutionary inventions and the latest developments. As a result, the devices of the Lada project can boast of outstanding
technical
characteristics.
In particular, in terms of noise, the St. Petersburg submarine turned out to be three times quieter than the Varshavyanka, which NATO members called the "black hole in the ocean". In addition, she is equipped with 18 torpedoes against 12 for German and Swedish submarines of the same class. At the same time, the next submarines of Project 677 will receive up to 6 launchers, allowing them to fire Onyx and Caliber.
In general, the submarines of Project 677 "Lada" will be able to "press out" the nuclear submarine not only in coastal waters and closed sea areas, but also in the open ocean. At the same time, Russia plans to build 12 submarines of this series.