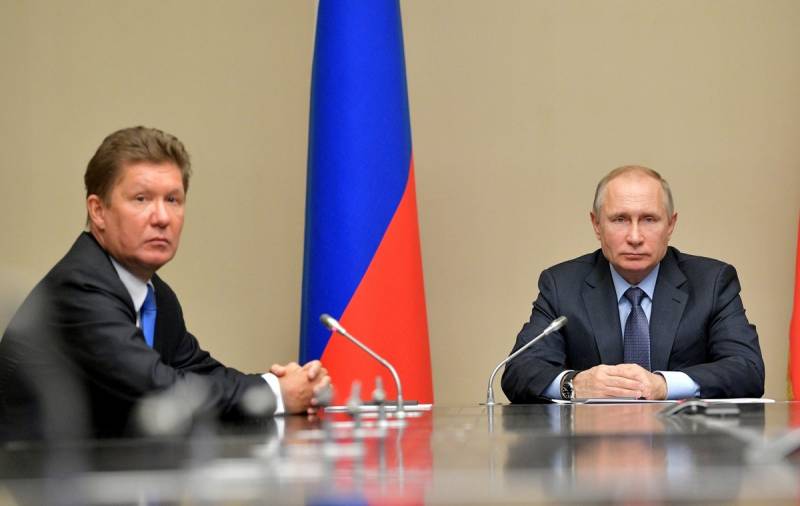 On Wednesday, October 6, the day before his birthday (October 7, the GDP turned 69, congratulations!) Putin held a big meeting on energy issues. On the agenda were issues of preparation for the winter and uninterrupted gas supply not only to the Russian Federation, but to the whole of Europe (there was nothing else for a person to do on the eve of his anniversary). All relevant ministers were present, including the heads of gas producing regions and heads of relevant departments (such as the Ministry of Energy, the Ministry of Economic Development, the Ministry of Finance, Gazprom, Transneft, Rosneft, Novatek, Surgutneftegaz, Inter RAO UES). Everything was very serious and grown-up.
Of the issues discussed, we are only interested in four. Putin drew particular attention to the preservation of the existing gas transit through the Ukrainian GTS within the scope of the volumes stipulated by the contract (at least 40 billion per year), complained about the delay in certification of the SP-2, the launch of which could relieve tension from the European gas markets, supported the proposal of the Deputy Prime Minister Alexander Novak to enter the gas spot market with his proposal to smooth out the rush demand for gas by participating in electronic trading on the St. Petersburg Commodity Exchange, and gave the go-ahead for the export of 10 billion cubic meters of gas from Rosneft's resources to Europe (the last proposal was made by the director of Rosneft Igor Sechin). And although Sechin did not say through which hub he was going to sell this volume, it is obvious to everyone that in this way preparations are underway for launching the SP-2 to its fullest by concession, according to the norms of the Third Energy Package, 50% of the pipe to an alternative supplier. Why is Rosneft not an alternative supplier to you? If Gazprom was going to pump 5,6 billion cubic meters of gas through one branch of the SP-2 in the period remaining before the New Year, then it will pump 10 billion cubic meters of gas along two branches simultaneously with Rosneft (another 5 billion cubic meters of Rosneft will remain even next year - the pipe is still not rubber), which partially compensates for the gas deficit in Europe of 23 billion cubic meters. Thus, Putin made a knight's move. And the next day the gas market collapsed. From 1969 USD / thous. cubes, it dropped to $ 920. A classic of the genre! Putin has amply demonstrated the power of the Kremlin's verbal interventions.
The collapse of the liberal gas market
How did it happen that enlightened Europe fell into slavish dependence on the villain-Putin? The point is that the EU currently has 144 underground gas storage facilities (UGS) with a total capacity of 108 billion cubic meters of gas. 52% of them are concentrated in Germany, Italy and France. Their filling at the moment is 75%, or about 81 billion cubic meters of gas. Over the previous cold winter of 2020-21 (4th quarter of 2020 - 1st quarter of 2021), Europe pumped out a record 69,7 billion cubic meters of gas. It would seem, why panic, if this winter is not more fierce (and the previous one was very cold), then the available gas reserves, it seems, should be enough to calmly pass the heating period. Where, then, are there so many cries, they say, save us, we freeze, don't let Putin ruin us?
The trouble is that all these 81 billion cubic meters of gas from underground gas storage facilities cannot be raised. Approximately 15% of these are so-called damper gas, a non-recoverable residue used to maintain pressure, i.e. there are only 68,85 billion active gas. You can feel the smell of fried (or, more precisely, ice cream). But this is not the worst thing. The worst thing for the EC and what European officials cannot forgive Putin is that they will raise all these saving residues and sell them to their poor population at a price ... drum roll here ... yes, you understood correctly, at a price that will be set at that moment European gas hubs. And there are no prerequisites that it will fall by that time from the word "absolutely". Moreover, if the European Commission continues to behave the way it has behaved so far, this price will only rise. And at times! And 2000 dollars per thousand cubic meters will still seem like a fairy tale to them.
Why did this happen? Some clarification is required here. 2021 was somewhat unique. While Santa Claus, who was late in Europe until spring, devoured all the gas accumulated there during the warm coronavirus 2020 from its underground storages, Grandma Heat, who visited Southeast Asia in the summer of the same year, almost half drained its rivers, which could not but affect its hydroelectricity and force it to switch to gas, since neither wind, nor solar power plants could no longer cope with the increased demand due to the excessive consumption of electricity for refrigeration units and air conditioners operating at full capacity. Historically, Europe has been replenishing reserves in its UGS facilities in the summer, during a low price period, when gas prices fell against the backdrop of falling demand, not only in Europe, but also in Asia. And then the price of gas in Europe exceeded the similar price for it in Southeast Asia, and caravans of gas carriers rushed to Europe, filling its UGS with life-saving LNG, thereby allowing to look to the future with optimism, spitting on Gazprom. The market regulated itself. It should be understood that LNG sellers do not care about both Europe and Asia. They will transport their gas to where the price will be higher. And since Asia does not have underground storage facilities, then in the summer, when consumption decreased, the price of gas there automatically fell, which allowed Europe to charge LNG for future use, pumping it into underground gas storage facilities, offering a price higher than the Asians.
It has always been that way, but not this year. Grandfather Frost tried in winter, freeing the European underground gas storage facilities from the surplus of gas accumulated there, and Grandmother Zhara, who visited Asia, did not allow local gas prices to fall below European ones. The demand in Asia and even Latin America (in particular in Brazil) exceeded the European one, which was reflected in the local gas prices, and the caravans of LNG tankers naturally sailed for the money, bypassing Europe waiting for gas. The liberal market in all its glory. And it's stupid to blame Gazprom here - it is connected with its customers with long-term contracts, it fulfilled them this year and even exceeded it by 23%. Gazprom does not trade on the stock exchange, and it cannot supply gas to anywhere. It is not his fault that European officials did not foresee such a development of events, insisting that European countries switch to swap gas purchases, abandoning long-term contracts. Those who obeyed them were surprised to find that for some reason the low price period in Europe did not come this summer, prices continued to rise (compared to winter ones), but the supply of gas from this did not increase, because in Asia at this time the prices were even higher. The Europeans did not raise their hand to pump gas into UGS at such a price, which spurred gas quotes even more - the now half-empty UGS put pressure on them. As a result, the gas pyramid collapsed, burying the hapless Europeans beneath them.
Gas production is tricky. European officials, apparently, do not understand this. The development of deposits is carried out in difficult climatic and natural conditions - Norway develops its deposits in general on the seabed, while Russia takes them already in the Arctic and undeveloped regions of Siberia. It cannot be adjusted by turning the crane. Therefore, the Suppliers are forced to associate themselves with the Buyers with long-term contracts, which should level their risks, guaranteeing the sale of the gas they produce. The production is proceeding according to plan, plus or minus one million cubic meters back and forth. It is impossible to increase it at the click of your fingers from the word "at all", to meet the peak demand in winter there are UGS facilities, where gas was pumped in summer. LNG suppliers were responsible for this for 90%. Maybe for European officials it will be a revelation, but all regasification terminals available on the European continent have a load of 28-35%. They stand idle for most of the year. 90% of deliveries are in the summer. And it is not Gazprom's fault that your suppliers did not come to you this summer.
A true attraction of unprecedented generosity from the Kremlin
"But why does Putin release them ?! For once, we managed to drive the enemies behind the flags and here we again let them crawl out. It is necessary to wet! " - I can already hear the screams of our regular patriots. Even such respected experts as Olga Skabeeva and Karen Shakhnazarov echo them; they also do not understand the Kremlin's generosity. Okay, with noteworthy patriots, I was always strained with my brains, but for Karen Shakhnazarov, it's even somehow embarrassing for me to explain such common truths. What do we and Lesha Miller care about when the price for November futures on the Dutch TTF hub has jumped to the level of 1969,2 dollars per thousand cubic meters? What are we going to earn from this? A one-time deal, someone bought a lot of gas from stock speculators at such a price. At the same time, the price immediately jumped down to $ 1778 / thousand cubic meters. Speculators on a bearish diversion are testing the market. The usual exchange fuss is going on. While the bears are winning. More precisely, they won until Uncle Vova took the floor. And then the market turned around, the bulls drove the bears down - a typical bullish diversion (Putin's words served as the foundation). Stopped at 920. Wow candle! (all the terms you do not understand from technical analysis and fundamental analysis, google those who are interested). Twice fall! And it was Uncle Vova who said only a couple of words. What will happen when he goes from words to deeds ?!
Okay, out of respect for Karen Shakhnazarov, I explain the situation. Gazprom does not play on the stock exchange. In the total volume of its supplies, only 15% falls on swap sales, and 85% are long-term contracts. Thanks also to the Poles, after the lawsuit they lost in the Stockholm Arbitration and the payment of 1,5 billion in compensation, Gazprom now has a moral right (after all, there is case law in Europe, and the precedent was created in March 2020) to revise the price calculation formula for long-term contracts, unbinding it from the oil basket and pegged to gas quotes. And now, with a time lag of two months, Gazprom is smoothly raising prices for its beloved clients under their long-term contracts (in 8 months it has already crawled from $ 171 / thousand cubic meters to $ 269, and this is far from the limit, because the price has been growing for 10 months in a row) ... Nothing personal - all claims to the Poles.
Understand that stock market peaks are just a guideline for price formation, and in 2 months of lag it goes back and forth 100 times more (on commodity exchanges, especially on gas exchanges, there is very high volatility, because Gazprom was not attached to them, but what cannot be done by the decision of the court, especially the Stockholm one). For LNG traders, they (stock quotes) are a beacon to which they will drive their gas tanker caravans. For the Norwegian monopoly Equinor ASA, which accounts for 50% of sales in swaps, too (like Gazprom, it sells the remaining 50% under long-term contracts with a fixed price). And old man Miller why the hell should he bother with stock quotes? What does it matter to him? He will not get anything from this pie (or almost nothing, 15% do not warm their souls). But there is a real danger of killing the market when the unaffordable price forces the Buyer to look for alternative energy sources. And he will find them! This is exactly what all this action was aimed at.
You have not yet forgotten who is the advocate and apologist of RES (renewable energy sources) in our country? That's right, senile Joe. A senile person is not a senile person, but he knows his business. The price for gas has almost reached the price for the greenhouse gas. And here we come to the most important thing. You want to cut down the entire cash register in a year, and then what will you do? Stand on the sidelines and watch with envy as Sleepy Joe cuts coupons from his green energy, and your most smelly gas in the world spits from top to bottom, because there will be no buyers for it (we are talking about gas). You yourself will kill them all during this fattest year of yours. How many years are you going to live? If this year to the next world, then I can still understand you, and if you are going to live for another 50 years, then it is better to do it with gas, and not with wind, sun or hydrogen. This is exactly what Putin thought, breaking all the buzz for gas speculators and old Joe, proposing to start electronic gas trading on the St. Petersburg Commodity Exchange.
All who blame the Kremlin for what they did are partly right. This is exactly what Putin was counting on. And it is not his fault that he knows how to calculate his moves, but his opponents do not. They, in my opinion, do not play chess with him at all, but play cards. It's just that they were unlucky with the delivery this year. Sixes were in the buy-in. Ce la vie! Learn materiel.