Well, you probably know that the ninth wave is coming to Russia! The ninth wave of sanctions from our sworn friends and partners. The nearest of them should come into force on August 22. And it would seem that it is unusual here, how many such sanctions have we already seen, re-seen, how many such shafts have passed already? So what? Where is the result ?! How much can you scare a hedgehog with a bare ass ?! Oh, how much we were afraid of these sanctions, a very tanned gentleman who promised to break our
the economy
to shreds, (I will not once again call his name, you all know him - Trump's predecessor). And what, ripped? He tore only his pants a little lower than his belt, with which he retired, calling us goodbye to a gas station in Europe. And now his successor, the new owner of the White House, himself wants to take our place and become a gas station all over the world. Where is the logic, gentlemen?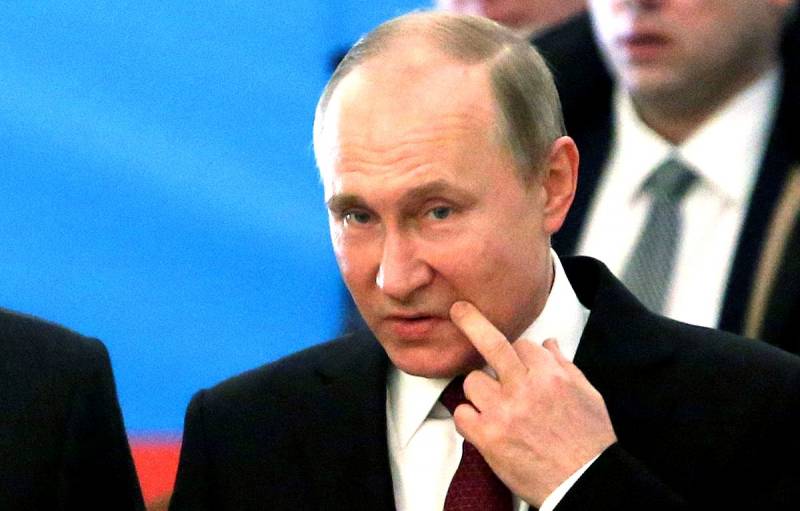 But God bless her, with logic. We are not expecting it from our friends and partners. What's embarrassing in the whole story is that the State Department (more precisely, the Michael Pompeo Foundation, but it's the same because Michael Pompeo heads the US Department of State), which is the official voice of the White House, initiated new sanctions. This means that the new sanctions were initiated by none other than our favorite Donald Trump, which against the background of the successful negotiations with Helsinki with Putin looks more than strange. And the reason for the sanctions, so in general, does not cause anything but bewilderment - the case of Skripal and his daughter, falling apart before our eyes, where the opposing side did not present any facts or evidence of our guilt. It's all the more offensive to receive a presentation when you are again brazenly and face on the table. And I already hear the cries of our patriotic public: "How long will Russia tolerate this? Isn't it time to answer the presumptuous Americans adequately to the damage done to us, and if you don't fry them with an atomic bomb, then at least remove from the allowance this two-meter huckster-cowboy who so vilely deceived our expectations ?! After all, we are accused that we almost brought this villain to the throne by investing in his elections in full, for which we are now in full and we are raking out with him. So in figs we have such cakes ?! "
And everything seems to be fair, only the patriotic public does not at all take into account the following important fact. A completely inconspicuous episode is a visit on the eve of the announced sanctions to Moscow, Republican Senator Rand Paul with a mysterious mission. He was supposed to meet with our legislators and pass some mysterious letter from Trump to Putin. I saw this senator from Kentucky - a very tired gentleman, with blue circles under his eyes, it is clear that on the eve of the visit he was clearly not up to sleep. An immediate CNN investigation confirmed the fact of the presence of the letter, and even leaked it: "I want to introduce you to Kentucky Senator Rand Paul, a member of the Committee on Foreign Affairs, who advocates expanding the dialogue with the Russian Federation," Trump writes in it. "He will be in Moscow from August 5 to 8 ..." And so on in the text ... On his Twitter, Rand Paul commented on this letter: "It was an honor for me to deliver a letter from President Donald Trump to the administration of President Vladimir Putin. The letter emphasizes the importance of further cooperation in various fields, including countering terrorism, the dialogue of lawmakers and the resumption of cultural exchange. " CNN, referring to White House spokeswoman Hogan Gidley, writes that sending Trump's letter to Putin with the help of Rand Paul "intended to introduce the senator to the Russian leader." Okay, let's say that it is. What do we have in the dry residue? The letter really existed (the fact is confirmed) and was even delivered to the addressee, but only Putin's meeting with Red Paul did not take place! .. How so ?! The version with the cover letter then does not beat! And for other goals, the question is also, why should Trump write Putin a letter of intent and blah blah blah if only 2 weeks have passed since their last personal meeting? Like, I'm so bored, "I just can't eat"? It is also doubtful. Conclusion - it means that the letter had other goals and was not written for that ...
So we come to the main thing. The fact is that sanctions from Washington, which were announced the day before by State Department spokesman Heather Nauert and are scheduled to enter into force on August 22, are far from the only ones. Six senators representing both of the country's main parties came up with a similar initiative. They submitted to the US Congress a bill threatening Russia with much more significant problems. We are talking about the so-called "Act to protect American security from the Kremlin's aggression-2018" (Defending American Security from Kremlin Aggression Act of 2018 - DASKAA). And he, unlike the proposals of the State Department - "On counteracting America's opponents through sanctions" (CAATSA), which basically repeats and duplicates existing restrictions, carries a number of new significant prohibitions that, if they come into force, will significantly complicate the economic situation of the Russian Federation. Moreover, the sanctions carried out through Congress will already have the status of law, and will be in effect for an unlimited amount of time under any US president (to overcome them now, the current president's desire is not enough, it will also be necessary to gain a majority in both houses of Congress, and this, you understand, in the near foreseeable future, with the real situation inside America itself, it is impossible even in theory).
It is worth noting that this bill was already the sixth in a row introduced by congressmen to "punish" Russia, since the summit of Presidents Vladimir Putin and Donald Trump in Helsinki. And apparently, this document can be adopted quite quickly and with minimal amendments. Such activity of congressmen is caused not so much by their pathological hatred of Russia (although this is present), but by the upcoming midterm congressional elections. Moscow, in fact, is becoming a hostage to internal party clashes within America itself; it is being put on the altar of internal political struggle. Trump can't do anything about it and acts on the principle: "If you can't cancel, head!" That's the result of the State Department's sanctions (CAATSA), which are nothing more than a poorly camouflaged attack under a false flag, whose goal is not at all the one declared. The real goal of this attack is an attempt to seize control in the unfolding campaign against Moscow. Whether she succeeds or not, we will see in 3 months when the midterm elections to Congress will be held. I am sure that in a confidential letter to Putin, Trump was just trying to convey this.
An additional confirmation of my version is a clearly far-fetched and far-fetched pretext for declaring sanctions, with which the State Department did not even bother (Skripal, so Skripal - what's the difference?). Although here there may be a delicate calculation - in the case of non-confirmation of Russia's participation in the poisoning of the ex-colonel of the GRU, it will always be possible to cancel the sanctions already imposed upon clarifying new circumstances in the case. So everyone for whom the announced sanctions were a complete surprise, a blow in the back from Trump, do not rush to write off our Donald Ibrahimovic, he will still serve us. But we did not expect anything good from the senators, and if Trump manages to renew their composition as a result of the upcoming elections, then not only he, but we will benefit.
Even with a closer look at the upcoming sanctions from the State Department, it becomes clear that they do not bring anything new, being essentially a repetition and duplication of the tanned gentleman previously accepted by the Administration, who, in turn, did not succeed and to which the Russian economy has already adapted. The new restrictions on diplomatic contacts and space cooperation, the ban on Aeroflot flights to the United States, and the expected reduction in exports and imports, they do not cause anything but a smile. Diplomatic contacts - where else to reduce them, they are already at a minimum. Well, call another consuls and ambassadors - we'll see! And in space, I'm only for - well, don't fly on our ISS and don't use our rocket engines, who will you do worse? With Aeroflot - this, of course, is more serious, then we will forbid you to trans-Siberian flights - fly bypass, shoot kerosene! In short, I don't see anything terrible there, whatever we could not survive, which once again confirms my version of the fake essence of the State Department package CAATSA.
What can not be said about DASKAA - there the senators frolic gloriously! Just a ban on operations with Russian foreign debt and a proposal to add Russia to the list of countries sponsoring terrorism, what is it worth? (Today there are only four countries sponsoring terrorism - Iran, Syria, Sudan and North Korea, how do you like the neighborhood?). If Russia falls into this list, the problems of public debt will turn out to be far from the most important, then much more serious financial measures will become possible right up to the restriction of any international financial operations of Russian state banks not only in the jurisdiction of the United States, but also around the world. And this is a collapse!
I think the country should know its heroes, remember, gentlemen, these names are the names of the obvious, not hiding behind a mask of ostentatious hypocrisy, enemies of Russia - these are senators Lindsay Graham, Bob Menendez, Corey Gardner, Ben Cardin, John McCain and Gene Shahin. Is not it, familiar faces all ?! On August 14, the text of the bill with which they frightened us was finally published on the website of the US Congress (under the number S.3336 and with the general title "On Strengthening NATO, Combating International Cybercrime and imposing Additional Sanctions on the Russian Federation"). With this bill, senators suggest expanding the restrictions imposed on the banking sector of the Russian Federation and operations with its public debt. In particular, US residents will be prohibited from participating in operations with a new government debt of the Russian Federation, issued 180 days after the law enters into force. The ban will apply to all government bonds, as well as derivative financial instruments with a maturity of more than 14 days.
In addition, senators suggest freezing and blocking the assets of our state-owned banks in the United States and banning all operations through their correspondent accounts with other banks in the US jurisdiction. VEB, Sberbank, VTB, Gazprombank, Russian Agricultural Bank, Promsvyazbank, as well as the Bank of Moscow, which is part of VTB, were at risk of sanctions. This is precisely what Medvedev called "declaring us an economic war," to which Russia reserves the right to respond with "economic methods,
political
"methods, and, if necessary, other methods, our American friends must understand this." Although Medvedev's latest statement is very much in doubt. Among these six there are neither friends of the Russian Federation, nor people who are able to adequately assess the consequences and risks of their own actions.
What it all threatens us with and what the consequences may be, the average layman can judge by looking at today's market behavior. When the information on possible sanctions alone brought the ruble down to quotes of its 2-year low, the RTS index broke the level of 1100 points, Aeroflot shares dived by 12% or more, Sberbank shares by 5,8%, 7,6% - shares of VTB Group. It is terrible to think what might happen if these sanctions are introduced. Then it will be too late to drink Borjomi and try to regulate the situation by raising the discount rate, as Nabiullina plans.
As regards the public debt, if foreign investors are forbidden to buy bonds of new issues of the state debt of the Russian Federation, then they will discard both old assets and non-residents among their holders 28,2% of the total, (totaling about 2 trillion rubles). It's a fig! The consequences of this may be a spasmodic devaluation of the national currency, a general increase in the cost of new borrowings, destabilization of the Russian economy and, as a consequence, a slowdown in economic growth. If the promised sanctions concern state banks, then the consequences will be even worse! As a result, export-oriented sectors of the economy will suffer, problems will arise with the conversion of foreign currency earnings into rubles, tax revenues to the budget will fall, which will inevitably lead to its deficit with all the ensuing consequences. What, in fact, the Americans are seeking.
If this does happen and the American lawmakers still risk applying the Iranian version of isolation to our country, this will in fact mean declaring war on us! Financial. And you need to be aware of this! This is a real "incident belli" with all the ensuing consequences. Then, on our part, as a retaliatory measure, all American correspondent accounts in our jurisdiction will be closed and defaults on all obligations to all financial institutions with American participation will be declared. And this is only the minimum that we can do. The likelihood that Washington will do this is 50/50. And that's why.
No matter what American strategists come up with to strangle us, so far everything is only to our advantage. The only thing the Americans can really get us with is the disconnection of the Russian Federation from export operations. However, all attempts to deprive Russia of oil and gas exports will lead to the collapse of the global economy. Because Russia currently exports almost a quarter of the world's oil and almost a third of European gas volumes. A fall in such volumes cannot be compensated for in the short or even medium term. And, therefore, oil prices will then fly away to such a heaven that a double increase in the price of these resources will seem like a childish prank. Therefore, only a distraught person will go to deprive Russia of oil and gas exports - this will bury those politicians who decide to impose such sanctions. Especially if you explain the voters with a quiet and insinuating word, WHO is the cause of their domestic disasters and problems. Among all the signatories, only McCain has nothing to lose - his days are numbered, brain cancer in the last stage is not operable. The remaining members of Congress are still hoping to extend their stay on Capitol Hill, so they will think 100 more times before leaning towards any option. I do not rule out the possibility that they might limit themselves to the sanctions of the State Department. And then Trump's demarche will no longer seem like a stupid trick of an unpredictable whacky cowboy.
Well, all the other sanctions are all the more terrible for us. Because any sanctions will lead to an automatic increase in the dollar. The growth rate will lead to an increase in the price of a barrel of oil in rubles and, accordingly, to replenish our budget. At the same time, devaluation will lead to a reduction in the costs of our exporters, to an increase in their profitability and price competitiveness, and, ultimately, to an increase in the country's export-substituting potential. In general, everything that does not kill us makes us stronger.