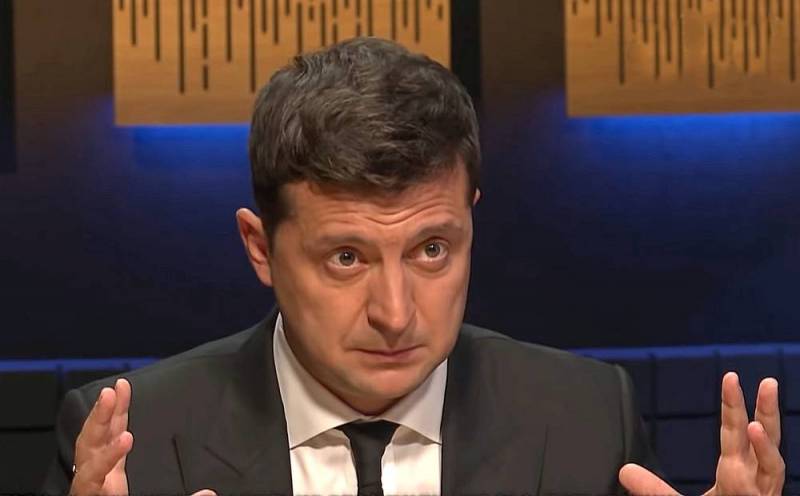 The story with a hypothetically possible, but, apparently, completely unrealistic in practice, personal meeting of the presidents of Russia and Ukraine, in terms of its duration and the number of "episodes", may well compete with some Brazilian television series. By the intensity of passions and undivided emotions - even more so. Periodically (for several years now), "calls for dialogue at the highest level" from Kiev, in fact, turn out to be just as insincere and false as all other statements by Zelensky himself and representatives of his administration. Moscow invariably reacts to such demarches with restraint and correctness, showing an absolute readiness to communicate - however, not at all in the format and not on those topics that are discussed in the "nezalezhnoy".
The theses that have recently become the property of the general public regarding the directions in which the Kremlin is ready to negotiate with the Ukrainian side, force us to draw an almost unambiguous conclusion: no one is going to talk to anyone there in principle. All of Moscow's rhetoric, especially the one broadcasted by it recently, rather demonstrates an understanding of the complete futility of any Russian-Ukrainian summits at the level of heads of state. What exactly testifies to this, why does the leadership of our country take such a position and what does it promise the current authorities of Ukraine? Let's try to figure it out.
"You will be in Donbass, come in! - No, you'd better come to us! "
As mentioned above, Vladimir Zelensky began shamelessly speculating on the topic: "When I meet with Putin, I will solve all the questions!" not even immediately after his election as president of the "nezalezhnoy", but, in fact, even before that - in the course of his own election campaign. I must say that this simple, in general, trick worked to the fullest extent on many representatives of the Ukrainian electorate. People, tired of living in a civil war and thoroughly whipping up Russophobia at the state level, hoped that, having occupied the highest state post, the hero of their favorite TV series would indeed take at least some real steps to reconcile with Russia. As it turned out later, they hoped in vain.
These promises, as well as exactly 100% of the rest of the election rhetoric of the president-comedian, turned out to be pure lies, foolishness and fooling around. Most likely, some people in Moscow also experienced similar illusions - therefore, at the initial stage of Zelensky's presidency, the meeting was indeed possible. However, it didn't take long for this character to dispel all such misconceptions. At an extremely fast pace, he first turned into a complete likeness of his Russophobic predecessor Poroshenko, and then surpassed him in many ways, which reduced the prospect of negotiations with Vladimir Putin to absolute zero due to their complete futility. Nevertheless, the Ukrainian leader from time to time continued to exploit the same topic, making it clear that he is ready to sit down at the negotiating table with a dear soul - only in the Kremlin all his hot impulses "for some reason" are completely ignored.
We will not delve into the events of past years; let us dwell on what has already happened this year. Starting in late March (marked by another exacerbation in Donbass), Zelensky began to get into a conversation with Vladimir Vladimirovich - at least in the telephone format. Nevertheless, his annoying attempts did not meet with support. Dmitry Peskov, with a simple air, said that "in the plans" of his patron there are no negotiations with a colleague from the "nezalezhnoy" and not close. Moreover, he clarified that organizing them is a snap. "When the need arises." Thus, the Kremlin speaker made it clear that they do not see any reason to listen to Zelensky's verbiage - neither in person, nor "on a direct line."
An even more frank "message" for the comic president was that he was not even invited to participate in the virtual summit of the heads of state of the Normandy Four (Putin-Merkel-Macron). Deeply wounded "in the best feelings", Zelensky did not fail to complain about the coldness and uncommunicativeness of the Kremlin during his own visit to Paris, thereby ringing the whole world about his shame. Further, as we remember, the apotheosis came - the famous call of the comic president to his Russian colleague "to meet in the Ukrainian Donbass, at any point" was made. The rebuke to the insolent trick followed immediately - in Moscow, Zelensky was strongly advised to meet in Donbass with his representatives, and not with foreign leaders. And they clarified that, so be it, "ready to accept at any time convenient for him." But - exclusively for "discussing issues of restoration and development of bilateral relations." That's all.
12 points - without Crimea and Donbass
The topic of future negotiations is what the "stumbling block" voiced at the official level, which prevents the leaders of the two states from meeting, consists. Zelensky constantly broadcasts that he will only discuss "Russian aggression in Donbass and the annexation of Crimea." Moreover - "in an offensive manner." Vladimir Putin, with the calmness and restraint of a political patriarch, over and over again counters such statements by saying that in this case he does not see a subject for conversation with a colleague and a reason for communication as such. Well, who, by God, you need to be to try to "drag" Russia into the civil war in the Ukrainian East in such a clumsy and impudent way as its "full-fledged" participant. No really, pipes. Vladimir Vladimirovich will definitely not succumb to such cheap tricks.
By the way, not so long ago Zelensky made public another "masterpiece" on this topic: according to him, the refusal of the summit was not Putin's own decision. It is all "his environment" that intrigues and interferes with the dialogue! What are the reasons? And they, you see, "are afraid that the meeting may have a completely unexpected result." Which?! Will Vladimir Vladimirovich, having heard enough of the guest, will he declare him his own successor to the presidency? Will he give him Crimea "on a silver platter", and besides, will he pay extra money? Indeed, the clown in Zelensky has finally taken the upper hand over the politician - if he allows himself to bear this with the most serious air. What "fear", what surprises? Yes, the Kremlin sees him through and through and knows all his simple tricks in advance - that's why they don't want to talk.
The very theses for theoretically possible negotiations, which were mentioned at the very beginning, can be considered a complete confirmation of this. This is a list of a dozen items on which a conversation is permissible in principle. About Crimea there, quite naturally, there is not a half-word - and with what joy to discuss your own purely internal affairs with a visiting talker? In fact, all the questions that can be raised at the Putin-Zelensky summit relate to very specific and purely practical aspects of the current relationship between the two countries. Moscow makes it clear that it is ready to go for a very serious "reset" of them.
For a start - to restore full-fledged diplomatic relations with a mutual exchange of ambassadors. Abolish (which is extremely important and incredibly beneficial for Kiev) all the current mutual sanctions, duties and other restrictions, or at least that part of them, on which it will be possible to come to an agreement. The resumption of normal transport links between states is also mentioned. Everything else is about the same. Tellingly, no one demands from Kiev to demolish monuments to Bandera all over Ukraine and to immediately abolish discriminatory laws on language and education. Nevertheless, as far as is known, no response has yet been received to a rather voluminous package of specific proposals, by the way, which were received by the Ukrainian side a few months ago. And, most likely, it will not follow in the future. It is clear that for the mere consent to return the Russian ambassador to Ukraine, the "patriots" -nationalists will devour Zelensky alive, along with fashionable boots. However, this is not the only reason.
By going not just to fulfill, but to discuss any of the above issues, official Kiev will deviate from the doctrine of total Russophobia, which it has turned into the "alpha and omega" of its internal and external
policy
... This, of course, is unacceptable and completely impossible. Speaking to Vladimir Putin with a passionate speech on the topic: "Return Crimea and leave Donbass!" to complete margins. Having started discussing the resumption of trading,
economic
and other connections - will commit political suicide. The only problem for Kiev is that Vladimir Vladimirovich doesn't need such "PR events" with his participation, and, in fact, at his expense. Therefore, there will be no meeting. By sending its own constructive and business proposals to the Ukrainian side, Moscow simply makes it clear that in some uncertain perspective it sees the normalization of the situation in this direction. But certainly not under the current government "non-taxable", which is a priori incapable of negotiation for it.
A very characteristic detail: speaking recently at a meeting on energy issues, Vladimir Putin in a rather harsh manner prohibited the complete "zeroing" of gas transit through Ukraine, despite the obvious, in his words, "economic expediency" of such a step. The President named as the reasons "unwillingness to put the Ukrainian people in a difficult position" and fears about possible "reputational losses of Gazprom as a reliable supplier." Nevertheless, something suggests that Vladimir Vladimirovich in this case is once again acting for the future, calculating everything in advance. Among the 12 points of a possible dialogue with Kiev, there is, by the way, the one that states Moscow's readiness to discuss direct gas supplies and the continuation of transit after 2024. Considering that the prime minister of the "nezalezhnoy" Denis Shmygal just the other day proudly announced his categorical unwillingness to negotiate with Russia on this issue, the Kremlin clearly does not intend to resolve it with him, and not with Zelensky. Who exactly and when? This is already a topic for a completely different conversation.