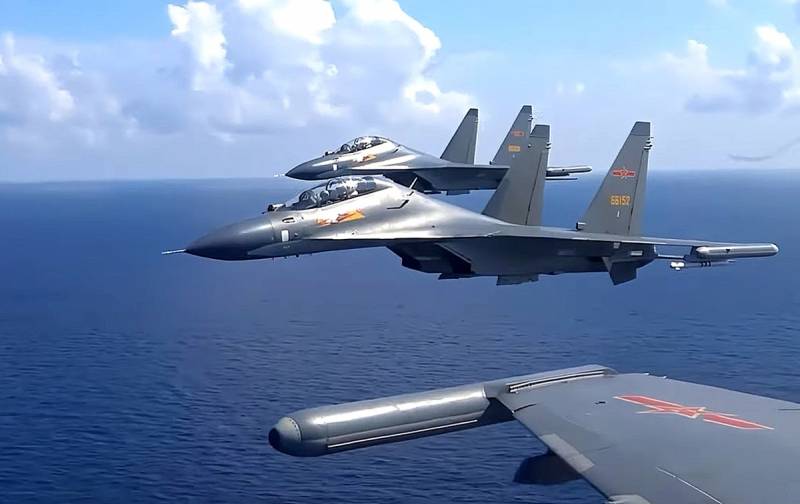 The PRC's display of power over the past four days is a campaign of intimidation in Taiwan. During this time, the Chinese Air Force sent 133 combat aircraft into the air defense identification zone of the self-governing island, according to the Australian Broadcasting Corporation (ABC).
According to the Ministry of Defense of Taiwan, October 1 Beijing
sent
in two waves 38 aircraft. October 2 - 39 aircraft, also in two waves. In the daytime, 20 aircraft appeared: 14 J-16 fighters, four Su-30 and two Y-8 reconnaissance aircraft. In the evening, 19 aircraft were recorded: 12 J-16 fighters, six Su-30 and one KJ-500.
On October 4, China sent a record 56 aircraft into Taiwan's air defense identification zone in what looked more like an air strike. In the area of ​​the Pratas Islands, 34 J-16 fighters appeared, which covered 12 H-6 bombers with nuclear weapons. Later, a dozen more PLA aircraft flew in the second wave.
Thus, Beijing celebrated the 72th anniversary of the founding of the PRC, and at the same time showed Taipei its attitude on the eve of the National Day of Taiwan on October 10, which marks the 110th anniversary of the founding of the Republic of China.
The PLA has done an excellent job! This can be seen as a form of the Taiwan Strait National Day military parade that used to be held at Tiananmen Square in Beijing. It was not a guard of honor. These are fighting forces aiming for a real battle
- said in the editorial of the Global Times from China.
June Teufel Dreyer, professor of political science at the University of Miami, explained that the PRC behaves this way because it has the ability to do so.
Basically, Beijing reserves the right to declare anything a provocation and therefore say that it was "forced" to take action
She specified.
In turn, an expert on external
policy
China's Australian National University Wen-Ti Song said Beijing's show of power is aimed at an international and domestic audience. For example, it may be needed to maintain nationalism and respond to the recently emerging AUKUS alliance between Australia, the UK and the US.