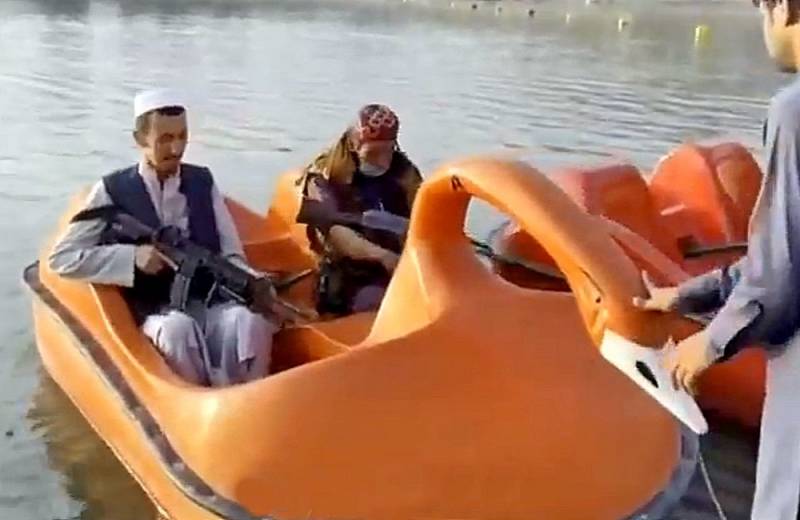 A video showing the "Naval Forces" of the Taliban appeared on social networks. The video posted by Realnaya Voina Telegram shows Taliban militants (a terrorist organization banned in Russia) riding on swans on the lake.
Armed fighters get into boats and glide in them along the surface of the lake, apparently getting a lot of pleasure from this.
Meanwhile, Russian users of VKontakte humorously appraised the Taliban's "Navy". Here are some comments:
Yeah - "great sea power"
- says Ivan Simakov.
Soon it will be cramped for them here too - naval battles for spheres of influence will begin. The battle promises to be huge!
- suggests Maxim Nezlobin.
Afghan fur seals)
- Dmitry Birdaga concludes.
Are these "warships" included in the list of $ 85 billion worth of weapons left behind by the Americans while fleeing?
- Alexey Komnik is interested.
Afghans are deprived of a normal childhood, so they are trying to catch up
- explains Vitaly Romanov.
Some kind of ideological borrowing from the Ukrainians can be traced
- said Alexander Samarin.
The Taliban have been fighting for 40 years. They have tremendous combat experience. Yes, not enough
equipment
and knowledge, but there is motivated vitality and perseverance. Laughing at your opponent is the last thing. The enemy must be respected and taken seriously. Otherwise, they will laugh at the end and already at us
- Alexander Baev pulled back his colleagues.
Earlier in late September, it was reported about a similar "voyage" of jihadists. Then they rode on "swans" on the surface of the lake in the Afghan national park Bandi-Amir, located in the central part of the country in the Hindu Kush mountains at an altitude of 3 thousand meters above sea level.
According to eyewitnesses, after the seizure of Kabul on August 15, the Islamists also could not resist and indulged in entertainment - they jumped on a trampoline and rode a carousel and cars in an amusement park in the Afghan capital.