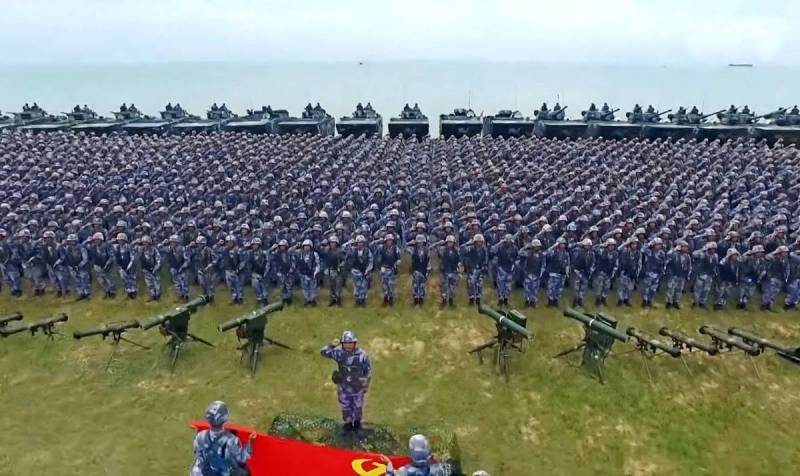 On September 13, the 37th Hangguang military maneuvers started in Taiwan. They will last until the 17th. All branches of the military and even the gendarmerie are involved in them, according to the Chinese portal NetEase (163.com), citing Taiwanese media outlets.
Taiwan is practicing repelling the "communist attack", preparing to meet the PLA landing party of the PRC. The exercise began at 6:00 am local time with flights of F-16V fighters, P-3C anti-submarine aircraft and E-2K AWACS aircraft in the Taiwan Strait near the city of Hsinchu in the northeast of the island. They tried to demonstrate "the preservation of combat power," the newspaper writes.
On September 14, the Taiwanese simulated a PLA special forces attack. As part of these exercises, the military, with the involvement of the gendarmerie, conducted a defensive operation "Protection of the Tanshui River" in order to prevent the seizure of the presidential palace in Taipei and "decapitation of independence", i.e. arrest of Taiwan leaders. According to the scenario, PLA units landed at the mouth of the Tanshui River and moved upstream, after which the Taiwanese counterattack began.
In addition, on the 13-14th, tactical air defense exercises took place, and on the 15th, another defensive operation is planned in Pingtung County, in the very south of Taiwan. The military wants to show that in the event of a bombing of the airport in Jiadong City, they can guarantee the supply of fuel and ammunition. On the 16th, a demonstration of the capabilities of Taiwan's heavy artillery will take place, which will show its anti-amphibious skills.
The start of the Hangguang maneuvers was greeted with sarcasm on social media by local residents. Some users ridiculed the functionaries, noting that "rockets fired at fishing boats, assault boats overturned, combat capabilities were" eaten up by mud, "tanks were overturned."
The Bureau of Taiwan Affairs of the State Council of the People's Republic of China has repeatedly pointed out that the source of tension in the Taiwan Strait is precisely Taipei, which has entered into an agreement with the enemies of Beijing.
We are ready to sincerely strive for the prospect of peaceful reunification and do our best, but we will never leave room for various forms of separatist activities for "Taiwan independence". Our determination to defend national sovereignty and territorial integrity is unshakable, and our ability is unquestionable
- quotes the publication of the department.