I'll start a little from afar ... On May 6, at night, on the eve of the next Victory Day in Kharkov, a bunch of young inglorious bastards in balaclavas once again abused the monument to Marshal Zhukov - this time they dumped him, before that they doused with black and red paint.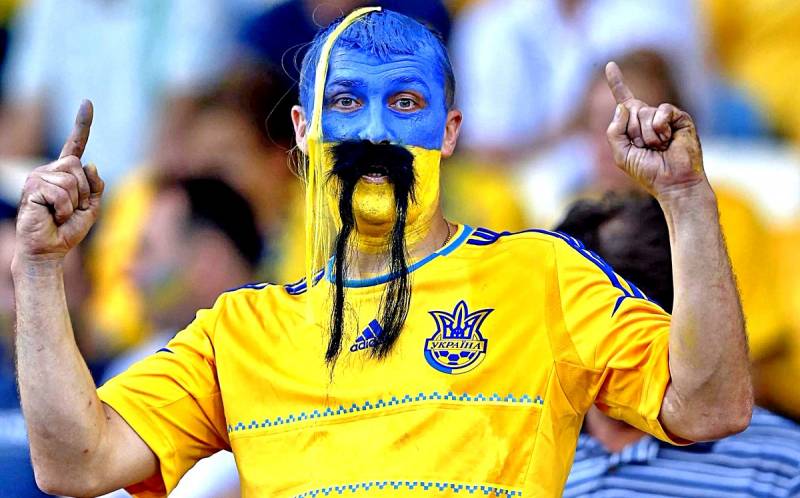 Of course, they did not find the bastards (and indeed no one was looking for them!). Kharkiv Mayor Gennady Kernes promptly responded to what happened: "Tonight, home-grown decommunizers again tried to spit in memory of their grandfathers and great-grandfathers who went through World War II - they tried to destroy Zhukov's bust. But we have already multiplied this attempt by zero - the bust has been restored. It is clear that night vandals are cowardly, in the dark, not fighting for decommunization. They are simply essentially destroyers, who do not care about the feelings of the already few veterans, their grandfathers, grandmothers and just people who destroyed fascism ... "- wrote Kernes in his FB and appealed to the local police leadership with a demand to take everything around the clock. monuments, monuments, mass graves of those who fought against fascism.
It was the 6th, and on May 8 I met my old friend neuropathologist (I didn't see him from Maidan, which he joyfully supported).
"Well, are you satisfied? - I say - Lenins have already been blamed, now they are taking on the Zhukovs ?! " He says: "I am not only satisfied that without a court order. Butcher had to be brought down in court! " I didn't even immediately understand - what was he talking about? "Wait," I say, "who do you call this a butcher?" Marshal of Victory ?! Zhukov ?! You didn't get the rams ?! " He says: "And how many corpses he has made this victory, are you aware ?!" I answer: "I actually, unlike your pan-leg friends, taught history. It's you who will hang noodles on their ears, but I don't have to! What do you mean? Which operation? The assault on Berlin when he stormed the Zeelov Heights in the forehead? Well, yes, many fighters were killed then. Would you go around with Marshal Konev, who offered a workaround? I myself thought so some time ago, (for which it was to destroy so many Soviet soldiers?), Until I read that the Allies were also eager for Berlin, to which they had 600 km. And in front of them whole German divisions surrendered without a fight. Two drunken American cyclists captured the selected SS division. Historical fact. Have you heard about this? The 38th SS Grenadier Division "Nibelungi", the last SS formation in the history of the SS, formed in March 1945 and sent to the Western Front by Hitler's personal order, so ingloriously ended its existence. The Allies marched on Berlin, as if on an avenue. We were left to Berlin 90 km in a straight line. 90 km of fortifications, stuffed with fascist troops, like a goose apples. And having defeated these units there, Zhukov did not allow them to roll back and take part in the defense of Berlin. And Zhukov went for it, because if he hadn't done it, it is still unknown how we would have divided the post-war world with the allies and the decisions of Yalta-1945 would have been implemented if they had taken Berlin. And so Berlin was divided into three occupation zones (one ours, two allies), which later transformed into the special status of West Berlin. "
The nervous pathologist's eyes twitched, apparently, did not expect such pressure, and he tried to turn the arrows beautifully: "And how much did your Victory Marshal put near Kiev, do you know?" I didn't even understand at the beginning of the collision: "Do you mean the operation to liberate Kiev when our units crossed the Dnieper at night under enemy fire? Do you know how many soldiers and officers for that operation were presented to the title of Hero of the Soviet Union? About 2,5 thousand people received the Hero (or rather 2438 people), which is more than the number of people awarded this award in the entire previous history. Such a mass award for one operation was the only one for the entire period of the Second World War, never before or after it was! We did not award anyone for failed operations. In the first years of the war, our soldiers did no less heroic things, but we retreated, suffered losses, there was no time for awards. And they gave for Kiev! At once 2,5 Heroes! .. Naturally, this was a disastrous operation, which we again lined with corpses. You're spying right on the American training manual about how stupidly and suicidally the commissars (Zhukov, Stalin, cruel commanders) drove the masses of people who weren't understanding German machine guns on the occasion of the 7th of November. For reference, I inform you: our irretrievable losses during the Kiev strategic offensive operation amounted to less than 1%. 6491 people killed, missing, captured, died from wounds and illnesses with the total number of troops of the 1st Ukrainian Front by the beginning of the operation - 6 710 001 people. You can look at Wikipedia. This time! And two, and this is the main thing, for such an advanced moron like you - the operation, like the troops of the 1st Ukrainian Front, was commanded by General Vatutin, who was killed, incidentally, by Bandera, not Zhukov! What has Zhukov to do with it ?! "
A nervous pathologist precipitated, stupidly looked at his new boots, then he looked at his new car (apparently, he went through it after Maidan - his clients with a mental disorder obviously increased, but he himself was somewhat similar to them, the same jerky, apparently, Svidomo of the brain is a contagious thing), and finding nothing more clever, he said: "All the same, he was dumped correctly!" It was clear that the case was clinical; arguing further was useless. I just asked: "Are you celebrating? You have a holiday today - Day of Sorrow, May 8! You lost the war, together with all of Europe. Now you just have to grieve! And tomorrow we will celebrate - Victory Day! " The nervous pathologist perked up: "What happened on May 9? Why is the Soviets celebrating their victory on that day when the whole world is celebrating the 8th ?! " Then the turn came to surprise me: "And you, that you don't know? On May 8, that same marshal Zhukov you despised by you from the Soviet side, together with Marshal Tedder from the Allies (for a moment, the deputy commander of the Allied Expeditionary Force is an Englishman), signed the Act on the complete and unconditional surrender of Nazi Germany in the 2nd World War . On the German side, the Act was signed by Field Marshal Keitel (chief of the Supreme High Command of the Wehrmacht, Hitler was already dead for 8 days by that time!). According to this Act, a general ceasefire was to enter into force at 23:01 CET on May 8, 1945. By that time, May 9 had already arrived in Moscow, it was 01:01 Moscow time. Time difference with Berlin is 2 hours. Therefore, we celebrate our holiday on May 9. And all of Europe celebrates its defeat on the 8th. What did you not know? Everything is simple here! "
The nervous pathologist's eyes twitched again: "This was not! These are all bullshit! Stalinist propaganda! There were two signatures - the first with the allies on May 7th, and the second on the 8th with us! " I told him: "So you decide already - are you with us or with allies? And deal with Europe too, who won the war there, and who lost? And it turns out that we fought, and they won the war, when all of Europe fought for Hitler! What did not know ?! The Hitler coalition numbered Germany, Italy, Japan, Bulgaria, Hungary, Romania, Thailand (in general, it is not clear what you forgot there?) And Finland, and the rest of your boasted Europe lay under Hitler and worked for him. And Czechoslovakia, and Austria, and France, and Holland, and Belgium, and Luxembourg, and Denmark, and Norway, and Poland, have not forgotten anyone? It's easier to list who was not there - the Britons, of course, fought against Hitler, and Switzerland, Sweden and, oddly enough, also Spain (although Franco was a fascist regime) were neutral, but cooperated with the Third Reich. Naturally, they have nothing to celebrate, only grieve! And then to listen to you, it turns out that the Allies won the war, but we just stood by, played in the sand ... " A nervous pathologist only shouted at this, that there was no time difference between Berlin and Moscow, and I had heard enough of the enemy propaganda. To which I could only object that he had rewritten the story, now he took it over time. It will go far! On that and parted. To understand the full extent of a person's degradation, I only have to note that he was already 50, educated and everything else in the USSR, and, in principle, was even a good person ... before the Maidan. This is what a zombie box and excessive consumption of fat do to people!
But is it worth it to be surprised at such manifestations of debilitation of certain representatives of the prone to "stubbornness" of the population, if already after 2 days on the air of the national television channel the famous Ukrainian journalist Dmitry Gordon agreed to the point that in the Great Patriotic War the Soviet people simply had to lie under Hitler following the example of France , Poland and other enlightened peoples of Europe and then he would be happy. "If there hadn't been a guerrilla war, then everything," according to Gordon, "would have been excellent." The guilt, from his point of view, turns out to be the guerrillas, if it weren't for them, then we would now drive on excellent German roads in excellent German cars, drinking excellent German beer. True, not all! Gordon would not have traveled for sure, which he honestly admitted, since together with other Jews, Gypsies and those same guerrillas he would have died in German stoves (also, one must think, excellent), since the Jewish and Gypsy issue by the Germans would have been resolved completely. However, he, as an honest journalist and person, cannot and will not hush up the fact that "a huge number of (Soviet) people came out to meet (fascist invaders) with bread and salt." "And how many later collaborated with the Germans, you know? - Gordon asks the question to the presenter and answers himself - a huge number of people collaborated with the Germans. Just colossal! "The Germans," he argues, "were waiting as liberators, because the Stalinist Bolshevik clique was annoying to everyone, at least many ... After the famine, after mass extermination, after collectivization, after repressions, the whole peasantry hated Stalin, was afraid and hated." Gordon also enlisted the entire intelligentsia, which, from his point of view, was also afraid and hated Stalin. I just sit and see how the whole peasantry, embracing the intelligentsia, embracing the intelligentsia, sits and hates Stalin, and then comes out with bread and salt to meet Hitler the liberator. In general, Gordon cries in a program dedicated to Victory Day, he is very sorry for the "poor (Soviet) people who fell into the millstones between two essentially fascist regimes". Since "both Stalin and Hitler, from his point of view, are twin brothers: they both wanted to own the world, they had the same goals, the same methods, and they threw people into the hell equally, not thinking about individual human lives ".
In fairness, it is worth noting that not everything is so launched in Ukraine, and the host of Channel 112 adequately opposed Gordon, sometimes driving him into a dead end. Only one question of him, what was it worth: "If then, in 1945, there were no victory, but defeat, would its price not be much worse? "Would those present in this studio sit here, and, in general, would we live if the USSR did not win then?" - to which Gordon was forced to admit that he would "not live for sure!" "But," he continued, "if we talk about the number of troubles, deaths, mutilations, and so on," he thinks that "if the Soviet government then left the Ural Range, it would not be in danger, and then Hitler would not gone. " Then Gordon even developed his idea by telling about Hitler's secret plans, which he learned from the writer Viktor Erofeev (whose father was the personal translator of Stalin and Molotov from the French) - it turns out that at the very beginning of the war, Stalin held secret negotiations with Hitler through his Bulgarian allies about the surrender, these negotiations took place for some reason in the Aragvi restaurant, (which, one wonders, at Aragvi? What was the best place for secret negotiations? And why did the Bulgarians speak French for me, too, remained a mystery covered in darkness), but leave it sun on the conscience of the narrator, the main thing to understand here that Hitler, according to Gordon, "did not intend to capture the entire Soviet Union. Hitler planned to get a minimum to Kuibyshev (present-day Samara), a maximum to the Urals "... Stalin, - according to Gordon, - understood that Hitler would not go for the Urals ridge ..." Well, where to get it, - the invited guest reasoned, - so many people: on commandant's offices, on resettlement in cities, in villages? The Germans did not have, "Gordon knows for sure," so many people did not have such a goal. " The goal was Ukraine, the oil fields of Baku, and get out of there to Iran. " Such was Hitler's blitz-krieg plan, according to the newly made historian. But everything from the very beginning went wrong and the Soviet people, who did not understand their happiness, and the partisans, who, along with Jews and Gypsies, did not want to burn in excellent German stoves, were to blame.
You should not be surprised at the similar conclusions of the man who began his performance in Studio 112 with the statement that "for everything that is happening today in Ukraine, in the temporarily occupied territories and in our souls, we need to say thanks to Russian President Vladimir Putin, to the stoned Russians, our degenerative power, which was chosen mainly by our degenerative people, as well as our European partners, who, as always, showed cowardice and did not fulfill their obligations under the Budapest Treaty, but hid it like an ostrich , Head in the sand and think only about their grandmother, they nazhivutsya allied with Putin's Russia "(unquote). I kept the spelling and stylistic turns of this master of words, (as they say, you won't erase words from a song), so that you have an idea what shit we have to deal with and what kind of swill we've been fed for 4,5 years. As you can see, among the reasons that led Ukraine to such an unenviable position, our fighter with all the bad things and for all the good things did not indicate our American friends and partners, which makes it clear who he works for and who he sold his soul to.
Why is it all I'm telling you in such detail here, firstly, in order to show the entire depth of the fall of a single human material, one can say biomod, hereditary traitors, with mother's milk, who apparently absorbed the betrayal gene, the product of a negative human selection from the time of Khmelnitsky and Mazepa to the present day. Secondly, in order to knock out the trump cards from our newly-minted historian Gordon, who had already announced on the NewsOne television channel that almost "all of the Russian and part of the pro-Russian Ukrainian sites (it turns out that there are such sites in Ukraine? And I didn't know !) they had already got quotes taken out of context and printed that Gordon almost already justifies Hitler ... But this is not so! .. "(c). Well, why not? So! Quotes are complete, not taken out of context, I quoted above, and to those who doubt, I apply
full version
his interview with channel 112. Find, as they say, 10 differences. Too lazy to listen to 1,5 hours, here
shortened version
, where he speaks only about the Second World War.
And thirdly, and in the main, consider that this is the last attempt to warn you, Russians, who are waiting relaxedly when everything in Ukraine wanders and turns sour, that everything is more serious than it might seem at first glance. It will ferment, it will ferment, but, alas, it will not turn sour anymore. And it will explode! And it is possible that you have! We are witnessing and fixing a clear attempt at the revenge of certain forces in order to rewrite history to solve the global problem of changing our historical code of the victorious people and turning it into biomass suitable only for genetic experiments and as cheap biomaterial for serving the needs of the golden billion. While all this looks ridiculous, the bearers of this code are still alive, who taught history from other textbooks, who still have fresh memories of the last war and whose families still honor the memory of relatives and friends who gave their lives for the common Victory, but they don't they are eternal - they leave and they are replaced by mankurts who do not remember kinship (and examples of the demolition of monuments to soldiers and marshals of Victory are a vivid confirmation of this), and, believe me, this is only the beginning, then it will only get worse, because the generation of zombies born in 2000+ for which no longer t authorities and who perceive history in the form in which it is fed to them by those who came to power in Ukraine in 2014, complete villains and degenerates. And then you risk shaking the storm, with which you can't do anything already! ..