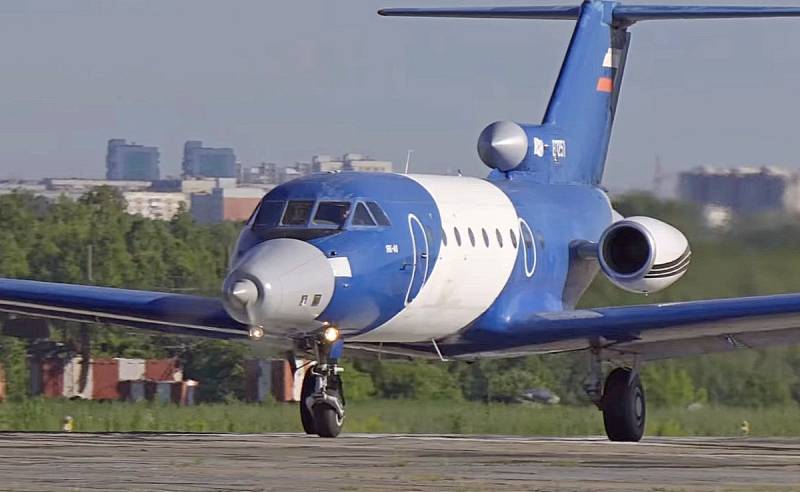 The main sensation of the MAKS-2021 air show was undoubtedly the fifth generation fighter codenamed "Checkmate". This promising single-engine aircraft has diverted all the attention of both domestic and foreign public, agitated by Rostec's clever PR campaign. "Haypanuli" everyone: who praised, and who and muddied the Russian novelty. However, the excitement around the Su-75 pulled away attention from other interesting domestic aircraft construction projects, and there was something to see.
The emigrants who fled abroad in search of a better life are very fond of broadcasting old anti-Soviet propaganda myths and modern Russophobic propaganda in order to justify their choice to others and to themselves as the only true one. One of the biggest nonsense that the author of the lines has heard is the assertion that Russia is allegedly unable to design and manufacture anything more complicated than an electric kettle. It is simply pointless to argue with those who, in their eyes, seriously assert something like that, because it is a waste of time and nerves. But, since there is a topical occasion in the form of the MAKS-2021 air show, let's see what we have with "electric kettles".
TVS-2MS "Partizan"
During the demonstration flight, this aircraft made a splash due to its unique tactical and technical characteristics. "Partizan" was able to take off literally a few meters after the start of the takeoff run, patrolled at an extremely low speed, and then safely landed on a tiny patch measuring 50 by 30 meters. How did this become possible?
It should be said that TVS-2MS is a modernized domestic version of the legendary Kukuruznik with a new name, since the rights to the An-2 name remained with the Ukrainian Antonov. This is a biplane, more precisely, a one and a half glider, but you should not exercise your wit and sneer at the archaic design. It is the structural features of the aircraft that determine its superiority over other aircraft in its class. In the Russian variation of the "Kukuruznik", a new engine has been installed, the cabin has been redesigned, and composite materials are used. Thanks to this, the flight range with a full load increased by one and a half times, fuel consumption decreased by 10% compared to the An-2, and all other characteristics improved by an average of 15-20%. Several countries have already shown interest in the upgraded TVS-2MS. But this is not what caused a lot of rave reviews at MAKS-2021.
The fact is that TVS-2MS was used as a flying laboratory within the framework of the project of unmanned transport systems, and here domestic developers were really able to surprise. Its experimental version called "Partizan" received nine engines instead of one at once, four additional electric ones on each lower wing. This is unusual
technical
the solution gave extraordinary results. An additional distributed electric propulsion system radically increased the active airflow of the wing and, accordingly, the lift. "Partizan" soars into the sky literally from a place, almost hangs in the sky at an ultra-low speed, which, if necessary, can grow up to 300 km / h, and is able to land on a tiny area. A helipad is already sufficient to operate the upgraded TVS-2MS. Those who can't wait to joke about the aircraft and its unusual appearance should take into account that this is just a flying laboratory, where promising ultra-short take-off and landing technologies are tested and demonstrated. The serial "Partizan" will be more compact, lighter and more elegant, as far as is applicable to a one and a half glider. And where can it be applied?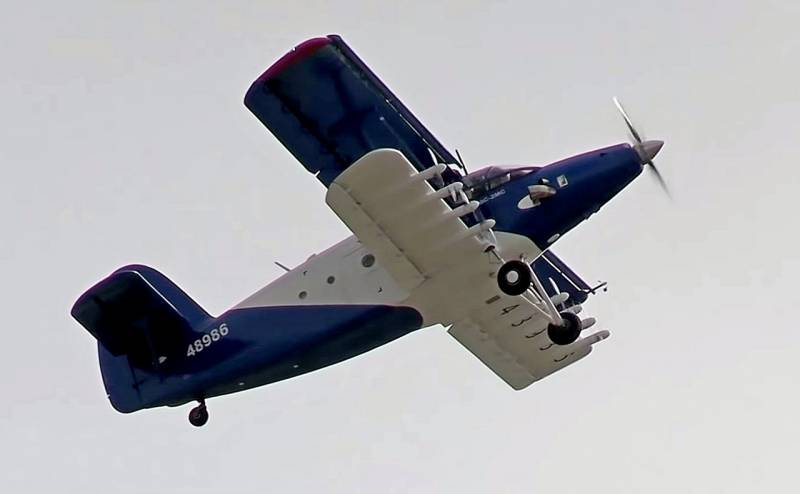 First of all, of course, at airfields with poor runways in remote regions. The plane can carry up to 8 passengers and about a ton of payload. However, its unique characteristics - the ability to take off and land on a helipad, as well as the ability to patrol at an extremely low speed - will make it useful for the Emergencies Ministry during search and rescue operations. It is possible that the military will also show interest in the "Partizan", which is directly hinted at by its name. As stated, the aircraft is being developed as part of the unmanned aircraft program, and this is very intriguing. Let's imagine that the RF Ministry of Defense will receive a TVS-2MS in the form of a reconnaissance or reconnaissance-strike UAV capable of taking off from any forest clearing. The carrying capacity of the aircraft in the manned version reaches 1 ton, and in the unmanned version it will only increase. It will be possible to hang reconnaissance equipment, anti-tank missiles and bombs on the Partizan, making it a heavy reconnaissance and strike drone, surpassing its competitors in some performance characteristics. It is possible that, thanks to the ultra-short takeoff and landing, it will find a place on the deck as a naval reconnaissance and strike UAV. Nothing will prevent you from teaching him to sit on the water, which will simplify his subsequent operation.
"Electrolet" Yak-40
And a little more about our "electric kettles". Currently, one of the trends in civil aircraft construction is its maximum "greening". For example, last year the Cessna 208B Grand Caravan with an electric engine was successfully tested abroad. At the MAKS-2021 air show, the Russian response was shown in the form of the Yak-40 liner with the world's first superconducting electric motor as part of a hybrid power plant. It would be more correct to say that the experimental laboratory is located on board the Yak-40, which is used as a demonstrator of Russian technologies. Working technologies.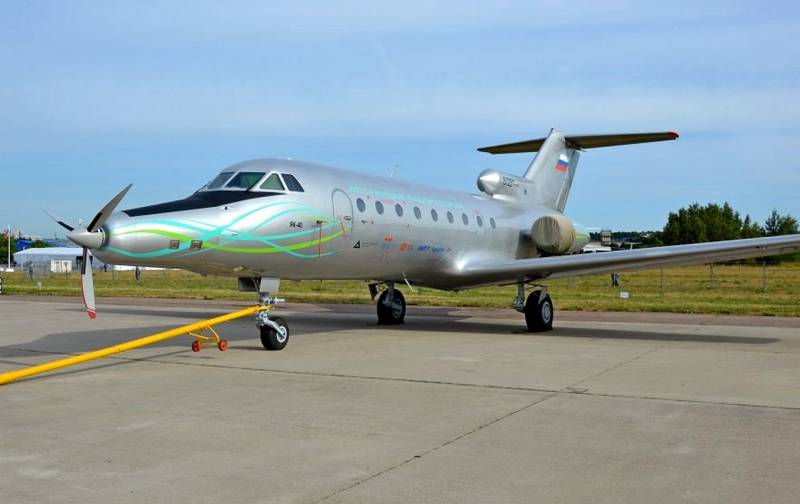 In addition to the usual propulsion engines of the Soviet short-haul liner, a special propeller is installed on the nose of the aircraft, driven by an innovative electric motor powered by high-temperature superconductors with a capacity of 500 kW., And in the tail is a turboshaft gas turbine engine with an electric generator and lithium-ion batteries. What does such an unusual hybrid give? Yes, a lot. Firstly, it is possible to fly in various modes: take off and land on an electric motor, if necessary, turn on the gas turbine engine and recharge the batteries. Secondly, the use of high-temperature superconductor technology instead of conventional copper wires in an electric motor will dramatically reduce resistance and reduce the size of the power plant, which means both its weight and the total weight of the aircraft. Thanks to cooling with nitrogen in a cryostat chamber, the efficiency of a promising domestic aircraft engine grows to fantastic 99,5%, and the use of traditional aviation fuel is significantly reduced to 60-65%.
This kind of "electrolyte" is currently being developed in Russia, and all sorts of emigrants, clearly overheated in the sun, persistently tell us about electric kettles.