The dream of mankind about getting a source of affordable, almost endless and safe energy can soon come true. That's just what will happen, most likely, not in our country, but in the USA.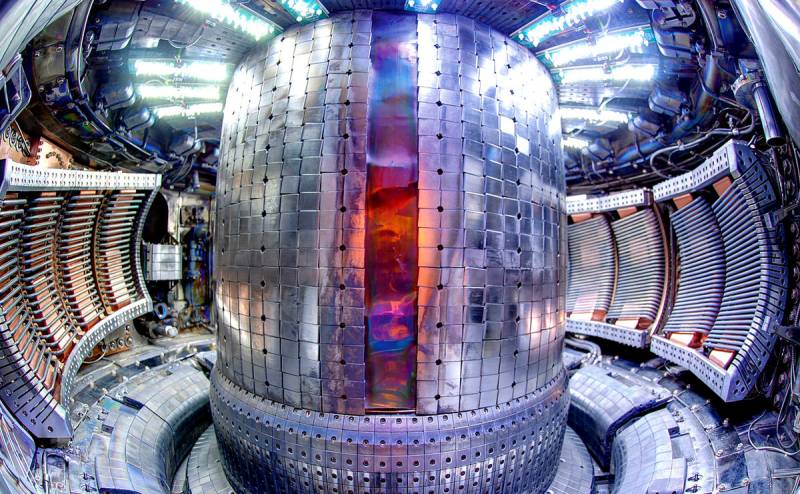 Nuclear power, developed in Russia since the USSR, provides electricity at the lowest cost, but fuel for nuclear power plants is a fairly rare element in nature, it is radioactive, and the waste spent in the reactor must be disposed of and stored. Thermonuclear reactors based on the release of energy during the fusion of the nuclei of hydrogen atoms are considered more promising. The heavenly body is actually a gigantic natural reactor. On the basis of the thermonuclear reaction, a weapon of tremendous power was created - a hydrogen bomb - which in terms of destruction can be many times greater than those atomic bombs that were dropped by the Americans on Japanese cities.
The idea to subjugate this force and direct it to peaceful uses has been around for a very long time. The thermonuclear reaction occurs on the basis of the interaction of two elements - deuterium and tritium. Deuterium is very common in nature, it can be extracted from ocean water by its distillation. Tritium is radioactive and must be obtained by irradiating lithium with neutrons. Lithium reserves are incomparably greater than the uranium required for nuclear energy. A big plus of the thermonuclear reaction is that the helium produced during it does not produce radioactive radiation, unlike nuclear waste.
In the fifties, the famous scientists Andrei Sakharov and Igor Tamm worked in this direction in the USSR. They were able to create the Tokamak thermonuclear device in 1958, however, for a number of reasons, it is still not ready for industrial use for commercial purposes. Similar work was carried out in the West, but all devices, despite huge investments, suffered from problems of instability or low efficiency. For example, the United European "tokomak" built in the UK cost at least $ 500 million. In France, a reactor under the name ITER is being built, its final cost varies from 22 to 50 billion dollars, already spent 14. The cost of the TFTR test tokomak built in the USA is hidden. Even in Israel they tried to build their own reactor, but the project could not be implemented.
However, it seems that in the United States of America
technological
breakthrough. Lockheed Martin Corporation has received a patent for a compact fusion reactor (KTR). Work started in 2010 and ahead of schedule. The developers report that they were able to solve the problems of the "Tokomaks" of previous generations, since a more complex device geometry was used.
The main feature of fusion reactors from Lockheed Martin is their compactness and mobility. The first one, called T4B, weighs only 20 tons and has dimensions of 2 meters in length and 1 in diameter. The second - TX - weighs 2000 tons, it is 18 meters long and 8. in diameter. It is estimated that the weight can be reduced 10 times to 200 tons. The capacity of a large reactor is 200 megawatts. The scope of their potential application is incredibly wide.
For peaceful purposes:
1. With a total of 12 kilograms of fuel, a single truck-mounted reactor will be able to supply 100000 people with electricity to the city for a year. Such reactors can be used in remote areas of developing countries.
2. KTR can be installed on civilian ships and aircraft, increasing the distance at which they can operate without interruption.
3. Using reactors, the cost of desalination of sea water can be reduced by 60%.
4. Opportunities of space exploration programs can be radically increased.
For military purposes:
1. KTR can be installed on American submarines, increasing their range and depth.
2. Thermonuclear reactors can be delivered to aircraft carriers of the US Navy, extending their time spent in the waters of a potential enemy.
3. KTR can be installed on military aircraft and drones, including combat, which can fly for almost unlimited time.
If Lockheed Martin program is implemented, the United States will receive a huge military and
economic
advantage over all rivals.