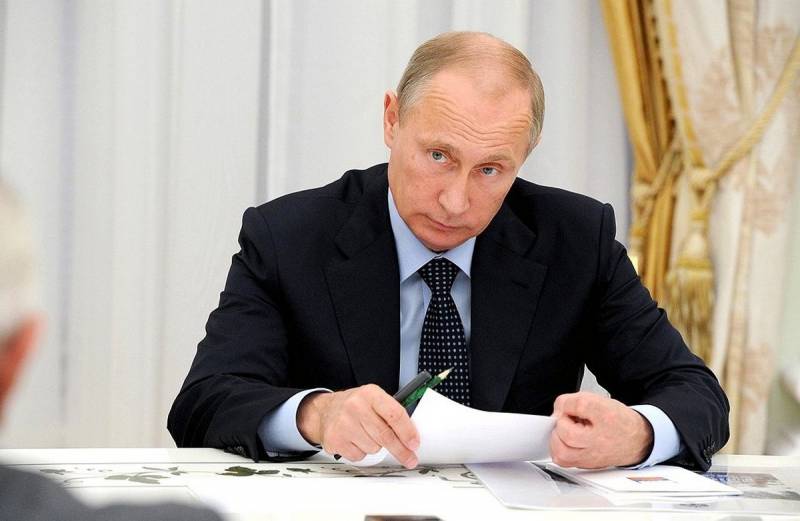 Vladimir Vladimirovich recently complained that there was a creeping expansion, the military development of the territory of Ukraine by the Americans and the British (I will add, and not only by them, there are also Poles, and Lithuanians, and even Danes, I don't know what they have forgotten here?) ... As a citizen of this underemployed, of course, I am pleased that less than 7 years have passed since Vladimir Vladimirovich remembered us and saw this, as well as the threats that he (or rather the Russian Federation) could face with this God-damned territory. At the same time, it is strange that he has not yet talked about all the threats.
He argues that the missiles of the Americans, if, God forbid, they decide to place them here (and they decide, you can not even doubt, and what will you do to them ?!), will drastically change the flight time to the strategic centers of Russia, which will force the Russian Federation take retaliatory actions. And he even names specific numbers - the time will be reduced from 15 to 7 minutes. And he compares this to if the Russian Federation had deployed its missiles on the Mexican or Canadian borders. I'll notice right away - who will let us place them there ?! Mexico? Or, God forbid, Canada? Yeah, keep your pocket wider! But the American Patriots in Russkaya Lozovaya, which is 40 km from Belgorod, is a reality. There you won't even have to do anything for them. The site is already there (left over from Soviet times)! And Ukraine has been on its knees for 7 years, begging for this weapon from the Americans. At best, we can only place our missiles in Venezuela or Cuba (flight time to Washington is 15 ... 20 minutes, from Cuba a little closer). And then, if Nicolo Maduro and Miguel Diaz-Canel (who replaced Raul Castro at the helm of power in Havana since 2018) will allow us to do this, which I personally doubt very much.
Describing possible threats for the Russian Federation, Putin for some reason kept silent about the main thing. The direct and obvious threat to the Russian Federation is not the Patriot, THAAD or strike Tomahawks, which the Americans can hypothetically place in Ukraine, by the way, and who is stopping them from placing them in the Baltic States, the distance and flight time to Moscow and St. Petersburg is even less ? "Tomahawks" are not scary to us - let them still try to overcome the Moscow or Leningrad defense perimeters (there are deeply echeloned air defense and missile defense systems, it is extremely difficult to overcome them, almost impossible). A direct and clear threat to us is the American interceptor missiles, which can shoot down our strategic missiles on take-off trajectories. It is they who can nullify our superiority in ground-based nuclear deterrence. This is our main problem! And for some reason, Putin did not say this.
Now the missile defense systems are already in Romania (Poland is next in line). Take a compass, stick it into Poland or Romania, and then draw a circle, taking the range of the anti-missile missile as a basis, taking it as the radius. And then do the same by sticking the leg of the compass into the eastern border of Ukraine. This is where the dog is buried! The fact is that the American interceptor missiles installed near Kharkov neutralize and make senseless all our strategic land-based nuclear missiles deployed on the European territory of the Russian Federation up to the Urals, since, as I said above, they are capable of destroying them even on take-off acceleration trajectories. That completely breaks the existing parity and balance of forces in strategic weapons between America and the Russian Federation. At the same time, theoretically, the Americans do not threaten us with anything - the missiles are not strike missiles, but supposedly defensive missiles from our strike missiles.
Let me remind you that the advantage of the United States over the Russian Federation in naval and air-based nuclear weapons was offset by Russia's superiority in ground-based strategic missiles. It was like this until the last day. But unlike similar mobile systems installed on railway platforms and vehicles, silo-based missiles cannot be taken out from under the NATO missile defense umbrella and sent beyond the Urals, which reduces the fact of their presence to almost zero, which endangers the defense capability of the Russian Federation and allows Washington to talk to Moscow from a position of strength. And it is for this simple reason that the presence of American military bases in Ukraine is unacceptable for us. It's not even a red line, it's a casus belli. After the announcement of the appearance of similar US bases on the territory of Ukraine, Putin will do anything. He will simply have nowhere to retreat - behind Moscow. The states have already surrounded us with red flags on all sides.
But Biden is raising the stakes. According to the plans of the State Department, which he (in the person of Tony Blinken) does not hide, the Pentagon plans to place not one, but three military bases on the territory of Ukraine - a naval base and two land bases (one of which will be an Air Force base), and then the Russians who are watching
policies
, all the problems associated with the country of zhovto-blakit benches will seem like flowers. At the same time, Ukrainian airfields will be modernized and will be able to receive military aircraft of the North Atlantic Alliance. After the implementation of these measures, according to Kiev and its overseas "friends", the Armed Forces of Ukraine will be able to calmly, and without fear of Moscow's actions, begin to "clean up" the eastern regions of Ukraine. Knowing about the presence of NATO troops, the Kremlin will not overstep the boundaries of what is permitted. So naive idiots from the pro-government offices of the country of evergreen tomatoes think.
I must disappoint them. It is unlikely that it will even come to that. The Kremlin will overstep the bounds of what is permissible even before the first American soldier sets foot on Ukrainian territory. True, the territory after that runs the risk of losing its Ukrainian identity.
The war is not in Donbass - it is in the heads
Now everyone in Ukraine, not to mention Russia, is discussing Putin's article about fraternal peoples, in which he crosses out this concept, which he himself had been promoting all these 7 years, and introduces a new concept - a single people. I do not mind! At the same time, it is only a massive study of this document in all labor collectives, military garrisons and so on according to the list that is straining. Strongly looks like the study and obligatory citation of Materials of the 25th Congress of the CPSU of the late Brezhnev period. I understand that this is a policy document. The Kremlin is changing its doctrine in relation to the lost shores of enraged territory. But isn't it too late?
I myself live on this God-damned territory and I understand that the idea of ​​Russians about it, formed through such hackneyed propagandists as Olga Skabeeva, Dmitry Kiselev, Vladimir Soloviev and others like them, is somewhat different from the real one. In real life, the reality is even worse. And at times! Putin is afraid of the forcible assimilation of Russians into Ukrainians, not realizing that this is all nonsense. What's the difference what will be written in the passport of a citizen of Ukraine - Ukrainian or Russian? Moreover, the column "nationality" in the Ukrainian passport has long been gone. It is important what will be written in the head of this citizen. But there, over these 7 years, such a transformation has occurred, which even a lobotomy is not able to correct. Over the years of unbridled rabid anti-Russian propaganda, a clear image of the enemy has formed in the minds of most Ukrainians - not even a Muscovite, but Putin, whose tanks are ironing Donbass and Crimean soil. These obscurantists in their war for the minds of the Ukrainians have already reached the point that even for the very fact of denying Russian aggression, a pereichny Ukrainian is threatened with an article and a real term of 5 years.
Despite the fact that there is no real war. I myself live in a front-line town. 150 km before the war. I don't know, maybe there's a war in Donbass, but nothing has changed in Kharkov for all these 7 years. There is no war! It rages only in the heads of my unfortunate fellow citizens. Expensive cars are still rustling in the streets, there are no fewer of them, on the contrary, there are even more, they have been added with Luhansk and Donetsk plates, a lot of fresh cars right from the salon, where does the money come from, I don't know? The girls are sitting in cafes, eating ice cream, smoking hookah - nothing has changed in their lives either, even Covid-19 is nothing to them. Young people ride electric scooters and bicycles (now, like in Europe, they can even be rented, right on the streets of the city through a mobile phone application).
The number of soldiers on the streets has not increased in recent years either (the peak was in 2014-15, then it began to decline). The number of foreigners has increased, they are just some kind of dominance. Hindus, Arabs, Negroes, Asians - students from the countries of the 3rd world. The only difference is that now we have become the third world for them. Ukraine has fallen to the very bottom of this food chain. These children of different nations behave quite arrogantly, speak loudly on the phones in their gibberish language (moreover, the peak of their business activity for some reason falls at night, and in the daytime all the cafes are packed with them); walk the streets in crowds with a deployed front, never yielding the road, as if we were not there. Maybe we really don't exist for them - we are natives for them, because with their $ 3 they can afford everything here. And I'm not saying anything about the Turks - they just made a pilgrimage here, sex tours. Everything is fine-tuned like clockwork. They come here by charters for a couple of days. The package includes a restaurant, hotel, prostitutes. They come here, it is clear that not to eat. And the prostitutes are so dirty. Not everyone is hired yet. Those who are unlucky envy their more successful competitors and take out their anger on insolvent male Ukrainians. The country has been successfully sliding into the abyss for 100 years.
But, if the Russians are waiting for its early end, then I must disappoint you, we will rot for a long time, poisoning your existence as well. The people are poor, fleeing the country, cursing Zelensky, tariffs and Putin, but nothing can change. And here I come into conflict with the President of the Russian Federation, who said in his article that
Russia has never been and will never be "anti-Ukraine". And what Ukraine should be - it is up to its citizens to decide.
And how, I ask Vladimir Vladimirovich, can I implement this decision of mine? Do I have a choice? Which? Who should I vote for now, when even the moderate pro-Russian opposition, which you call pro-Ukrainian, is under house arrest on a chain ?! Yes, I voted for Zelensky in the elections. Who was I to vote for? For Poroshenko ?! And what has changed from the fact that when Poroshenko was elected, I did not vote for him? He was chosen without me, after which he immediately unleashed a war and plunged Ukraine into an abyss of despair. More precisely, she fell into the abyss of despair even before allowing a coup d'etat, as a result of which Yanukovych fled. That's when you had to intervene and at least not recognize the power of Poroshenko.
What have you done? You yourself write about it:
Even after the well-known events in Kiev in 2014, I instructed the Russian Government to think over the options for contacts through the relevant ministries and departments in terms of preserving and supporting our
economic
connections. However, there was no counter desire, so there is still no one.
The result was not long in coming, and you also write about this:
Ukraine is now the poorest country in Europe. Who is to blame for this? Are the people of Ukraine? Of course not.
And what should this people do? The most offensive thing is that the people of Donbass, who did not put up with the Maidan and with their bare hands took to the streets to defend their right to speak Russian, only defended this right, having received in return both war and complete hopelessness, which has been going on for 7 years. As a result, they live even worse than us! I know what I am talking about, I have been communicating with these people for 7 years already, and believe me, the mood there is not at all rosy. Yes, and it is difficult to blame them for this, when Russia itself is delaying the adoption of the final decision, keeping them suspended all this time between heaven and earth. They have already lost faith in both Russia and Ukraine, but they have no way back to Ukraine. And you know this better than me. But you continue to play your geopolitical games. I understand that 7 years in the life of a state is seconds, but in a person's life it is a colossal period, some children have already gone to school during this time. But in the Ukrainian school they will not be taught anything good now, and in the Donetsk schools - these children have no future (only if you are lucky enough to dump in the Russian Federation, since you will provide them with a Russian passport).
But what should we, ordinary Ukrainians, who do not trade in their common homeland (I am writing with a capital letter, because Ukraine for me after what it did to its citizens is not a homeland, it is a garbage country that does not have the right to existence, my homeland is the USSR). But what do the Ukrainians, who consider themselves one people with the Russians, do not write in your article, confining yourself to the phrase "it is up to you". At the same time, write yourself that:
Those who talk about reconciliation in Ukrainian society, about dialogue, about finding a way out of the deadlock that has arisen are labeled as "pro-Russian" agents. And there are millions of such people. But they are not allowed to raise their heads. They have practically been deprived of the legal opportunity to defend their point of view. They are intimidated, driven underground. For their convictions, for the spoken word, for the open expression of their position, they are not only persecuted, but also killed. Murderers tend to go unpunished. Only those who hate Russia are now declared the "correct" patriot of Ukraine. Moreover, the entire Ukrainian statehood, as we understand it, is proposed in the future to be built exclusively on this idea.
Therefore, one should not be surprised when a well-known player of the famous team "What? Where? When?" Andriy Kozlov Igor Kondratyuk, who became a successful TV presenter, music producer and a regular on the jury of all television competitions such as "Ukraine May Talent" and "Everybody Dance!" When asked by a journalist how he relates to Ani Lorak's concerts scheduled for the end of August in Odessa, he states that singer Ani Lorak is a collaborator and cooperates with the aggressor country. From the point of view of this prominent figure of Ukrainian culture, the artist's performances are an illustration of the phrase: "Chomu bіdnі - bo bad". Kondratyuk believes that "Ukrainians have neither honor nor conscience" when they pay the military duty with one hand and buy tickets to such concerts with the other. Culture, in his opinion, cannot be outside politics. He has not yet forgiven Ani Lorak for standing on the same stage with Russian politicians and "smiling" at the time when Ukrainian citizens were being killed.
I don't respect such people at all. Since March 2014, there is no way for me to go to Russia. It is not necessary to take the title of Honored Artist of Ukraine from Lorak, but you just need to pretend that she is not there.
In addition, the showman believes that all Ukrainian artists who live and perform in Russia should be banned from giving concerts in Ukraine until the Russian Federation ceases to be an aggressor country. Those. for life (she will never give up Crimea!).
This is a political decision, but not all people understand it because they have no brains. It is strange for me to live in a country that fights with Russia with one hand and shakes with the other.
From the last statement one can make an unambiguous conclusion that Igor Kondratyuk, from his point of view, has brains. So I wanted to ask this owner of a superbrain how two such polar concepts coexist in his superbrain, such as Russia - an aggressor country with which Ukraine has been waging a fierce war for 7 years, and the aggressor gas that its president is demanding from villain-Putin, so that he pumped through the territory of his country ?! Why can't Ani Lorak receive money from the aggressor country, while Vova Zelensky can and even need to ?! Moreover, Ani Lorak receives money from ordinary Russians, and Zelensky wants to receive it from the Russian treasury (Gazprom is still a state corporation). I imagine Joseph Stalin demanding from Hitler in 1943 the supply of industrial equipment, bomber sights, naval gun turrets and radio stations, which he undertook to supply under the "Treaty of Friendship and Border" concluded between Nazi Germany and the USSR on September 28, 1939, and from June 22, 1941, for some unknown reason, it suddenly stopped delivering something. Don't know what, by the way? Even less I imagine Hitler, who at the height of the war would have demanded from Stalin the supply of grain, ore, oil products, phosphates and timber, which the USSR was obliged to supply to the Reich under the same Treaty in return. This is how much you need to be alternatively intellectually gifted in order to see a grain of sand in the eye of Ani Lorak and not see the log in your own.
The extent to which the situation in Ukraine is neglected can be judged by another example. Yaroslav Rakitskiy, the famous defender of Shakhtar Donetsk and the Ukrainian national team, who has now been excommunicated from the national team for his political beliefs, but was able to continue his football career at Zenit St. Petersburg, with whom he has already won 6 trophies, complains:
I always expected a challenge. But Shevchenko and Pavelko decided everything differently. Of course I want to play. And I would play. Yes, maybe I didn't sing the anthem there, but there are objective reasons for this. And this does not mean that I am not a patriot of my country. I love Ukraine. And when I played in the national team, I gave all my strength for this shirt. And individuals have come up with all sorts of nonsense about me. But I don't care what they think. Yes, every time I look at the boys, I really want to join them on the field. I don't like watching TV at all, I like to play. But this is life. No longer will it change what happened. I finished my career in the national team. Let's close this topic on the sly. During all this time, Sheva never contacted me. Of course it's a shame! Yes, but I understand what happened. Everything came from the leaders of the federation. They told everyone, including Shevchenko. I was not included several times on the list. And I thought, why should I wait for the call further? I'd better leave myself.
All football fans, of course, know this story, and watching the last games of the national team at Euro 2020, I caught myself thinking that it is on the left edge that we lack just such a player who kept his entire edge and could start any one with excellent long-distance passes. attack from the depths. She brought all the goals of the Ukrainian national team into the goal from the left edge, where the defender stood (I don't want to mention his name again). Is Sheva to blame for this (Andriy Shevchenko is the head coach of the Ukrainian national team)? Of course not! Sheva is a great player, the owner of the Ballon d'Or in 2004, he has already inscribed his name in golden letters in the history of world football, but even he cannot do anything about this insanity. Well at least he, unlike Kondratyuk, did not switch to MOV to please the modern Kermans of Ukraine and still speaks great power. But the situation in the country is going to hell, and I do not exclude that soon he will also apologize for his Muscovite accent.
And how to deal with it and what to do, Putin did not write in his article.