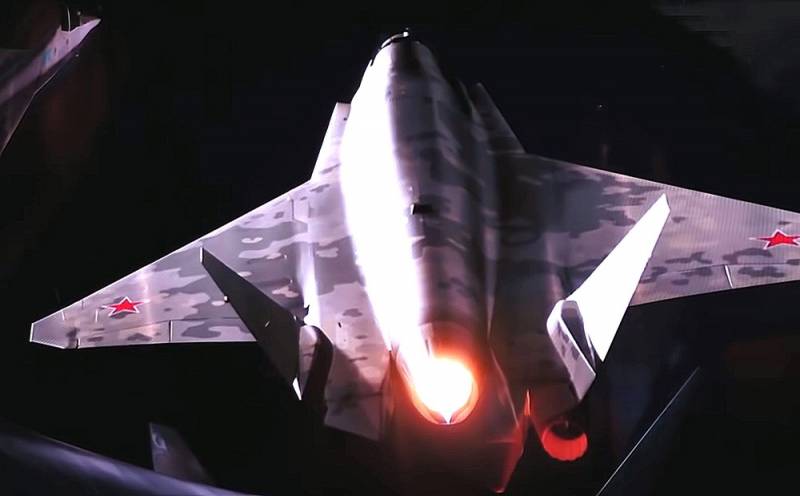 The main event of the MAKS-2021 air show, undoubtedly, was the presentation of the prototype of the newest Russian light fighter, called Checkmate. The brainchild of the Sukhoi Design Bureau is already called the main competitor to the American F-35. At the same time, it should be noted that these statements are fully justified.
Most of the characteristics of the new domestic fifth-generation machine are, of course, classified. However, something is known.
The single-engine prototype presented at the exhibition has a take-off weight of 18 tons, can reach speeds of up to Mach 2 and reach heights of up to 16,5 km. Based on these characteristics, we can conclude that the aircraft will most likely receive the "Product 30" power plant, which was created for the Su-57.
Also, according to the developer, the effective dispersion area of ​​our fighter will be only 0,001 square meters. m. For comparison, the F-35, this figure is 0,005 square meters. m.
Checkmate surpasses its counterpart in terms of internal capacity. Thus, the F-35 is capable of carrying a payload of up to 4 tons inside the fuselage, while our light fighter "takes on board" almost twice as much.
Finally, it is reported that the brainchild of the Sukhoi Design Bureau will be widely used
Technology
AI, and its optical sighting system is capable of working equally well on both air and ground targets.
It is worth noting that the prototype presented at the annual event will never go to the troops. This is just a concept on the basis of which single, double and even fully unmanned variants will be created.
The first flight of the production vehicle is scheduled for 2023. At the same time, our aircraft is already arousing genuine interest among foreign customers.
However, this is not surprising. With such impressive characteristics, the Russian Checkmate will cost about $ 30 million per unit. While the price tag of the F-35A reaches 94 million, and the F-35B version will cost 115,5 million dollars at all.