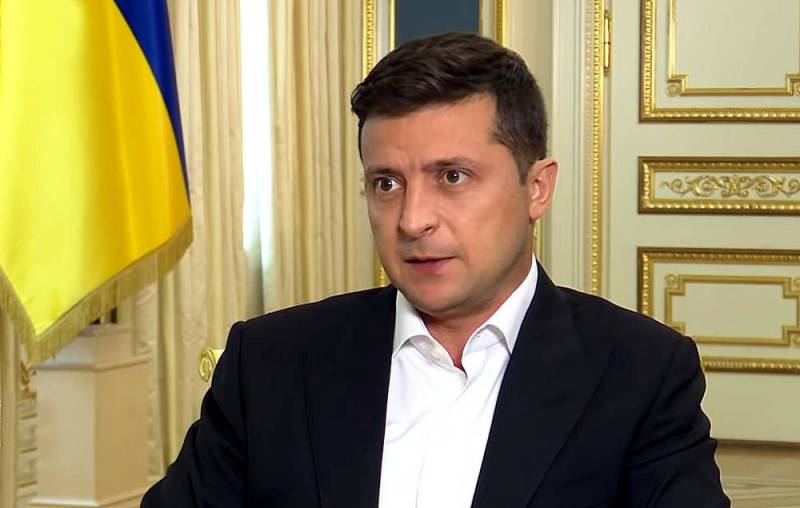 The incredible is happening with the foreign policy of Ukraine. Prior to that, clearly and unambiguously oriented to the West, today it jumps, changing its direction like a compass needle that landed in the very center of a magnetic anomaly. From the official representatives of Kiev, both extremely transparent hints and completely frank statements are heard, not only contradicting everything that was said by their colleagues over the past years, but also often of a mutually exclusive nature. Either these are absolutely ultimatum demands for admission to the European Union, or threats to "turn to the East", giving their dear "Western partners" an unimaginable place for review.
Such a "leapfrog" for self-respecting countries is impossible in principle. However, let's not forget that we are talking about Ukraine. What caused its foreign policy "antics and leaps", which have recently been taking on more and more intricate forms and on an ever larger scale? And where can they ultimately lead the country and its leadership?
Three carcasses and one stuffed animal
It should start with the fact that Ukraine's aspiration to get into the coveted European Union, and in any form - even a carcass, even a stuffed animal, even a complete set with other similar applicants, has not gone anywhere. Moreover, the number of aggressive "carcasses" aiming at the assault on the EU and decided to unite their efforts for this has grown to the format of the so-called "Associated Trio", the memorandum on the creation of which was, as I recall, signed by representatives of Georgia, Moldova and Ukraine back on May 17 in Kiev. Now, on July 19, at a conference held in Batumi with a programmatic title: "Georgia's European Way", its participants proclaimed a declaration on the irresistible desire of Tbilisi, Chisinau and Kiev to become full members of the European Union. Most of all, at this solemn moment, the President of the European Council Charles Michel, who found himself within walking distance of the representatives of these "great powers" just at the moment when their "European integration aspirations" surged over the edge, was not lucky. The poor fellow managed to turn up on the arm of Vladimir Zelensky.
This scarecrow, completely ignoring such vulgar conventions as the diplomatic protocol, literally with a knife to his throat started a high-ranking European bureaucrat, peremptorily demanding nothing less, but "to include the issue of Ukrainian European integration on the agenda of the next EU summit." Take out and put Zelensky a "clear and unambiguous recognition of her prospects"! How Monsieur Michel got out of this extremely uncomfortable situation for him is not known for sure. Surely, he promised something vague and vague, expressing "warm support" and assuring him of the most serious intentions regarding this issue. Otherwise I would not have fought back, perhaps.
However, everyone understands what is the price of these assurances, torn on the sidelines of the next international summit from the next poor fellow from the EU, who in the process of a "friendly conversation" has to be held by the lapel of an expensive jacket so as not to give a gag. In fact, the European Union, through the mouth of its most diverse officials and high-ranking officials, is already tired of explaining to Kiev (as well as to Chisinau and Tbilisi) the truism that nobody in the European Union actually expects them. And all sorts of programs like the "Eastern Partnership" - this is so, light flirting without serious intentions in the form of an invitation to the "altar". And in the near foreseeable future (a hundred years or so, at least) nothing will change here, despite the meaningless declarations that the hungry applicants are producing.
No matter how many duets, trios or even quartets they create, they will have to perform their "serenades" exclusively under the balcony of the EU, in front of its door tightly locked for them. Zelensky can, if he really wants to, criticize the same Eastern Partnership, calling it a "half-dead format" and "summit for the sake of a summit" as much as he wants - Brussels has become accustomed to such extortionate demarches a long time ago and they do not touch anyone there at all. "Reform, fight corruption, cooperate and don't bother too much" - this is approximately how sluggish and phlegmatic answers sound from there to the inclinations of all sorts of "leaders" who suddenly imagined that they could indicate something to "united Europe" or, even more so, to demand something from her. In Kiev, they realize this more and more clearly - despite the obvious alternative talent of the "Ze-team". And now from there, speeches begin to be heard, which, according to the plan of those who utter them, should "bring to life" the West, which has significantly reduced the degree of its Ukrainophilism recently.
Zelenskiy considers himself equal to Churchill?
So far, people not from the government or the presidential office allow themselves to openly voice "fronder sentiments", but, let's say, a smaller fry. For example, Aleksey Arestovich, speaker of the Ukrainian delegation in the Minsk TCG in Donbass. In his performance, it seems to be and not as the official position of Kiev, but as some of his personal "reflections". They say, if someone out there in the West thinks that they can "make friends with Russia at the cost of surrendering Ukrainian interests," then let them throw such irrelevant ideas away! Otherwise ... "We will rebalance our position by turning to the East" - threatens Arestovich. Quite interesting is the list of those countries with which, as he declares, Kiev will "intensively build relations", having finally become disillusioned with the cold and insidious West. Well, Turkey, that's understandable, here and so "friendship forever".
In the "non-profit", it seems, they are unable to understand that this "forever" will last exactly as long as Recep Erdogan will need, who is now also balancing between multidirectional foreign policy vectors. Qatar and the UAE are also mentioned. It is also quite natural: they are rich, they have heaps of oil and gas, why are they not "best friends"? The only problem is that Zelensky clearly perceives Arab sheikhs as naive, quick-riches, ready to throw money right and left indiscriminately. As you know, this does not correspond at all to reality, so the "bummer" here, perhaps, will be cruel. Especially since Ukraine has nothing to offer the Middle East. Attempts to "sell" unfinished Antonov planes to the countries there, as you know, did not end well.
A separate "song" is China and Vietnam, which also appear in the "Arestovich's list". Well, with Hanoi - this is a dark matter, but as far as Beijing is concerned, to which, as we wrote not so long ago, Kiev has recently just inflamed with passionate love, then it is hardly worth counting on "nezalezhnoy" ... First, not so long ago, the Ukrainian government received a very tasty
political
"Slap in the face" - the ambassador of this country in Kiev Fan Xianrong addressed with a very heartfelt and flowery letter of welcome to none other than to Viktor Medvedchuk. He (what a misfortune!) Is just now under house arrest, where he was sent, in fact, on the initiative of Zelensky, who decided to destroy the only seemingly "opposition" party in Ukraine, OLE, headed by Medvedchuk. This demarche looks like an open mockery of the local authorities, and, in fact, it is. The Chinese comrades are great masters of such things. And if someone in Kiev thinks that a few flattering words addressed to the CPC and personally to Chairman Xi will make them forget about the story with Motor Sichchu, then they are deeply mistaken. Secondly, China will in no way spoil relations with Russia by closing itself up as a "strategic partner" of Ukraine. Xi Jinping is not Erdogan and will not play a double game. The Celestial Empire will receive exactly what it wants from the "non-profit" and so that it does not contradict the interests of our country. The Ambassador Extraordinary and Plenipotentiary of China writes about his readiness to "develop strategic partnership with Ukraine" to the "pro-Russian" Medvedchuk - and that says it all. So all the talk about a "pivot to the East" performed by certain Ukrainian public figures in reality is nothing more than an attempt to cheaply blackmail the West.
Unfortunately, Zelensky's entourage is clearly not close to someone who, like "Daddy Mueller" from "17 Moments of Spring", in a fatherly way, would advise the comedian president "not to consider himself a figure equal to Churchill". Rather, if we really adhere to the historical accuracy - to his predecessor in the prime minister's post, Lord Palmerston, the very one who declared that Britain had no permanent enemies or friends and had only permanent interests. In order to proclaim such things, and, even more so, to pursue an appropriate foreign policy course, it would not be bad to have the status of an empire, and not a half-ruined colony, where both the Americans and the same British are insolently dominating. Truly - where a horse with a hoof, there is a cancer with a claw. In addition, it would be quite useful for the Ukrainian authorities to analyze where the "multi-vector" policy of their closest neighbors, the Belarusians, ultimately led. By the way, the words about the "pivot to the East" are, in fact, a repetition one to one of those speeches that are being heard from Minsk today, after the European sanctions fell upon it. But Aleksandr Grigorievich actually has a lot to turn around - and the point here is not so much that he has much closer, stronger and more reliable relations with Beijing than that of the "nezalezhnaya" one.
Belarus today can rely primarily on the help of Russia. As well as other countries of the CIS and the EAEU. For Ukraine, this is an unambiguous taboo. So it remains to indulge in dreams of friendship with Turkey, Vietnam or generous sheikhs. In reality (and, by the way, this is how sensible Ukrainian political scientists assess the current situation), sooner or later, for Zelenskiy himself and his "team", all these rumblings will end in the complete collapse of their already not brilliant political career. Having finally convinced that the "leader of the nation" endowed with presidential powers has remained a clown in his way of thinking, Washington and Brussels can very quickly make the most radical decisions regarding the change of power in Kiev. By the way, some experts suggest that the resignation of the "unsinkable" Minister of Internal Affairs of Ukraine Arsen Avakov indicates that such a decision has already been made. In any case, for the "nezalezhna", the unsuccessful foreign policy experiments of its current leadership will mean the final "drop out" of this country from the global world agenda and miserable stagnation on the "geopolitical margins".