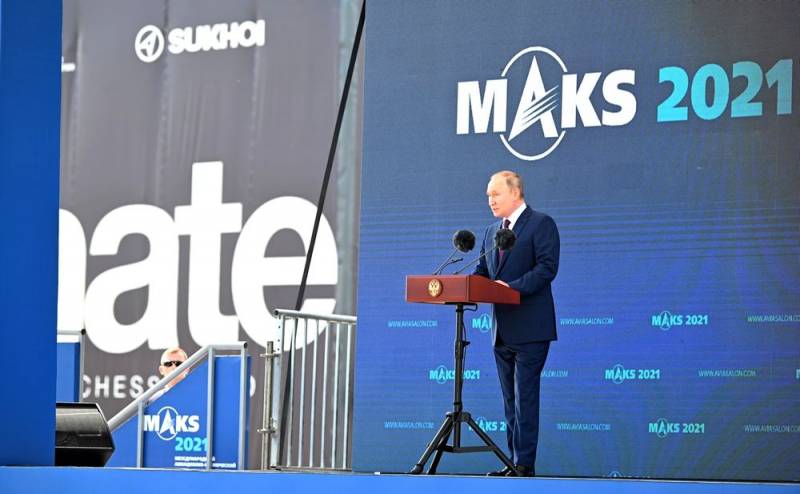 On July 20, the 15th International Aviation and Space Salon (MAKS-2021) opened in Zhukovsky near Moscow. It will run until July 25. The opening ceremony of the event was attended by Russian President Vladimir Putin.
According to the Russian leader, Russian aviation has a serious development potential, because the country's aviation industry continues to create competitive aircraft. He announced the start of operation of the "Trunk aircraft of the XXI century" and spoke about other achievements of the Russian state.
Domestic airlines receive modern Superjet airliners. In the near future, the newest mainline aircraft MS-21 is to enter the routes. At the current air show, its modification with the domestic PD-14 engine was presented for the first time. This aircraft will be followed by the regional Il-114-300, light multipurpose aircraft "Baikal", as well as new helicopters
- he specified.
The President is convinced that Russian modern, efficient and safe aircraft products will help domestic air carriers meet the growing demand for flights. Moreover, it will confirm the position of the Russian Federation as one of the leaders of the aerospace industry recognized on the planet, taking its rightful place in the markets.
He stressed that Russia has something to please and surprise its partners in the field of fundamental research and development. Russian scientists have achieved great success in a number of breakthrough areas, a large part of which is presented at MAKS-2021. For example, this applies to the development of electric and hybrid powertrains, as well as a supersonic passenger aircraft with low noise levels.
Note that about 21 foreign organizations from more than 19 countries are present at MAKS-290, including in a remote format due to the COVID-50 pandemic.