On July 17 of this year, at the Farnborough-2018 international air show, a "historical event" happened, according to Ukraine. The Antonov Aviation Group, whose condition is best described by the medical term "at death," has signed an agreement with Aviall Services, Inc., a subsidiary of Boeing Corporation, which has already been declared the "rescue of the Ukrainian aircraft industry." However, most likely, this agreement will become for Antonov not a lifeline, but a loop around his neck. Why? Let's figure it out ...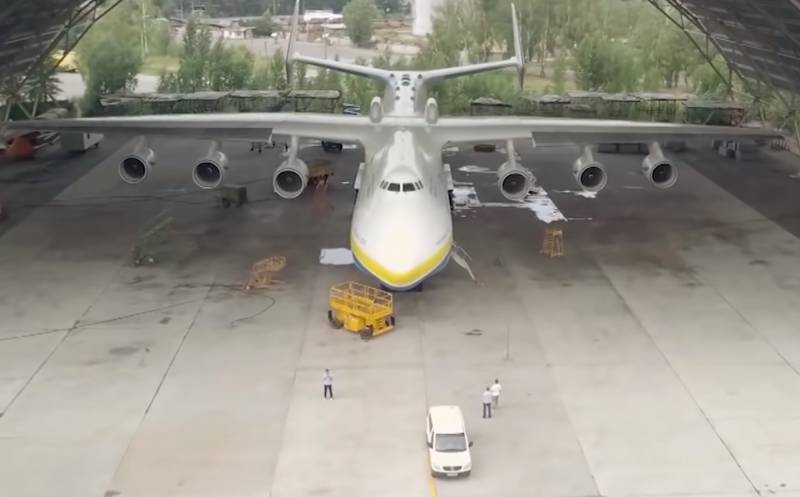 In truth, Antonov's affairs, which at one time created the legendary An-225 Mriya and Ruslan An-124 planes, have been shaky or swirling from the tragic moment that Ukraine aspirates as "gaining independence ". The aircraft building giant, as well as the vast majority of enterprises in the high-precision and high-tech industry of Ukraine, lack of land did not benefit. No, the enterprise did not fall apart and did not close - like hundreds of others, but it could not be called prosperous in any way. Somehow "Antonov" saved the demand for its products in Russia and some other post-Soviet countries.
Since 2014, it has become very bad ... It is not surprising - after all, the concern received at least 60% of parts and components for building aircraft from Russia. From there, aluminum and titanium came, without which in aircraft manufacturing - nothing. And now, Russia has been declared an "aggressor," and cooperation with it is prohibited at the legislative level. The result was not long in coming - having orders for 18 aircraft, the Antonov over the past few years has collected in half just one "board" - the multi-purpose transport aircraft An-132D, created by order of Saudi Arabia and its funds. Somehow, Russian parts were replaced with components of American and European production - and reported on the "revival of Ukrainian aircraft construction." That's just about the flights of the An-132D, something has not been heard so far - as well as about new orders for Antonov.
The personnel leapfrogging there in recent years has gone completely against the enterprise — over the past three years, management has changed four times there. Well, the fact that in 2015 the concern, which was subordinated to the Ministry of Economy, was transferred to Ukroboronprom, which very many in Ukraine call the personal "feeding trough" of Petro Poroshenko almost finished it off. In any case, talk about the possible closure of Antonov, which was unable to rivet even a flying "whatnot" without the help of "damned Muscovites", was carried out far beyond the level of idle rumors.
And now - "wonderful salvation"! Boeing takes the "Antonov" under its wing and in two counts will find a replacement for all the missing Russian components and parts - let Moscow be strangled with anger! The same Poroshenko had already hastened to declare the deal "a guarantee of aviation independence from Russia" - who was talking about and lousy about the bath ... The current president of Antonov, Yuri Kiselyov, is also full of optimism: "We got a shoulder!" After all, the Americans have even declared their readiness to spend tens of millions of dollars to build a huge warehouse in Gostomel to store a constantly replenished supply of "all necessary components", which they will supply to replace the Russian one. "Happy end"?!
Nothing like that! Putting aside empty enthusiasm, it would be nice to ask the simplest question: "But why do all this Americans need at all ?!" Which, one wonders, the Boeing suddenly undertakes to save a potential competitor, who is standing on the brink of death? The whole thing is that no one is going to save anyone - quite the contrary ...
Smart people in Ukraine are already thinking about this issue - and naturally come to very disappointing conclusions for Antonov. Most likely, the Americans redeem it solely in order to prevent those countries that do not yet have their own aviation industry from doing this, but have enough funds for its development. The same Saudi Arabia, for example! By the way, about the increased interest of the Chinese in the concern, too, there was talk ... And why is this America? Perhaps the "Antonov" will be kept afloat for some time. It can be argued that the money invested there by American partners is enough to pay salaries to the right personnel and maintain the infrastructure of the enterprise. But in no case - not on its development!
In the aircraft industry, a similar course of death events is similar. Trained specialists who are capable of developing and creating something really worthwhile will inevitably leave (simply by age), and no one will replace them.
Technologies
with which the company works are inexorably becoming obsolete (in the aircraft industry this process is very fast!) - but there will be no new ones. Stagnation, stagnation, and the inevitable quiet "death from old age" - this is the future destiny of the once brilliant "Antonov". In five, at most ten years, the Boeing logo will show off at the place of its emblem - Americans are not fools to invest in other people's projects.
This problem has one more side - working with Russian components, Antonov remained Antonov, but here is their replacement ... Where will it lead to? According to experts, these will be completely different planes! And, therefore, they will need a new certification and they will also have to make their way to the world market "from scratch". Is this task feasible for Ukraine? Today, Aviall Services promises to help Ukraine resume the production of the An-1X8 NEXT family of aircraft (An-148, An-158, An-178) - in exchange for fully exclusive rights to further after-sales service.
But will these aircraft be the Antonovs? And will they even be? Do not forget that the concern's "skate" has always been transport and military transport "sides", which, due to their relative cheapness, competed with the more expensive Boeing and Airbus, especially in third world countries. To strangle a potential competitor in a quiet way, using a convenient moment - this is just very American.