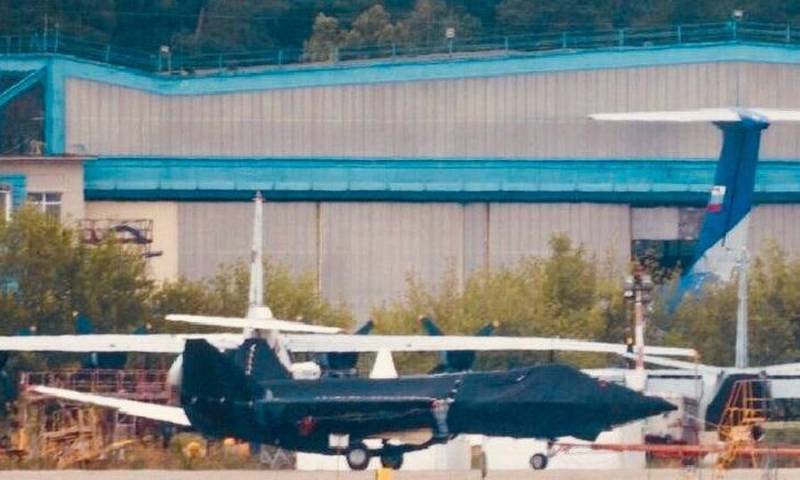 Readers of the American resource The Drive commented on the images of the previously unknown Russian fifth-generation fighter, which appeared on the Internet the day before. More than four hundred responses were left in total.
In a detailed analytical note accompanying the available photographs, the publication itself noted that funding is a key issue. It is for this reason that the Russian Federation is conducting an advertising campaign to attract potential partners from abroad.
Comments are presented selectively:
Almost all fifth-generation aircraft look the same - these are the requirements of modern combat aircraft [...]

- pointed out WreckInspector.
A very interesting development. Moreover, it looks exactly like a flying prototype, and not like a mock-up. Although it is obvious that its first flight will not take place at the air show [...]

- Darth_Squishy comments.
The question is not how it looks, but why it even exists. The Russians hardly have the money to buy even the Su-57, so why waste their limited resources developing another aircraft?

- expressed his amazement to CodingPhysicist.
The aircraft has relatively modest dimensions, which indicates a small combat radius. I'm curious if it has one or two motors

- pointed out TDub.
Is it some kind of Soviet development again? Will they build 6 of them again and calm down?

Ragnarredbeard taunts.
[…] If it becomes cheap enough, the West will face enormous problems in the Middle East, Latin America, and other troubled regions. I believe that Russia will try to export fighters to the opponents of the West [...]. I can think of at least 3 regions where this will complicate the current or possible Western military campaign.

- suggested Imti_.
[...] Russia has already lost its only and largest partner in the aerospace industry - India, and only because it cannot deliver quality goods on time. Who, then, are they going to finance the production of the new aircraft? Most of the countries of the Middle East are in America's pocket, while everyone else is more comfortable working with the Chinese, who are able to deliver goods on time and at low cost. Russia is showing the decline of its imperial ambitions. It really looks a pity, for they could have achieved more if they had not returned to their long-obsolete projects.

- responded to a previous comment by Charles Spratlin.