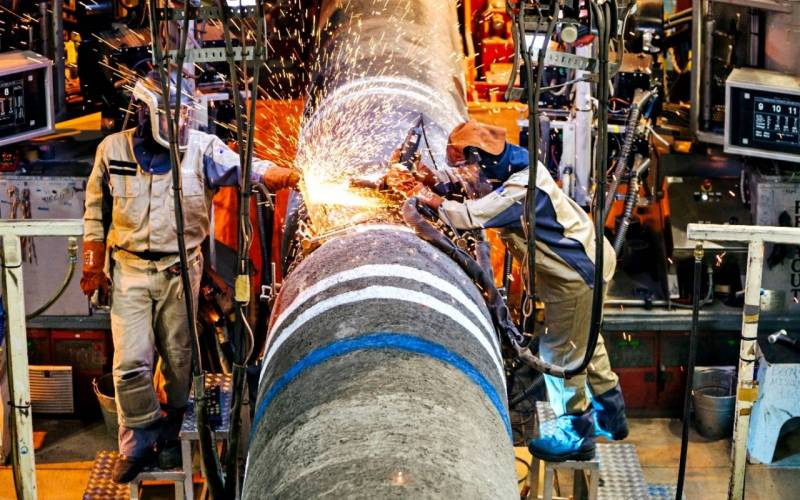 Gazprom has made the so-called "golden joint" between the first string of the German and Russian sections of the Nord Stream-2 subsea gas pipeline. Its second line is being actively built. Against the background of such
News
in Kiev, they began to feverishly gush with various ideas and proposals, how Ukraine not to stay after 2024 at a broken trough. To date, there were three of them at once, of varying degrees of adequacy. Let's take a closer look at them and try to find at least some rational grain.
So, what are the decision-makers, as well as those who are supposed to give them advice and recommendations, think about nowadays in Independent.
Central Asian gas
As you know, Gazprom pumps Russian natural gas to Europe. Under the current agreement, he is obliged to supply a total of 2024 billion cubic meters by 225, i.e. 40 billion cubic meters for each remaining year. The terms of the transit agreement were extremely disadvantageous for the domestic monopolist, since they were concluded on the basis of the "download or pay" principle. If it is necessary to pump a larger volume of gas, the state corporation is forced to pay for it at an increased tariff. Miller's team had to sign such a dubious commercial contract in December 2019 because the construction of Nord Stream 2 was frozen indefinitely due to US sanctions, and the supplier risked multibillion-dollar fines from discerning European consumers. But by mid-2021, it became obvious that the alternative gas pipeline would nevertheless be completed by Gazprom's own efforts, despite all restrictive measures.
In theory, nothing can prevent Russia in 2024, after the expiration of a 5-year contract, to stop pumping "blue fuel" through the Ukrainian GTS. True, our authorities at the highest level have confirmed their readiness to continue using her services. However, in Kiev, they clearly judge other people by themselves and do not take their word for it. The head of Naftogaz, Yuri Vitrenko, came out with a "brilliant" proposal to oblige Gazprom to start pumping not Russian, but Central Asian gas through Nezalezhnaya:
This will change the rules of the game, because, as we all understand, the transportation of gas from Central Asia to Europe has a huge potential ... If they (Gazprom) say no, then the next step will be a complaint to the (European Commission) and arbitration.
To be honest, from the wording of the Ukrainian top manager, the hair on the head starts to move by itself. First, what does "oblige" mean? The domestic monopolist has no obligations to Kiev to pump gas other than the Russian one. Secondly, what does the European Commission and arbitration have to do with it? Thirdly, Ukraine asked the Central Asian republics if they have free volumes of gas for sale? If anything, then they are not. Well, or Kiev can ask Beijing to move slightly and consume less. It is interesting what the Chinese partners will say about this.
Consortium
Idea number two turned out to be less extravagant, the author is the Ministry of Energy of Ukraine. Its representative, Elena Zerkal, suggested that other European countries, which are suffering "colossal losses" from Nord Stream 2, unite with Nezalezhnaya in a consortium. It could include Western companies that would take control of the GTS and get Moscow to fill it with gas.
It should be noted that Russia long ago proposed the creation of a trilateral consortium with the EU and Ukraine, but Kiev torpedoed all these proposals. As a result, our country was officially prohibited from participating in the purchase and management of the Ukrainian GTS. As you can see, for some reason the European and American partners are not very eager to take possession of the dilapidated pipeline system, in the repair of which, according to some estimates, from 10 to 15 billion dollars will have to be invested.
Nord Stream 2 shares
An interesting idea was expressed by the Ukrainian political scientist Ruslan Bortnik. He offered to receive compensation from the launch of the bypass pipeline at the expense of a block of shares in Nord Stream 2:
Let's due to the fact that we are losing [gas transit opportunities], this is a question
political
, let us make Ukraine a subject or co-owner of Nord Stream 2, give us 5, 7, 10% so that we can compensate for our losses.
The very idea of ​​giving Ukraine shares of the gas pipeline, the construction of which Kiev only interfered with, as some kind of incomprehensible "compensation", of course, does not stand up to criticism. Why in general? However, if you put everything that has been said in a heap, then a certain compromise option may emerge.
Why not consider a cross-shareholding scenario? Let's say Nezalezhnaya still receives a small block of shares, from 5% to 10%, but not for beautiful eyes, but in exchange for a share in its GTS. Let Kiev lift the ban on Moscow from owning its pipe, and a tripartite consortium Russia-EU-Ukraine will be created, at 33,33% each. Let us remind you that President Putin promised not to stop pumping gas, but the GTS is in urgent need of expensive capital repairs. Then all three co-owners must equally bear the burden of maintaining their property. Does Kiev have no free $ 3-5 billion? Let him borrow from his Western partners. Do Europeans need Ukrainian transit and underground storage facilities? Then let them pay too. In exchange for a 5-10% stake in Nord Stream 2, which is not enough for a blocking stake, Gazprom could receive a third from the Ukrainian GTS.
Yes, you will have to invest in repairs, but where to go? Europe insists on preserving Ukrainian transit, Putin himself does not seem to mind, so it's better to invest in his own, right? By and large, this would be the first real step in the return of Independent.