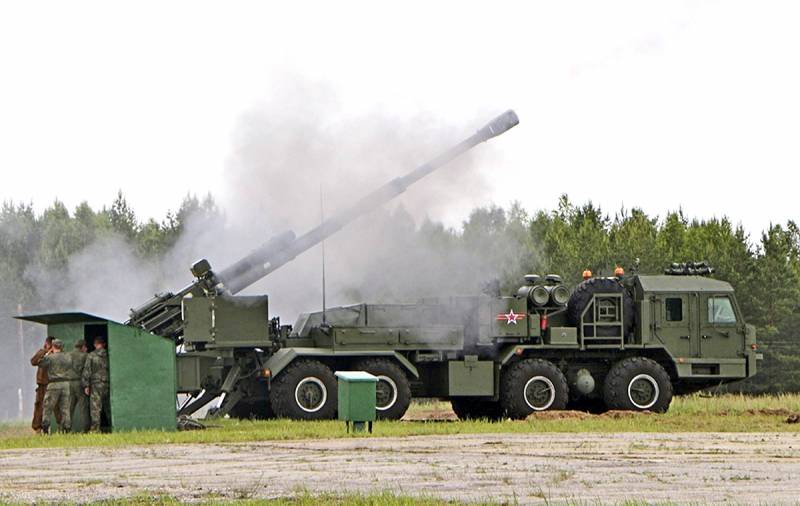 Five weapons were tested at a combat range near Nizhny Novgorod, among which there were three newest artillery systems: "Malva", "Phlox" and "Magnolia". The course of the maneuvers was watched by the Deputy Minister of Defense of Russia Alexei Krivoruchko and the Commander-in-Chief of the Ground Forces Oleg Salyukov.
152-mm "Malva", capable of simultaneously hitting a target with several shots from different angles, fired three volleys at an object located at a distance of 20 km. The maximum firing range of the installation is 25 km, the rate of fire is 7 rounds per minute. According to the developer of "Malva" Central Research Institute "Burevestnik", the divisional gun is designed to destroy the enemy's manpower, as well as his armored vehicles and long-term defensive structures.
The self-propelled artillery gun "Phlox" with a caliber of 120 mm is based on the chassis of the armored vehicle "Ural". The Phlox can use a rifled barrel as a mortar, cannon or howitzer.
The shooting of "Malva" and "Phlox" in Russia was shown for the first time. The test site also demonstrated the action of the Magnolia self-propelled gun, which moves on a caterpillar track and is indispensable in the harsh Arctic conditions.
It is planned to continue testing artillery installations - based on their results, a decision will be made on the use of new weapons in the active army.