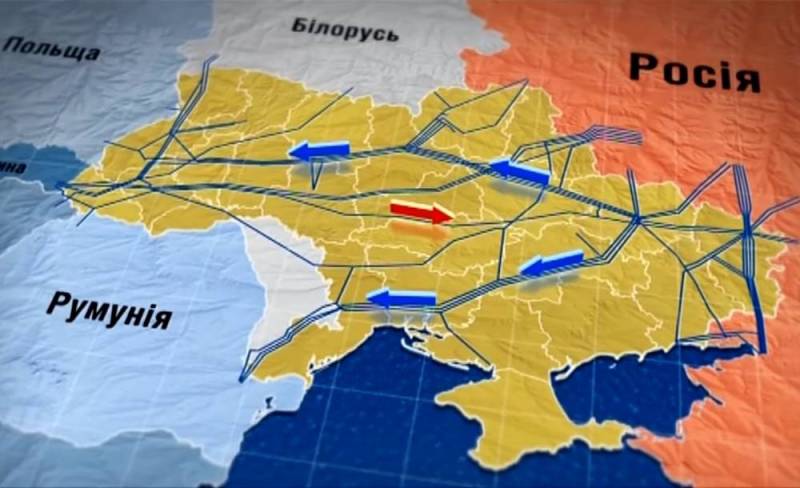 President Vladimir Putin's statement that the first string of Nord Stream 2 is almost completed, and that the second will be built in a month or two, clearly upset his namesake, Ukrainian President Zelensky. So much so that he had to publicly console the head of the US State Department, Anthony Blinken, who proposed three scenarios at once for preserving Russian gas transit and saving Kiev from Moscow. All the options are very unenviable, if I may say so, the Americans threw soap on the floor and are now carefully watching who will bend down behind him first, Europeans, Russians or Ukrainians.
Gas transit through the Ukrainian GTS is a matter of fundamental importance, since it largely determines what share Gazprom will retain in the European energy market, as well as how freely Russia will be able to conduct its external
policies
in relation to a hostile neighbor. According to the initial design capacity, up to 2 billion cubic meters of gas per year can be pumped through Nord Stream 55, and another 31 billion cubic meters - through the Turkish Stream, bypassing Ukraine. In theory, this should completely nullify the transit value of Independent, which is pursuing an active Russophobic policy. In practice, both Russian energy projects have faced a host of man-made problems created by competitors from the United States and their puppets from among the Brussels bureaucrats. However, despite the failure to meet deadlines, organizational and legal obstacles, Gazprom, with half a sin, nevertheless completed the construction of the first string of Nord Stream 2. True, its certification is still needed to start work, and then it is still necessary to achieve an exclusion from the norms of the Third Energy Package in order to fill the second string with gas, but it is already clear that the Russian state corporation will eventually "torture" this issue as well.
So, a new geopolitical reality is on the way, where the dilapidated Ukrainian GTS may not have a place. The Kremlin assures that they will keep transit in any case until 2024, that is, Kiev will receive $ 1,2 billion for its services and the so-called "reverse gas" for the time being, but what will happen then? The head of the American foreign policy department tried to answer this question. Let's go through these options.
In the first case, Mr. Blinken suggested fixing the status quo:
One of the options is the ability to essentially extend the existing transit agreement for many years to come, so that Ukraine continues to profit from transit fees.
This message is clearly addressed to the leadership of "Gazprom", and the White House should be immediately "rebuffed". The current transit agreement is extremely disadvantageous for Russia. In the first year, the state corporation pledged to pump 60 billion cubic meters, and in the remaining four - 40 billion each on completely onerous terms. The 5-year agreement is based on the "download or pay" principle, so Kiev has to transfer money in any case, even if the pipe is completely drained. If the demand for gas in Europe grows, then Gazprom will have to pump additional volumes in excess of 40 billion cubic meters already at an increased tariff.
Strictly speaking, for the signing of such agreements, the head of the state corporation should resign in an amicable way, but he only "excuses" him that in 2019 there were no alternatives yet, and Nord Stream 2 lay dead weight at the bottom of the Baltic. In 2024, all bypass pipelines should definitely be completed, and if Miller's team still renews the contract on the current terms ... Well, that means we deserve such top managers. We can only hope that in 3,5 years' time Gazprom will not bend over to its "partners".
In the second variant of solving Ukrainian problems, the American diplomat playfully winked at the Europeans:
If that doesn't work, then I think [can] find ways to compensate Ukraine for the financial losses it will lose for transit fees. This is what the Europeans will need to tackle.
Yes, really, "it is necessary", but to whom? In Germany, for example, they were extremely unpleasantly surprised that they, it turns out, owe something to Ukraine. The famous German political scientist Alexander Rahr asked the question:
In this case, I do not understand what losses are in question and how to calculate them.
Indeed, why did the loss of transit income by Kiev suddenly become a problem for Berlin? Yes, the German leadership is interested in Independent as a market for its products, a source of resources and cheap labor for Europe, but on a regular basis pay it billions of dollars of "compensation"? Why would you? Ukraine will definitely not wait for charity from the European Union.
The third and last option is addressed directly to Kiev. Note that Mr. Blinken is no longer talking about some financial compensation, but about weakening the leverage that Russia can acquire as a result of the launch of Nord Stream 2. It is about unlocking Ukraine's own energy potential and increasing its energy efficiency. Apparently, it is really proposed to abandon the "aggressive" Russian gas and switch to alternative "green" energy sources, as well as introduce
Technology
energy saving. Naturally, American, and what else? It looks like it's not bad, but it's completely unrealistic for an impoverished and depressed country that totally depends on Western financial tranches, where deindustrialization and depopulation are taking place by leaps and bounds.
If we summarize all Blinken's proposals, which he so generously threw to all three sides of gas relations, and put them together, we get a kind of integral picture. The United States will allow Gazprom to launch Nord Stream-2, but on condition that certain volumes of transit through the Ukrainian pipeline remain, however, not on such onerous terms as now. It is possible that the Nezalezhnaya gas transmission system will begin to be gradually physically dismantled due to reduced use, when unnecessary branches are disconnected. The directions through Moldova and Romania to Transnistria and, probably, through Hungary and Slovakia will be exactly preserved. The latter will be Moscow's curtsey towards Kiev, which will be able to keep its so-called "virtual reverse". However, what to guess, soon we will see everything with our own eyes.