On June 10, Russian aircraft and large-caliber artillery from Syrian government forces launched a series of powerful strikes against jihadists in the Jebel al-Zawiya region (Idlib province) in Syria. Many experts are inclined to believe that the Russian Aerospace Forces and the SAA are hitting Idlib terrorists in response to the explosion of a Russian armored car in Hasak, which occurred the day before.
The photo and video materials below show the process of peace enforcement.
On the same day, near the settlement of Iblin (Ablin) in the aforementioned region of the aforementioned Syrian province, a Russian drone successfully attacked a car carrying high-ranking members of the Hayat Tahrir al-Sham terrorist group (an organization banned in Russia). The targeted strike was made after reconnaissance and confirmation by means of objective control that the vehicle was exactly the militants, and not random citizens.
As a result, the following were eliminated: Abu Khaled al-Shami - the official representative of HTS, Abu Musab al-Khomis - the coordinator for work with Western media, Muataz al-Nassir - the head of the internal security service of the group and the bodyguards accompanying them. At the same time, the Lebanese (Pan-Arab) satellite TV channel Al Mayadeen clarified that more than 10 militants were killed as a result of rocket attacks from the SAA.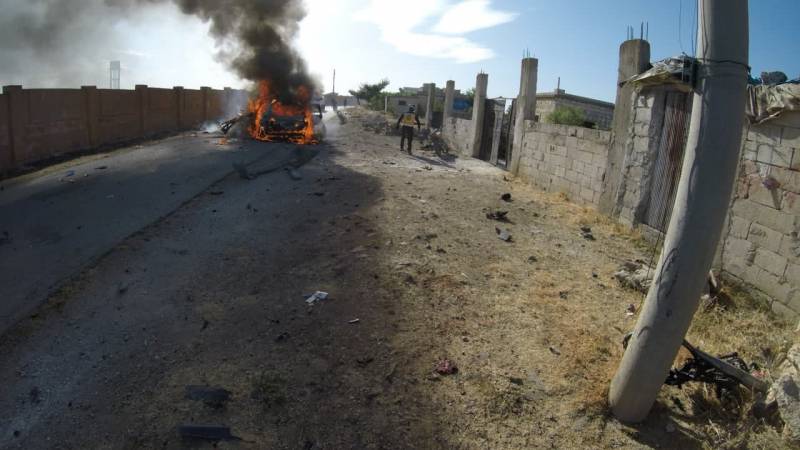 We remind you that according to the statement of the Ministry of Defense of the Russian Federation on June 9, 2021, in the city of Hasake (Hasake province) in northeastern Syria, a Russian serviceman of the Russian military police was killed as a result of an armored car explosion, and three more were injured. The incident happened while checking the patrol route. Prior to this, local Kurdish media reported that several Russian soldiers had been taken to the hospital named after. Martyr Khabat in the Al-Darbasiyah area after an armored car was blown up by an IED.