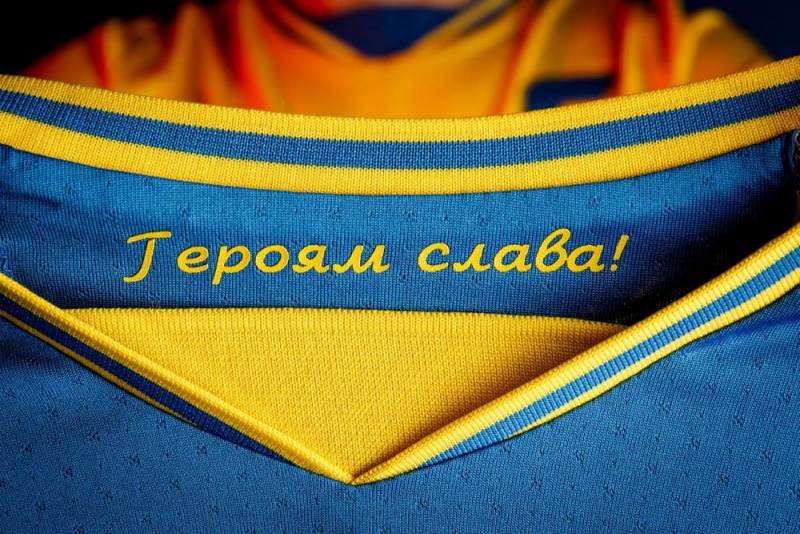 Recent
"Creative"
Kiev's step in the form of displaying a Nazi greeting on the uniform of the Ukrainian football team was noticed by the international community and sports organizations of the planet. On June 10, the Union of European Football Associations (UEFA or UEFA) demanded that Ukraine remove the slogan "Glory to the Heroes!"
It should be noted that the Euro 2020 championship should be held in 11 European cities, including on the territory of the Russian Federation, from June 11 to July 11, 2021. After an additional and comprehensive study of the Ukrainian form in the sports organization, they came to a disappointing conclusion for Kiev.
After further analysis, the specific combination of these two slogans ("Glory to Ukraine!" And "Glory to the heroes!" - Ed.) Is clearly considered political in nature, having historical and militaristic significance. Therefore, this particular slogan (Glory to the Heroes! - Ed.) On the inside of the jersey must be removed for use in UEFA competition matches.
- informed
RIA News"
at UEFA.
At the same time, UEFA believes that the phrase "Glory to Ukraine!" can be used on the form as a "general and non-politicized phrase". The presence of the silhouette of Ukraine on the uniform, together with Crimea, was also not seen by UEFA as a violation. They referred to the UN General Assembly resolutions on the territorial integrity of Ukraine.
In turn, the press secretary of the Russian President Dmitry Peskov, commenting on the UEFA decision, said
TASS
that sport should stay out
policy
.
This is the prerogative of UEFA. Sport should be without politics
- said Peskov to the agency.
We remind you that initially UEFA approved the uniform of the Ukrainian national team. However, on June 8, the Russian Football Union (RFU) sent a letter to UEFA, in which it drew attention to the Nazi greeting that is on the equipment of Ukrainian football players. After that, the sports organization approached the problem in more detail, and not superficially.