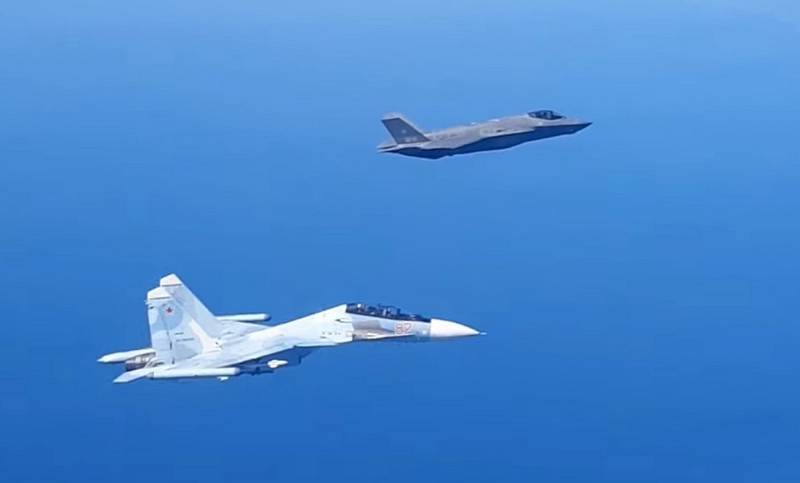 The F-35A fighter from the 13th Air Group of the Italian Air Force, based on rotation in Estonia, tried to intercept the An-12 of the Russian Ministry of Defense over neutral Baltic waters, but the Su-30SM of the Russian Aerospace Forces drove away the NATO aircraft. The video was posted by Fighterbomber on his YouTube channel.
On May 14, the Italian side proudly announced on the NATO website that the An-12, which was flying to the Kaliningrad region from the mainland of Russia, was "intercepted for the first time" by one of the F-35A on duty in the Estonian sky (located at the Amari airbase in the county Harju County).
The integration of the F-35's advanced capabilities demonstrates how the Allies are using their advanced
Technology
and support NATO's resilient defense mission in the region
- to be specified on the Alliance website.
It should be noted that Italians are very fond of mentioning the word "for the first time". In April they
trumpeted
to the whole world that the first of the Europeans sent the F-35A as close to Russia as possible.
However, the video presented clearly shows that the intruder is met by a Russian fighter that accompanied the transport board. Then the F-35A, which costs $ 24 for an hour in the air, quickly left.
We remind you that in August 2019, the NATO F-18
tried
approach the airliner carrying Russian Defense Minister Sergei Shoigu. The head of the Russian military department then returned to Moscow from Kaliningrad, accompanied by an escort of two Su-27 naval aviation of the Baltic Fleet. Russian fighters did not stand on ceremony with the annoying visitor and harshly suppressed unfriendly actions.