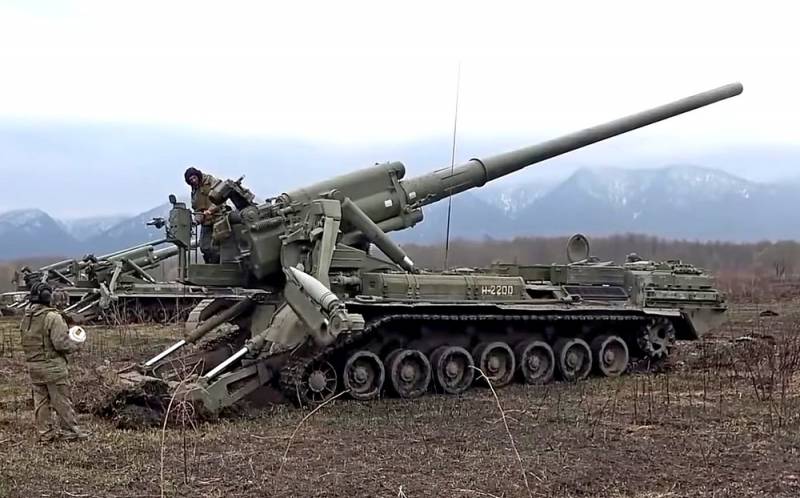 In service with the USSR, "nuclear artillery" in the form of ACS 2S7 "Pion" entered the 1975 year and in 15 years more than 500 units were manufactured. Russia has invested heavily in the modernization and return to service of Soviet super-heavy self-propelled artillery units of 203-mm caliber. Their new version is called 2S7M "Malka", writes the Military Watch online edition.
The upgraded version of the high-power artillery system, after testing at the range in November 2019, began to enter the troops in April 2020. In the improvements, both the backlog of the 80s and modern innovations were used, which made it possible to increase the ammunition load, increase the rate of fire and accuracy.
The gearbox, internal communications and radio station were replaced. All Ukrainian-made components have been decommissioned. Also, the main characteristics of the gun, the maneuverability of the ACS and its driving performance have been improved. Malka received an upgraded 216M chassis with a V-84B diesel engine, new guidance and loading systems.
Prior to that, these ACS were mainly in storage. The decision to return them to the front line in a new guise was made during a period of high tension in relations between Moscow and NATO after the reduction of Russian defense spending.
The Malka has a shorter range and rate of fire than competing systems, but the sheer size and destructive power of its projectiles makes it ideal for neutralizing almost any fortified target. High-explosive shells weigh over 100 kg and carry 17,8 kg of explosives. The Russians have armed it with more expensive laser-guided active-reactive ammunition, which provide higher accuracy.
The self-propelled guns can fire tactical nuclear ammunition, which is a very valuable potential. Given the overwhelming numerical superiority of NATO, the Russians will find these weapons very useful in case of war.
It has a relatively short projectile range - 50 km. New Russian 152-mm 2S35 "Coalition-SV" and 170-mm North Korean М1978 Koksan fire at a distance of up to 70 km. But it is not yet known whether the Russian Federation will invest in the development of new ammunition for the "Malka" in order to expand the range of use and bring them closer to the level of more modern systems.