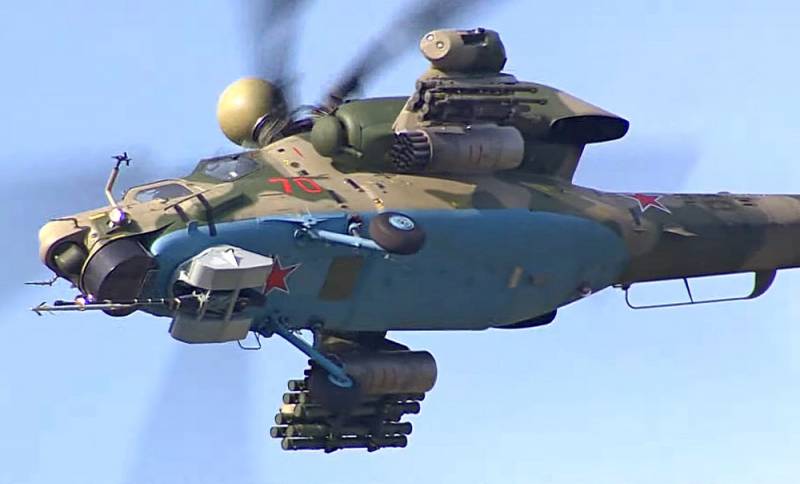 The operation in Syria allowed our country to thoroughly test about 300 types of weapons and special
equipment
... The experience gained has made it possible to significantly raise the level of the latter. In particular, one of the results of the "Syrian mission" was an improved version of our attack helicopter, called the Mi-28NM.
Its predecessor, the Mi-28N Night Hunter, entered service in 2009. The car could boast of outstanding aerobatic characteristics, but it had "childhood diseases", which were revealed during the Syrian operation.
For example, in some flight modes, the transmission of the helicopter overheated, and in some temperature modes, the engine did not give out full power. There were also comments to the onboard electronics.
In the new version of the "Night Hunter", problems with the transmission and power plant were solved, and the improved electronics turned out to be better than any of the foreign counterparts. In addition, the Mi-28NM "learned" to independently control part of the electronics by means of AI and interact with reconnaissance and strike UAVs.
As a result, our new attack helicopter not only got rid of "childhood diseases", but also became even more maneuverable and "deadly".
The American edition of The National Interest has already compared the updated "Night Hunter" with the latest version of Apache. The rotorcraft from the USA yielded, and the Russian Mi-28NM was called a "universal fighter", capable of fighting in the air even with the fifth generation fighters F-22 and F-35.
By the way, it was for their destruction that the R-74M anti-aircraft missile, which entered service with the "Night Hunter", was developed.