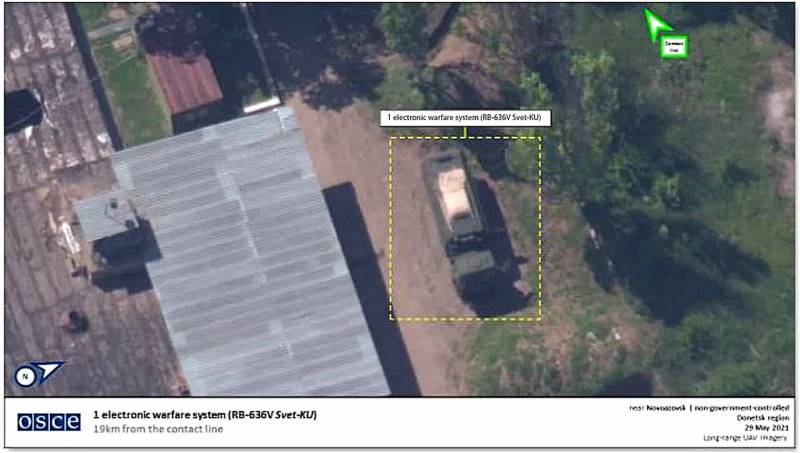 In the area of ​​the settlement of Novoazovsk in the Donbass (territory of the DPR), the OSCE Special Monitoring Mission identified a rare Russian radio and radio intelligence complex RB-636 "Svet-KU". This is stated in the published daily report of the OSCE SMM No. 125/2021 dated June 1, 2021.
The document states that the Mission's drone detected the mobile unit as early as May 29. However, in previous reports, it was not listed in the table of "signs of military presence and military-type presence in the security zone". Apparently, the OSCE specialists took time to identify.
It should be noted that earlier Svet-KU was already recorded in the DPR and LPR. In 2016, the specified complex was seen in Luhansk and Donetsk, and in 2020 it was seen in Luhansk.
RB-636 Svet-KU was adopted by the RF Armed Forces in 2012 and is intended to assess the electromagnetic environment, search, detect and analyze radio emissions, as well as determine the location of their sources in the VHF and UHF bands, when working with similar stationary and mobile complexes of technical control and electronic intelligence.
We remind you that in November 2020 in Luhansk they also recorded
finding
the newest Russian UAV control complex "Navodchik-2". In February 2021, the OSCE also documented
presence
Russian two-coordinate mobile solid-state radar of decimeter range 51U6 "Casta-2E1".